Bullish Fundamentals To Push Gold Above $3,000 by 2020 (Gold Price Forecast)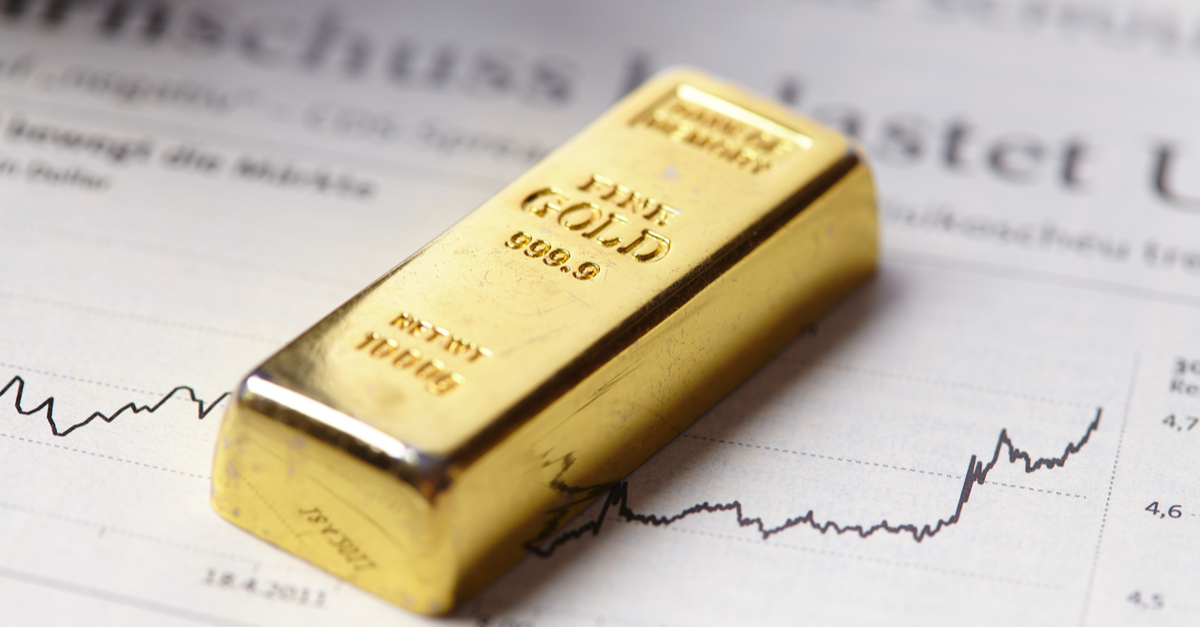 The gold price has been slowly grinding higher in volatile trade over the past two years. After bottoming around $1,050, the price has put in a series of higher lows on the technical charts, which is a bullish sign. Adding to this bullish pattern was a new higher high achieved in late January at $1,365. This was an encouraging sign, as it was slightly higher than the 2017 high of $1,362. However, gold was unable to hold this price level and it quickly dipped back into the longer-term trend channel.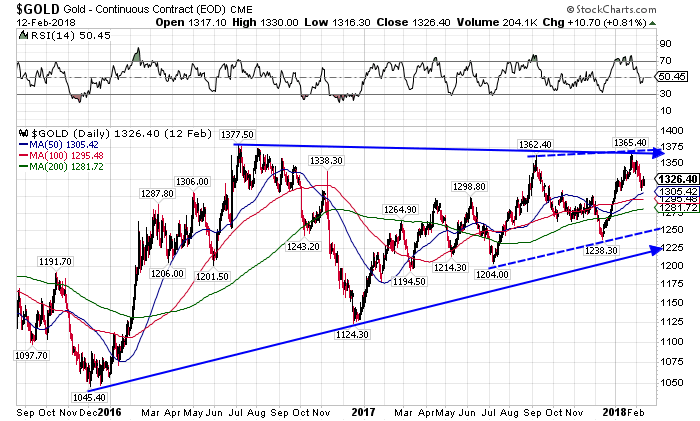 We ideally want to see the gold price close for two or more consecutive days above $1,362 and then take out the 2016 high at $1,377 in order to confirm our short-term bullish outlook. I expect that we will see this happen at some point over the next few months, as there are a number of bullish factors supporting the gold price in 2018. One of the biggest drivers of the higher gold price has been the weakening dollar (USD) versus other currencies.
The USD chart shows the failure of critical support at the 92 level twice in recent months It has since plummeted to a low of 88.50, representing a decline of more than 14% from the 2017 high. The USD has since bounced back above 90 over the past few days. However, the technical chart damage is already done and dollar index is likely to continue lower throughout 2018 and into next year. There is no significant support until the 80 level and I suspect we could test this support by the end of the year, suggesting additional downside of 12% from current levels.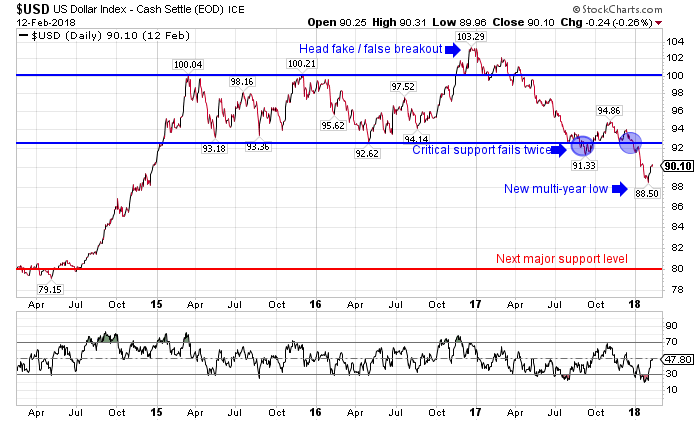 Part of the reason that we expect continued dollar weakness is that President Trump and Treasury Secretary Mnuchin have both eluded to support of a weak dollar policy. It helps with U.S. manufacturing and exports, potentially boosting GDP growth and helping to shore up political support for the administration. But total debt has been growing much faster than GDP, which implies unsustainable growth and the potential of an economic collapse/stock market collapse if the punch bowl is taken away too quickly.
The national debt in the United States is fast approaching $21 trillion and it appears that we may be headed back to annual deficits of greater than $1 trillion. This is what happens when you cut taxes and increase federal spending dramatically The latest deal in the Senate eliminates strict budget caps and allows Congress to spend around $200 billion more in the current fiscal year. It seeks to authorize $4.4 trillion in spending for 2019, up 10 percent from the amount of money the government spend in 2017.
As interest rates continue to increase, the debt burden grows significantly and U.S. government could soon be paying over a trillion dollars per year in interest alone. If this is coupled with an economic decline and lower tax revenues, the situation could quickly spiral out of control and lead to the US. dollar crashing. But even without a severe dollar crash, we believe the trend will remain mostly to the downside for the USD index in the years ahead, lending support to gold.
Another major catalyst for the next major bull run in precious metals could be a significant stock market correction. Stock prices are historically overvalued and have been propped up by artificially low interest rates and unprecedented levels of economic stimulus and central bank intervention. If the equity bubble begins to deflate or bursts, a large amount of funds will go rushing into a relatively small gold market in search of safe haven and value.
The Shiller PE Ratio or P/E 10 Ratio or Cyclically Adjusted Price Earnings (CAPE) is thought to be a better measure of price-to-earnings because it eliminates fluctuation of the ratio caused by the variation of profit margins during business cycles. The Shiller PE Ratio is currently at 32.2, meaning that stocks are more expensive today (relative to earnings) than they were just prior to the start of the Great Depression (Black Tuesday) or just prior to the Black Monday market crash. In fact, this measure suggests that stocks have only been more expensive at one point in history, just prior to the dotcom bubble bursting. This isn't a favorable risk/reward situation for equity bulls in my view.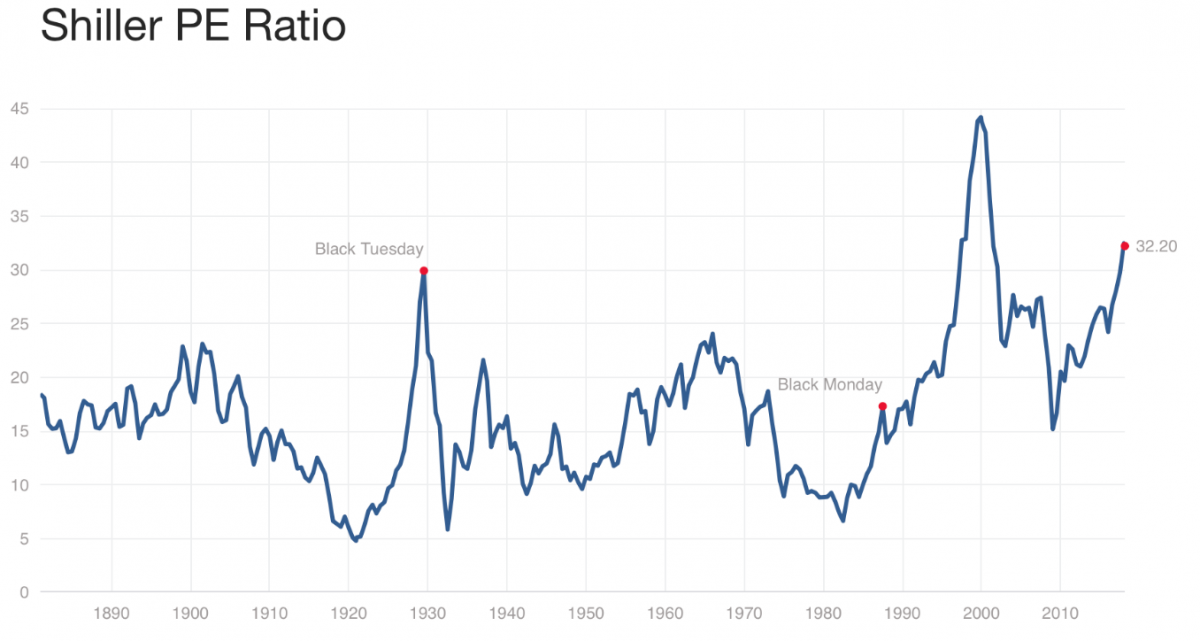 Whether we get a major stock market crash or a slow decline in the years ahead, the realization that stocks are historically overvalued will cause a significant amount of investment dollars to flow into undervalued assets or safe-haven assets. I believe the precious metals market is attractive on both fronts and will benefit wildly from the flow of capital out of overvalued equity markets.
So, we have multiple risk factors for the U.S. dollar and stocks where the downside risk appears much greater than the upside potential at this juncture. A dollar crash, stock market crash or combination of the two are likely to push the gold price much higher in a short time period. Yet investor sentiment has remained extremely bullish until the recent pullback. We believe this is a great opportunity to accumulate gold and mining stock positions before prices begin moving significantly higher. 
The long-term price chart for gold shows a few major trends worth considering. First, we can see how significant the mid-2014 price drop (red circle) was for gold, as it broke the multi-year trend line support. This was followed by more downside, as one would expect. Then in late 2015 the gold price bottomed at $1,045, put in a higher low at $1,124 in late 2016 and has been trending mostly higher ever since. The bullish event (highlighted by the green oval) occurred late last year and again last month. These price moves were significant because the gold price broke through the downward-sloping resistance line and held above this line for multiple days. It is also worth noting that the bull run over the past two years has been accompanied by higher volume, which increases confidence in the sustainability of the uptrend.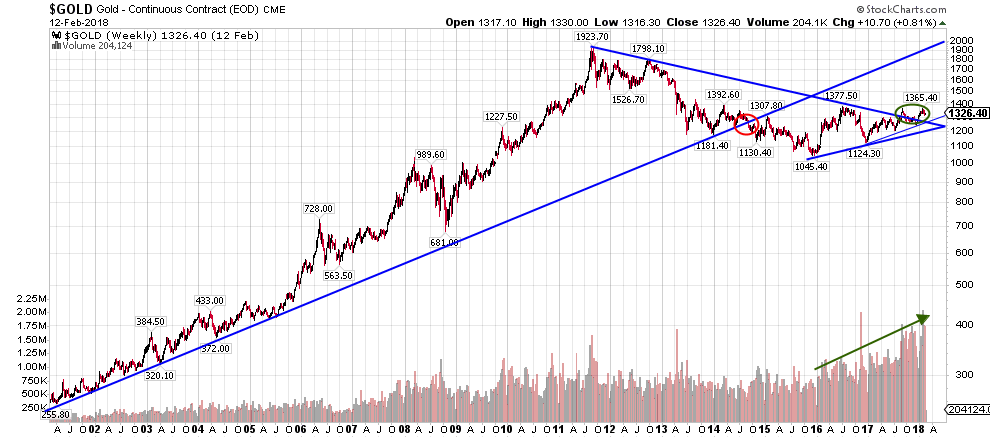 Forecasting the future price of gold is no easy task and ends up being a 'best guess' no matter how strong the conviction of the analysts. I simply like to look to history for some gauge as to what may happen next with the gold price. Since the bull market started around late 2001 we can see several major cycles of advance and decline in the price. The first advance took the gold price from $250 to $1,000 for a gain of 2.7x. This second advance was smaller at 82%. After a correction of 30%, the next major advance was again by a factor of 2.7x from $700 to the all-time nominal high around $1,920.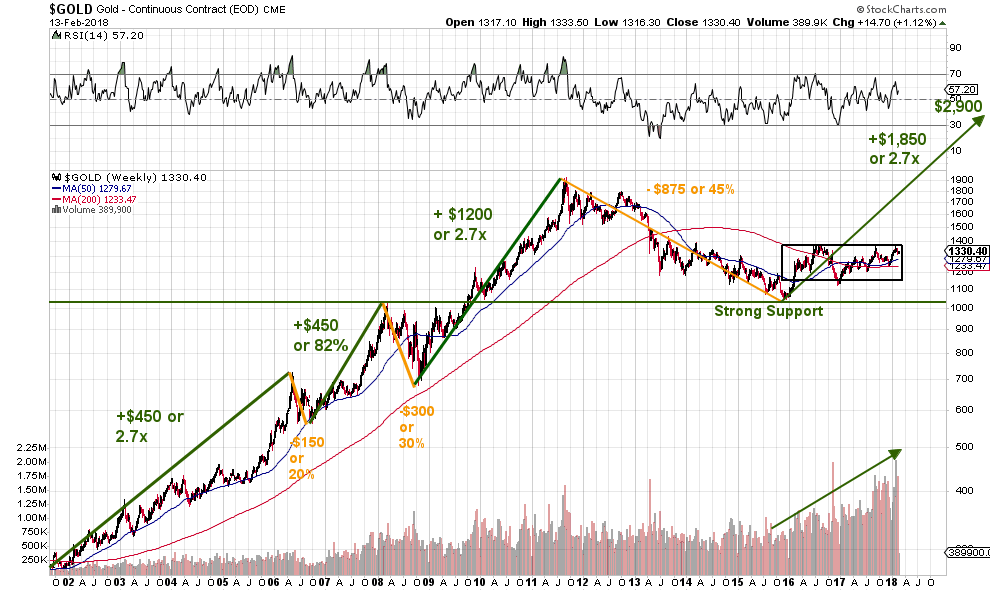 Following the record high, the gold price corrected for nearly 5 years from $1,920 to a low of $1,045 for a drop of around $875 or 45%. It has since consolidated and started to slowly grind higher over the past few years. Given the length and severity of the correction, plus the consolidation period following it (black rectangle), we expect the next price advance to be at a factor of 2.7x or higher. This puts our minimum price target at around $3,000 per ounce of gold by the end of 2020.
While gold investors will be rewarded handsomely if our predictions come true, we believe the real wealth will be made in mining stocks. Best-in-breed miners should offer investors leverage of 3x or more the advance in the gold price in the coming years.I believe quality junior mining stocks are very undervalued and could go up 10x or more by 2020 as gold prices rise towards $3,000 per ounce. These miners are currently trading at deep discounts to their 2011 highs and have fallen way out of favor. This is precisely when you want to start picking up shares on the cheap, in addition to gold bullion, before the big money starts moving into the sector again. 
Subscribe now to follow our trades, view the GSB model portfolio and receive the monthly newsletter. We cover not only precious metals and mining stocks, but cryptocurrencies, cannabis stocks and much more. Get started now for just $195!
Jason Hamlin
Founder - Gold Stock Bull (http://goldstockbull.com)



Gold Stock Bull is not an investment advisory service, nor a registered investment advisor or broker-dealer and does not purport to tell or suggest which securities or currencies customers should buy or sell for themselves. All ideas, opinions, and/or forecasts, expressed or implied herein, are for informational purposes only and should not be construed as a recommendation to invest, trade, and/or speculate in the markets. Any investments, trades, and/or speculations made in light of the ideas, opinions, and/or forecasts, expressed or implied herein, are committed at your own risk, financial or otherwise. The information on this site has been prepared without regard to any particular investor's investment objectives, financial situation, and needs. Accordingly, investors should not act on any information on this site without obtaining specific advice from their financial advisor. Past performance is no guarantee of future results.
********
Gold-Eagle provides regular commentary and analysis of gold, precious metals and the economy. Be the first to be informed by signing up for our free email newsletter.
More from Gold-Eagle.com: