A Critical Juncture In Gold And Silver Prices
Precious metals and mining shares are falling to their 6-month cycle lows, as discussed in previous articles. These profit-seeking events occur regularly and are necessary components in balancing values and adjusting sentiment. Because the Intermediate cycle recently topped, I wanted to remind investors of the potentially bearish scenario I've been following. 
Several months ago, I outlined the plausibility of a compelling but, ultimately, misleading move higher in precious metals. Its mandate would be to deceive nearly everyone into believing the multi-year bear market was over. We are rapidly approaching the inflection point where this hypothesis will be substantiated or repudiated. This article examines several elements supporting the false breakout theory.
Gold On Balance Volume
Market technicians agree that volume precedes price. In the 1960's, Joseph Granville developed an indicator titled "On Balance Volume," or OBV. It is a momentum indicator that uses volume flows to predict changes in price. When the OBV declines to a new low, prices of the underlying security soon follow, most of the time, anyway. Below is gold's weekly OBV; prices made a clear divergence during the failed rally to $1,306. What's more concerning, however, is the recent drop to new lows in OBV; this is certainly a red flag.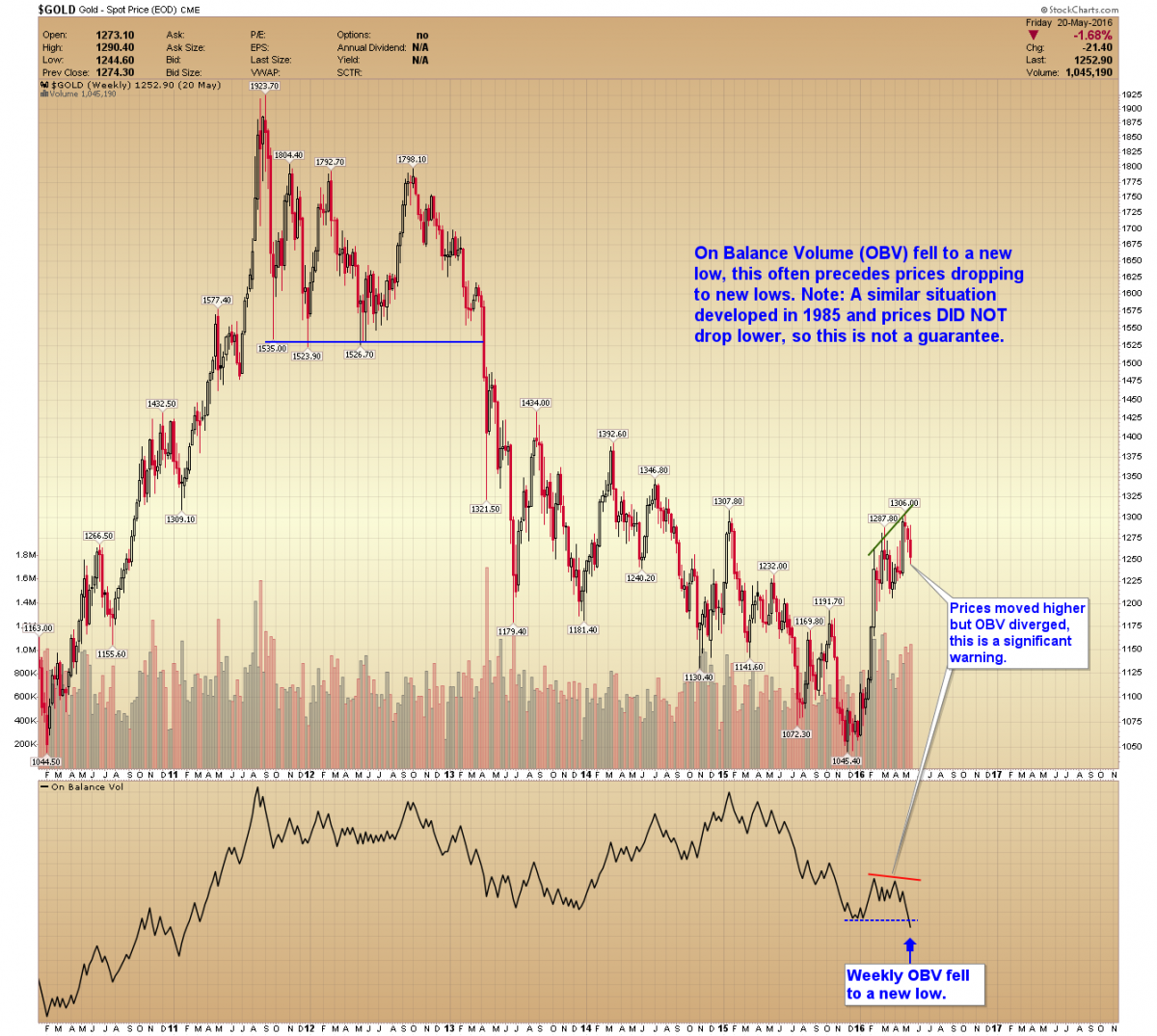 Yearly Cycle Highs
Besides the usual 6-month cycle in precious metals, prices also produce annual price highs and lows; these are essentially the highest/lowest prices within a given calendar year. For the long-term trend to be totally reversed, gold, silver, and miners must exceed their nearest (2015) annual highs. Gold stopped $1.80 shy of breaking that high and silver fell 44 cents short. The HUI did, however, break its 2015 high. Until gold and silver break their highs, we can't consider the trend reversed.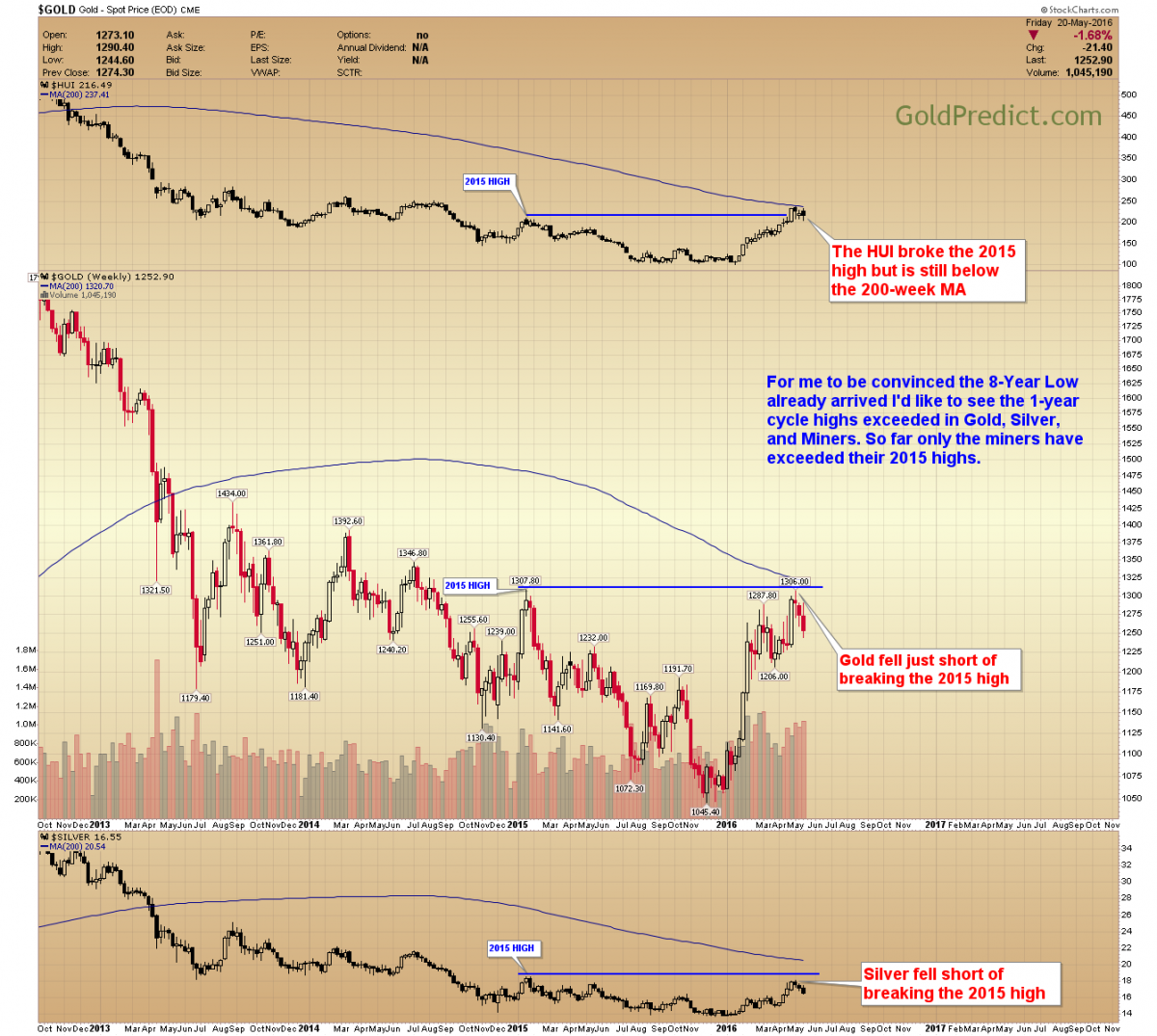 Silver's 21-Month Pattern
Over the last 5-years, silver's prices have repeated a discernible pattern you should find interesting. This structure follows a configuration of sharp price declines succeeded by a basing formation. We discerned that the time frame between relevant price drops was consistently spaced at 21-months apart. If this trend continues, prices will continue declining from the recent $18.06 peak to new market lows later this year.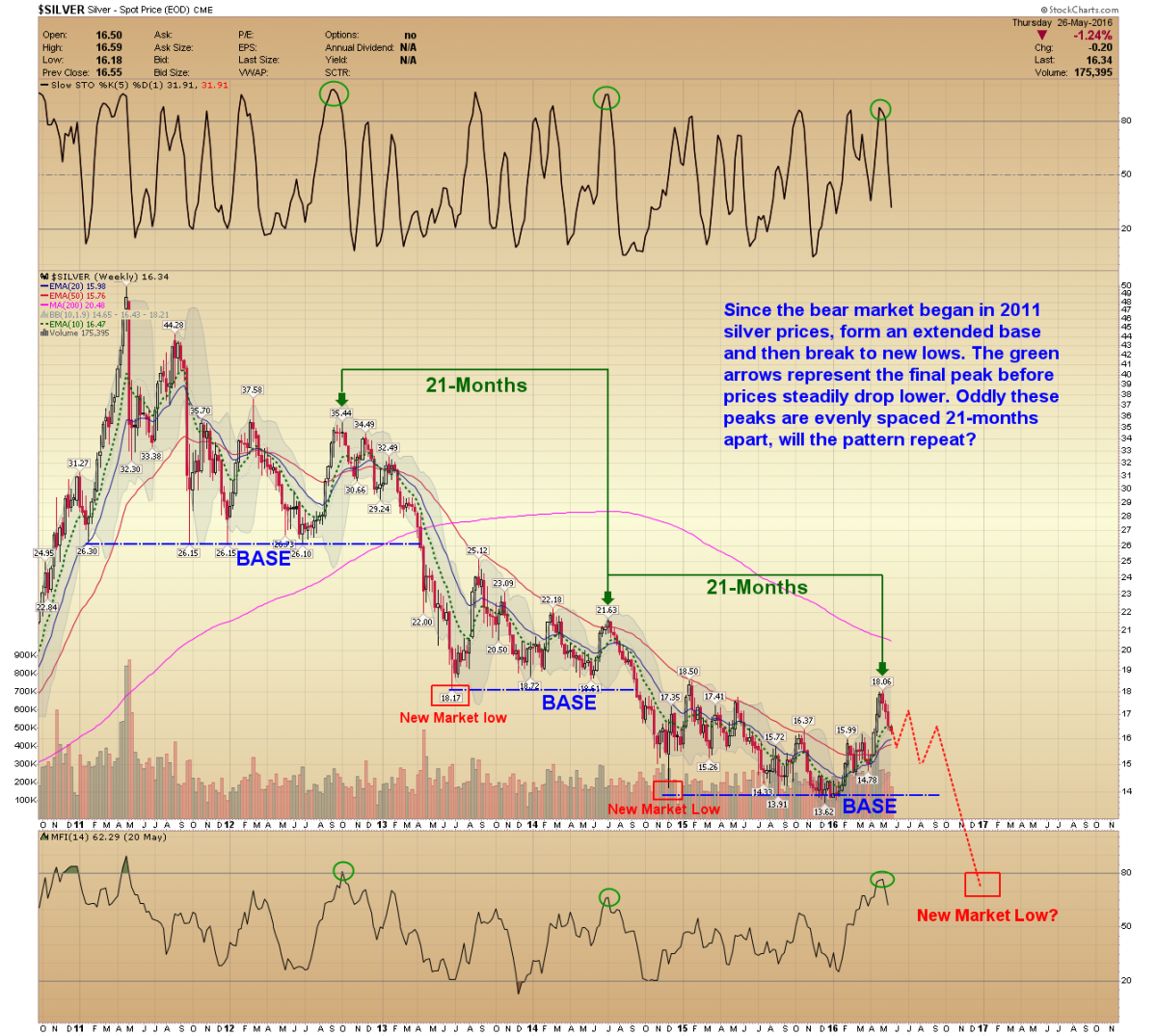 A Short Trip Lower
Gold prices are presently trading around $1,230, merely $185 from the low of $1,045. To think it impossible for prices to retest that low, or potentially drop below it, is unreasonable. I've watched gold prices drop $130 in one day, and a $50.00 drop (or rise) is common. Declarations that prices will never reach a certain level are routinely offered just before it occurs.
The Shortest Major Cycle On Record
Our study of the 8-year presidential gold cycle reveals that precious metals form an extensive multi-year base slightly before, or marginally after, every-other U.S. presidential election. Many presidential cycles bottom post-election, but some arrive before. The sample size is small, but the earliest recorded cycle to date hit 69-days before the election. If the impending gold cycle bottomed December 3rd, 2015, at $1,045.40, it originated a shocking 341 days early.
Surviving The Bull
To become a successful investor, you need to understand how markets work. Buying low and selling high is easy to say, but remarkably difficult to do. Sitting on a competition bull is the easy part, staying on him for 8-seconds is an entirely different story. The bull will kick, leap, buck, and thrash violently until the rider is thrown. Managing the gold and silver bull market is no different. It's hard for me to believe the 4-year bear market in gold bottomed in such a gentle manner. Major turning points in precious metals are customarily violent.
If I'm correct, the next phase of a monumental gold rally will create generational wealth. It seems logical for there to be one final thrashing to knock off as many riders as possible before the ride to $10,000 begins. The next 2-3 months will tell us all we need to know.
More from Gold-Eagle.com: