Forecast: Gold Price Marching Higher Into February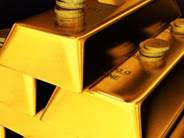 Last week's action saw gold forming its low for the week in Monday's session, here doing so with the tag of the 1296.50 figure (February, 2019 contract numbers). From there, a sharp rally was seen into late-week, with the metal running all the way up to a Thursday peak of 1325.40 - before backing off the same into Friday's close. Note, we now move to the April, 2019 contract for our numbers and continuous contract data.
Gold Near-Term Picture
As pointed out in past articles for Gold-Eagle, the most recent correction was deemed to be a countertrend Elliott wave '4' decline, which was came due as a result of the 10, 20 and 34-day time cycles, but with a particular focus on the larger 34-day wave - which is the most dominant short-term cycle in the gold market: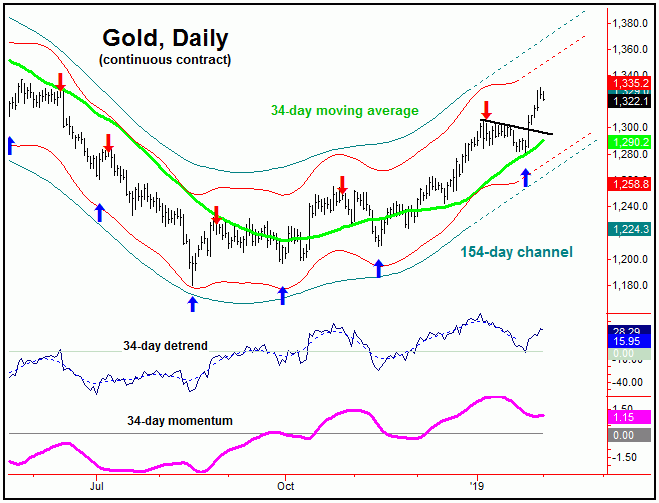 Going further with the above, if the decline into the most recent 34-day trough is an Elliott wave 4, then we are now in wave '5' to the upside - one that should eventual peak the metal at some point this month, with a precise timeframe for this to occur noted in our Gold Wave Trader report. In terms of price, the overall assumption was that the recent decline would be followed by a push up to the 1311-1349 region (February, 2019 contract numbers), which we have now seen met with the action from last week.
The Mid-Term Outlook
As noted above, the recent decline with the 34-day cycle was expected to end up as countertrend - as it did - and with that was expected to give way to higher highs into the current month of February, which it is now doing. The current move up is expected to give way to the next mid-term peak for the metal, with that peak coming from the 154-day cycle: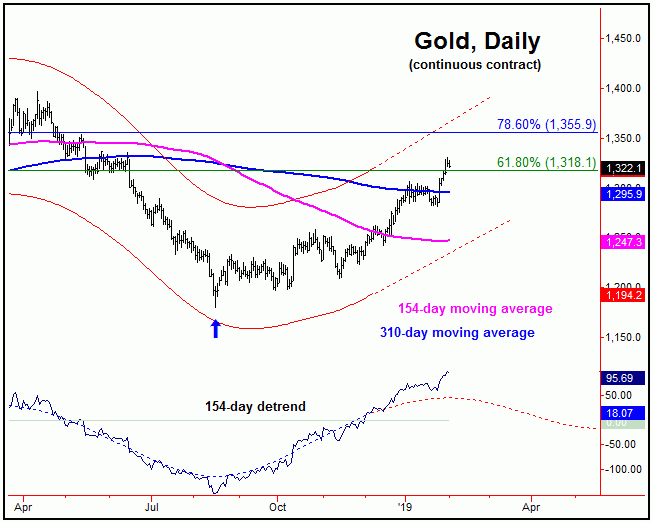 Right now, it is too early to suggest where the next mid-term top will come from in regards to price. Having said that, the next key resistance figure for gold comes in at the 1355 figure, if tested, which is the 78% retracement of the prior downward phasing of the 154-day cycle (April, 2019 contract numbers). Going further, that number (plus or minus) is also at or near the upper (and extrapolated) 154-day cycle channel. The current upward phase of the smaller 34-day wave should top this 154-day cycle, as well as a middle wave, the 72-day component.
Stepping back then, our next mid-term top should come from the combination of the 34, 72 and 154-day waves. From whatever high that ends up forming with these cycles, gold is expected to see a sharp decline into mid-to-late Spring, which is where the next 154-day cycle trough is projected to form. In terms of price, that path would have the 154-day moving average acting as the minimum downside magnet, though there is still the potential for a full re-test of the August, 2018 bottom - though the latter is dependent on where the current upward phase peaks (in regards to price).
Gold Timing Index
The chart below updates our Gold Timing Index, which, as noted in prior articles, is our best indicator of mid-term trend direction for gold: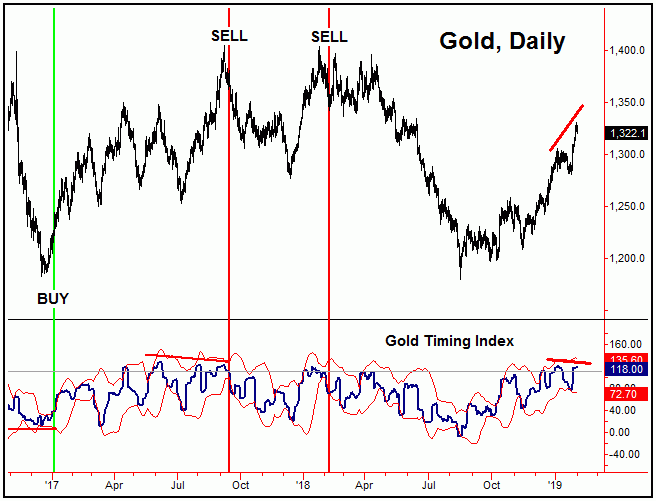 From the comments made in past articles, our Gold Timing Index will tend to diverge from a new price high or low at mid-term peaks or troughs - though this is not 100% (i.e., it won't occur at every mid-term top or bottom). Having said that, this indicator offers up a very similar technical inference to that of the NYSE advance/decline line in regards to U.S. stocks. That is, when the indicator is making a higher high along with price, it is seen as a bullish indication - and favors any short-term correction(s) to end up as countertrend.
With the above said and noted, though our Gold Timing Index spiked higher last week, it is currently showing a small divergence from the new price peak. This is a warning sign, but nothing else, though it is our initial setup for a potential mid-term sell. However, for that sell signal to actually materialize, a close below the indicator's lower standard-deviation band would have to develop. Whether or not this will be seen going forward is simple speculation; that is, we won't know until it actually occurs.
I should add that it is also just-as-possible that the current divergence between our Timing Index and price will end up being negated, and that the indicator will soon confirm the new high in price. Should that play out, we would have to look for the next short-term decline phase to end up as another countertrend affair, to be followed by higher highs, upon completion.
Lastly in regards to the above, I have mentioned in past articles that readings of 112 or above for our Gold Timing Index are seen closer to market tops, with a current reading of 118. With that, our conclusion favors that we are in the process of forming a mid-term peak for gold, though obviously this can come from higher numbers than already seen.
The Bottom Line
Summing up the above, we have gold in a mid-term upward phase, one that is looking set to top again going forward - with that high expected to come from the 154-day time cycle. From whatever peak that ends up forming with this wave, the metal should see a sizeable correction into the next mid-term trough, expected to come from that same 154-day cycle. That low should be followed by another sharp rally phase on the next upward phase of this wave into later this year. More on all as we continue to move forward.
Jim Curry

The Gold Wave Trader

http://goldwavetrader.com/

http://cyclewave.homestead.com/
*********
Gold-Eagle provides regular commentary and analysis of gold, precious metals and the economy. Be the first to be informed by signing up for our free email newsletter.
More from Gold-Eagle.com: