Gold And Silver Price Forecasts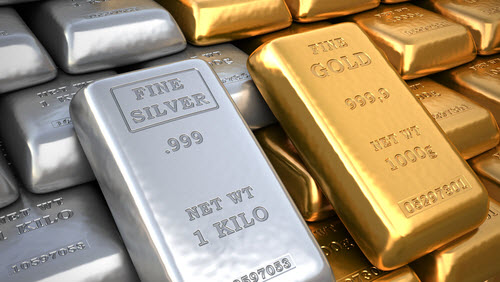 Gold is retesting its 2016 - 2017 consolidation breakout, and the decline seen over the previous two weeks provides an ideal opportunity for precious metals investors to make final purchases before the technical model suggests that 2016 highs will be exceeded for good.
Below we show the updated 2-year gold chart. For the week, the historic store of wealth finished lower by 1.9% from the previous week's close, giving back $26 to finish at $1,325 as of the final trade on the New York COMEX on Friday afternoon: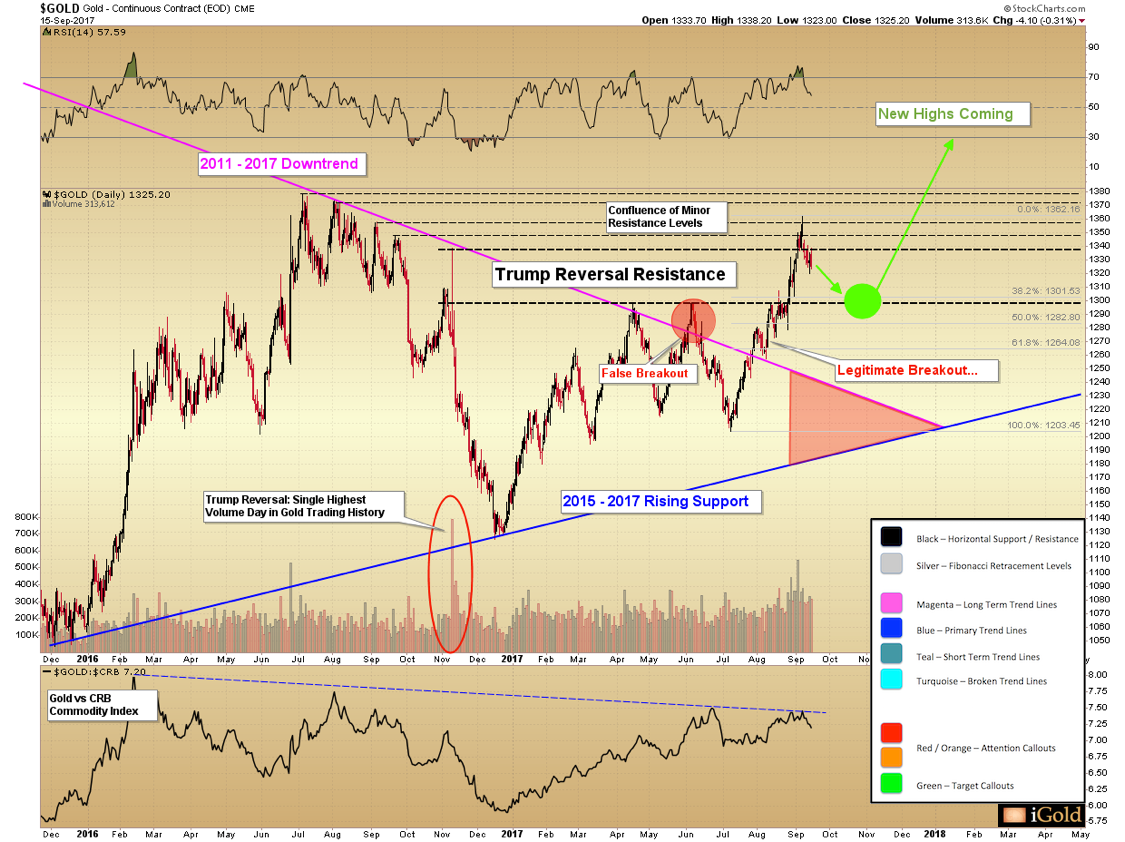 Gold Retracement Targets
How low will the current retracement continue before gold should see a sustained rally into 2018?
There are a confluence of several important support levels identified below. In technical terms, whenever we see a confluence of targets within a narrow range, it represents a high probability support scenario. Those levels are:
$1,301 – the 38.2% Fibonacci retracement of the entire July through September rally.

$1,300 – important horizontal resistance, which held prices lower for most of 2017, and was then decisively broken during the last week of August. When a level which formerly acted as resistance is finally broken, it should act as support the next time prices return there, as second-chance buyers look to enter positions, having missed the initial advance.

$1,283 – the 50% Fibonacci retracement of the entire July through September rally.
In sum, we have three technical support levels within an $18 price region between $1,283 - $1,301, and this represents a high-probability zone for gold to bottom on the present retracement.
A Higher Low?
We should note that if gold prices were to bottom over the next two weeks at any level above $1,301, this would represent a bullish development for the price forecast into 2018.
What such a scenario would indicate is that second-chance buyers were not willing to wait for prices to fall back to the previous support zone. Instead, they would have snapped up gold sooner than anticipated. Such would indicate that the rally into 2018 will move quicker than otherwise forecast, likely reaching the $1,535 target by mid-point of next year. The link to the article discussing that target is here. 
Buyers should consider using any further weakness to add to positions prior to the strong advance expected ahead.
Silver Lagging Gold
Gold's cousin is lagging on a relative basis. We know this, for example, as gold has recently come to within 1.2% of its 2016 high at $1,378, while silver has only come to within 14% of its relative 2016 high of $21.25.
For the week as a sum, silver finished lower by 2.3% or $0.42 cents, to close at $17.70 as of the final trade on the New York COMEX. The intermediate-term silver chart is updated below: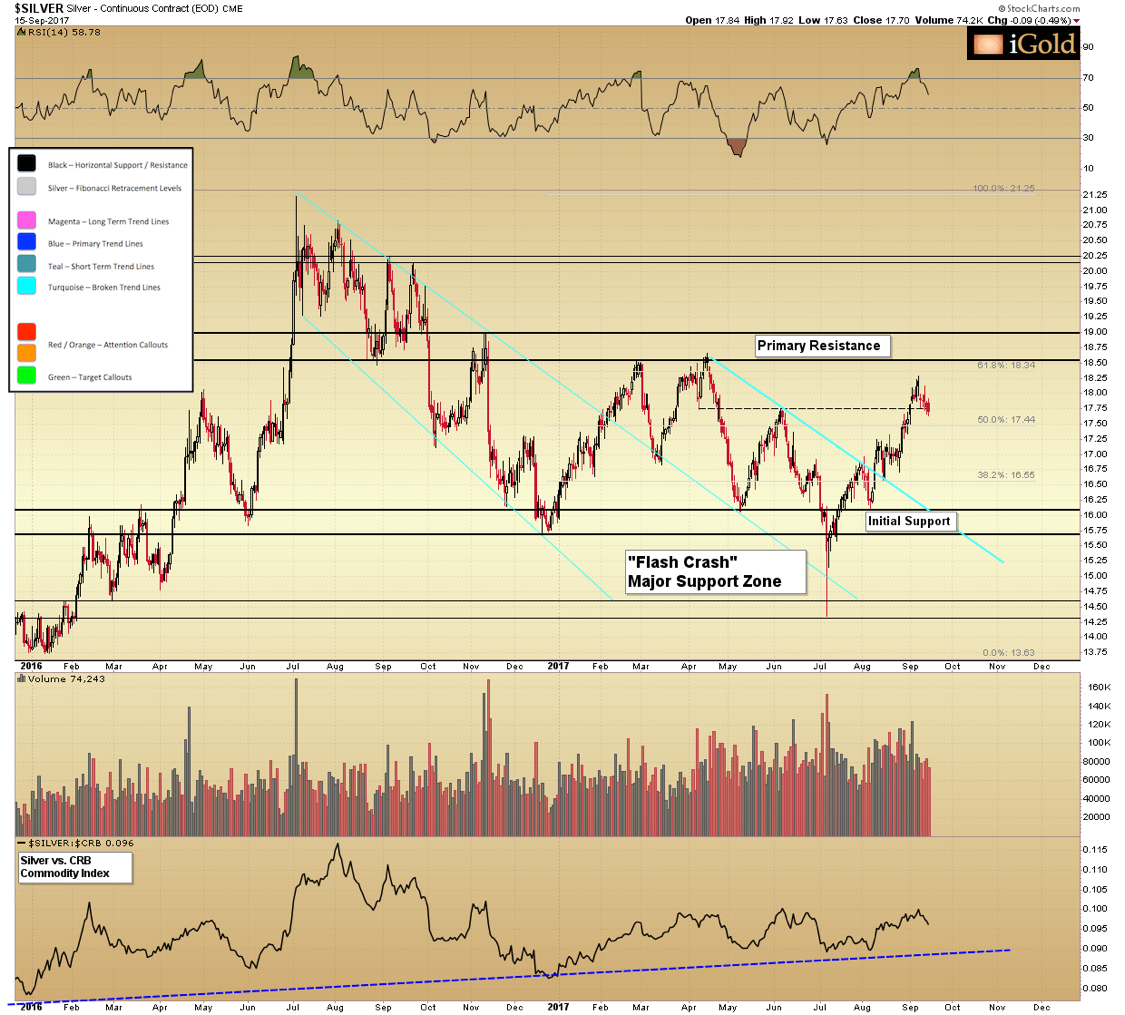 Watch These Levels For Silver
Silver faces tough resistance between $18.50 - $19.00, labeled on the chart above as Primary Resistance. This level has held prices lower on no less than four occasions over the past 12 months, and silver still struggles to move higher every time this level is approached.
For support, on any weakness we expect to see buyers emerge in the $16.10 region. This level is labeled Initial Support on the chart above. Not only did this region hold prices higher on five occasions dating back to June 2016, but the level also corresponds with the downward trend which was decisively broken just last month (turquoise line, far right). Again, when a confluence of support levels exist in the same price zone, it represents a high probability region where buyers should emerge on any weakness.
Silver Prices Will Lag And Then Play Catch Up
Silver investors should be aware that it is quite normal for silver to lag gold during the early stages of a new cyclical advance. Gold tends to receive the bulk of the mainstream attention initially in a new advance, and silver will often lag for months or even years on a relative basis. Silver investors must be comfortable with this difference in behavior amongst the two metals, as silver underperformance can continue longer than many expect.
Our model suggests that gold will break $1,400 before silver exceeds its 2016 high. This can either be a source of frustration for investors, or a source of opportunity. Those investors with a sufficient time horizon can continue to use this underperformance to their advantage, as when silver does finally play catch up, it will eventually do so on a leveraged basis.
For silver investors, much of the work comes in waiting for extended periods, while the rewards come quickly and strongly when they do manifest.
Takeaway On Precious Metals
Gold faces a key retest between $1,283 - $1,301. If gold fails to break down further, it indicates that 2016 highs will soon be eclipsed on the way to higher targets for 2018.
Silver prices may continue to lag gold on a relative basis as this move unfolds. However, investors should consider using any further weakness to finalize near-term holdings. In a new bull market, the proper strategy is to buy weakness, not chase the markets higher.
******** 
Gold-Eagle provides regular commentary and analysis of gold, precious metals and the economy. Be the first to be informed by signing up for our free email newsletter.
More from Gold-Eagle.com: