Gold Forecast: Is Gold Above $1,300 Per Troy Ounce Here to Stay?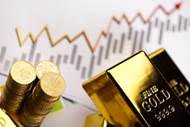 Anyone watching the markets closely this morning noticed a minor milestone: gold moving up slightly to eclipse the $1,300 per troy ounce mark once again. This highly psychological barrier has been a story for the gold price throughout 2017—and now that we have some recent news that suggests gold may be set up for success in the latter half of the year, it's a natural time to ask whether this will be a long-term state of affairs for the yellow metal.
Why Gold Moved Up Again
There are a couple of reasons that gold moved up this morning, according to MarketWatch.com. The "reading on U.S. inflation came in cooler than expected," according to those reports, which in turn suggests that the U.S. Federal Reserve's policy might not be so dollar-friendly later in the year. That, of course, adds up to potential swings that will benefit owners of gold.
The article quoted Peter Spina, an expert in the matter, who pointed out that there are many triggers for a higher gold price—and they seemed to hit this morning. That means that the outlook for gold's price for the next few months may include some upward pressure for the yellow metal, depending on market conditions.
With consumer sentiment at a 13-year high—that's another recent headline, we're seeing plenty of confidence in the existing systems. That means that gold is not as "necessary" a hedge as it might be in more turbulent times, when headlines could send investors scurrying away from equities and into harder assets.
How Long Will Gold Stay Above $1,300?
The gold forecast can be tricky, because one day above $1,300 doesn't mean that the prices of gold are locked in. Anyone who's invested in gold long-term knows that to be true. Instead, it's important to look at the other elements involved with pushing gold's price up this high—and whether or not those factors might continue to play in to headlines throughout the rest of 2017.
The foremost of these might be the policy of the Federal Reserve. With the numbers suggesting that the Fed might not take the actions that some thought before today's reports, it's difficult to forecast exactly what will happen in, say, December, when the Federal Reserve meets up to discuss interest rates. That leaves the future of gold just as difficult to forecast.
Plenty of Reasons for Optimism
The good news about the recent news is that it does appear things are shaping up for gold to have a healthy 2017 and beyond. Of course, the headlines could change. But with gold performing this well even in a positive economic environment with high equity prices suggests that there's plenty of upward movement left for the yellow metal. That means that $1,300 might indeed be a "bottom" for the future. While gold may move up and down around that boundary in the next few business days, its long-term prospects suggest that those who already bought the dip are in for an interesting few months.
More from Gold-Eagle.com: