Gold Forecast: Gold Looks To Confirm Long-Term Bottom
The precious metals are at critical junctures that will mark the final lows for the bear market since 2011. The surge in gold during the New Year has been impressive, with prices rising from $1,045 per ounce to hit $1,200 as this article goes to press, a gain of 15%. Has the final low been put into place?
Gold's Key Resistance Level
We back our charts out to a 15-year timeframe to view the current action in proper context. Below we can see the rise in gold from 2001 through the peak in 2011, followed by the current bear market. Since early 2013, the downward moves have been defined primarily by a clear series of waves contained within a linear downtrend channel as shown in blue.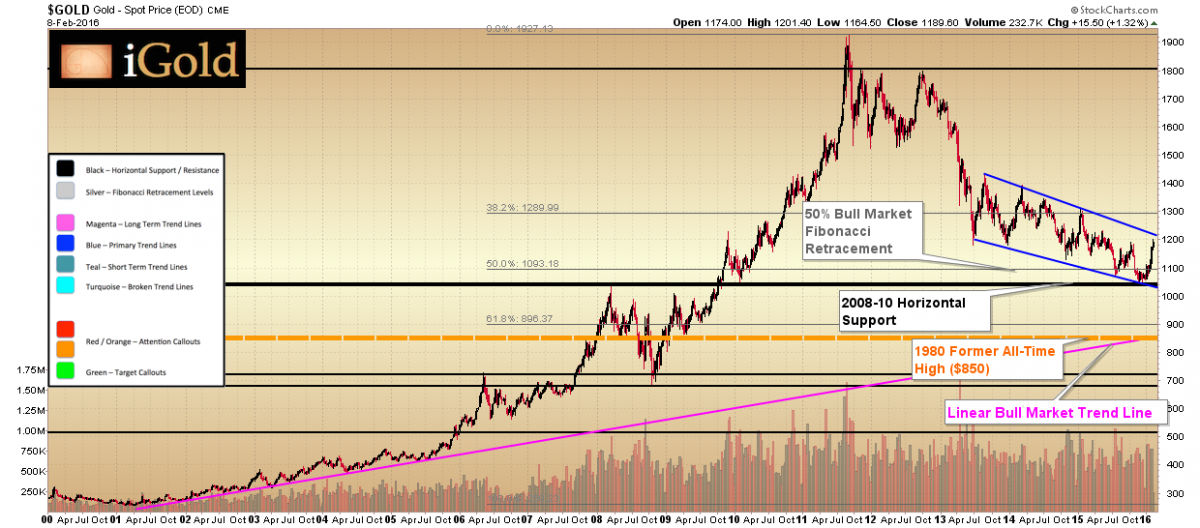 Note that the entirety of this bear market has taken place above the previous 1980 all-time high of $850 as shown by the dashed yellow line. This an extremely bullish indicator from a long-term perspective, as it represents a market that is retesting a breakout from a multi-decade consolidation (1980 - 2008). A successful retest and final low anywhere above $850 will confirm the bullish long-term prospects for the precious metal.
Zooming this chart into the two year timeframe reveals important detail about the specific price levels that need to be exceeded for us to conclude that this downward channel has been broken -- and that the bear market has come to an end.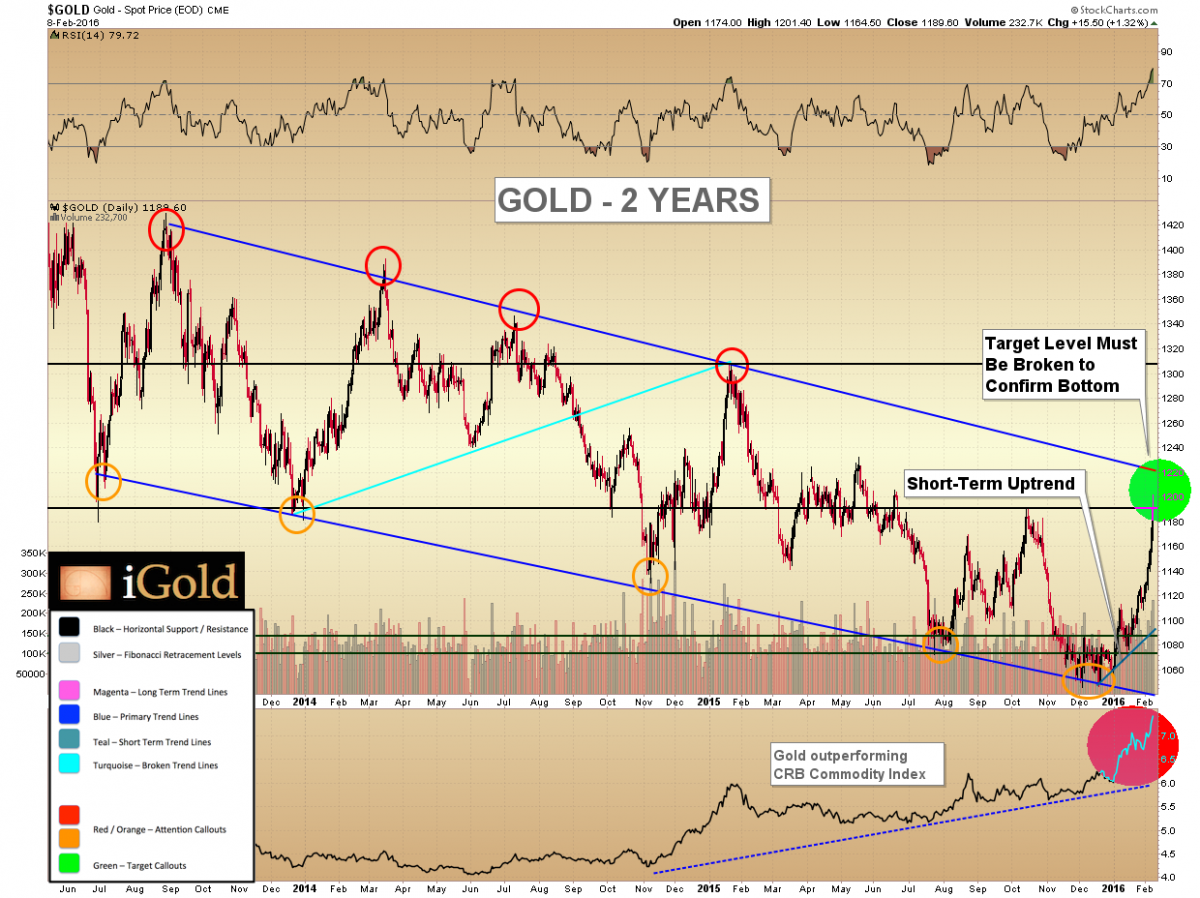 Gold is currently making its fifth attempt to break out of this significant downtrend channel. As shown by the green highlight, gold now finds itself just $20 shy of breaking out. Note that even if the price fails to break out at this juncture, gold has exceeded the horizontal resistance level at $1,190 which represented the high from October 2015. We thus have a new higher high in price action, and as bear markets are characterized by lower highs, we now have an important technical signal giving us a clue that the downward trend is pending change.
What do we expect for gold in the immediate future? At this juncture, we cannot say for certain that the monetary metal is ready to break through our primary down channel. Clearly, the price has had a significant move over the last month, and is due for a pause at the very least. The daily RSI is overbought, but this indicator can stay overbought for weeks as the price continues to rise. Additionally, note the outperformance of gold versus the CRB commodity index, as shown below the main chart. Gold is being accumulated despite weakness across the commodity sector, a sign of relative strength that usually precedes a trend change.
Mining Sector Breakout Provides a Clue
We turn our attention now to the gold mining sector, which also tends to be a leading indicator for the price of the metal itself. In our chart below, we plot the GDX fund, which contains an average of 30+ gold and silver mining companies.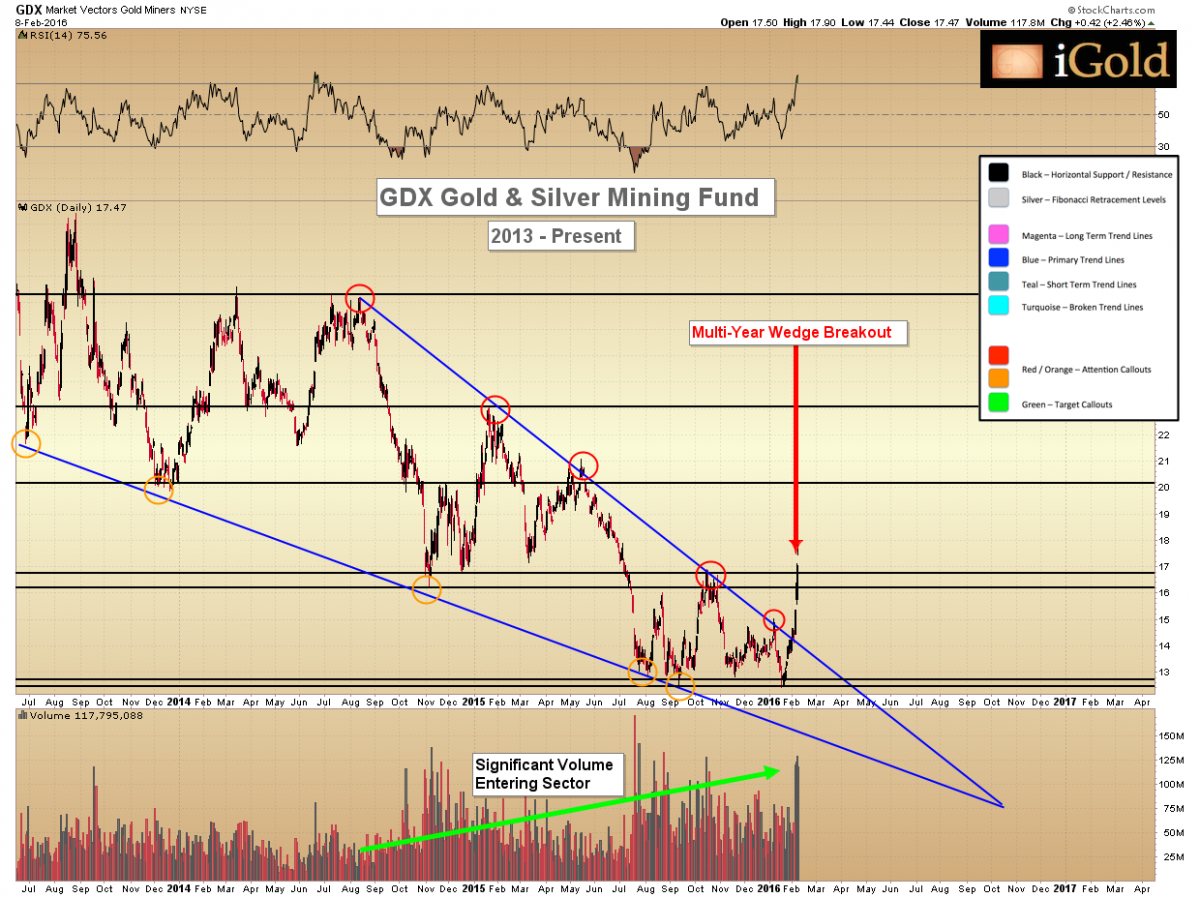 We have been following this pattern for a number of months now. Note the primary downward wedge that had developed, as shown in blue. This is a pattern that typically represents the terminal stage of a bear market, as new buyers enter the market at relatively higher lows than sellers.
As shown by the red arrow, we have indeed just witnessed a significant breakout of this bottoming pattern -- to the upside.
The gold mining sector has found a clear bottom. The importance of the impulsive nature of the break higher cannot be overstated. While it is still possible to see prices back off over the next few weeks, we expect all weakness will represent a buying opportunity at this point before the sector begins a new rising trend for many years.
Most importantly, this is a signal that physical precious metals investors should make note of. When the mining sector has indicated a bottom, we expect the bottom in the metal to not be far behind.
Any Gold Weakness Now an Opportunity
Our best analysis at this juncture is that gold may not yet be ready to pierce through the $1,220 region, but may instead back off over the next few days to weeks. The degree of this weakness will be worth watching, as any low above $1,100 maintains gold's short-term upward posture from early December.
Thus, although we must respect the primary downtrend until it breaks, we have a series of early warning indicators that gold is about to begin a new trend higher. The price action has seen a new higher high. Gold is being accumulated despite other commodities being discarded. Add in the mining sector breakout and we have a confluence of clues that gold's final low will be confirmed in the near future.
All of this is happening within a context above a former multi-decade high. Those investors without any exposure to precious metals may want to consider any pending weakness as an ideal opportunity for establishing long-term holdings.
********
Gold-Eagle provides regular commentary and analysis of gold, precious metals and the economy. Be the first to be informed by signing up for our free email newsletter.
Free Gold-Eagle Newsletter!
Fresh weekly insights on gold, precious metals, and the economy
Leading authors from around the world
Always free
Stay informed!
More from Gold-Eagle.com: