The Gold Price Correction Is Over…And A Trader's Tale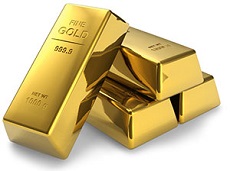 Last week, we posted an article titled the "Short-Term Correction Should Finish This Week". The very next day, gold prices fell to a low of $1,310.70. That appears to have marked the cycle bottom. With the Fed meeting behind us, gold prices are primed to rise through August - and likely into September, where they will form the next intermediate cycle top.
Gold Prices
As described in the article explaining the 6-month gold cycle, prices make 4-5 price lows throughout the intermediate trend. We just completed the second low…and from here, prices should advance nicely.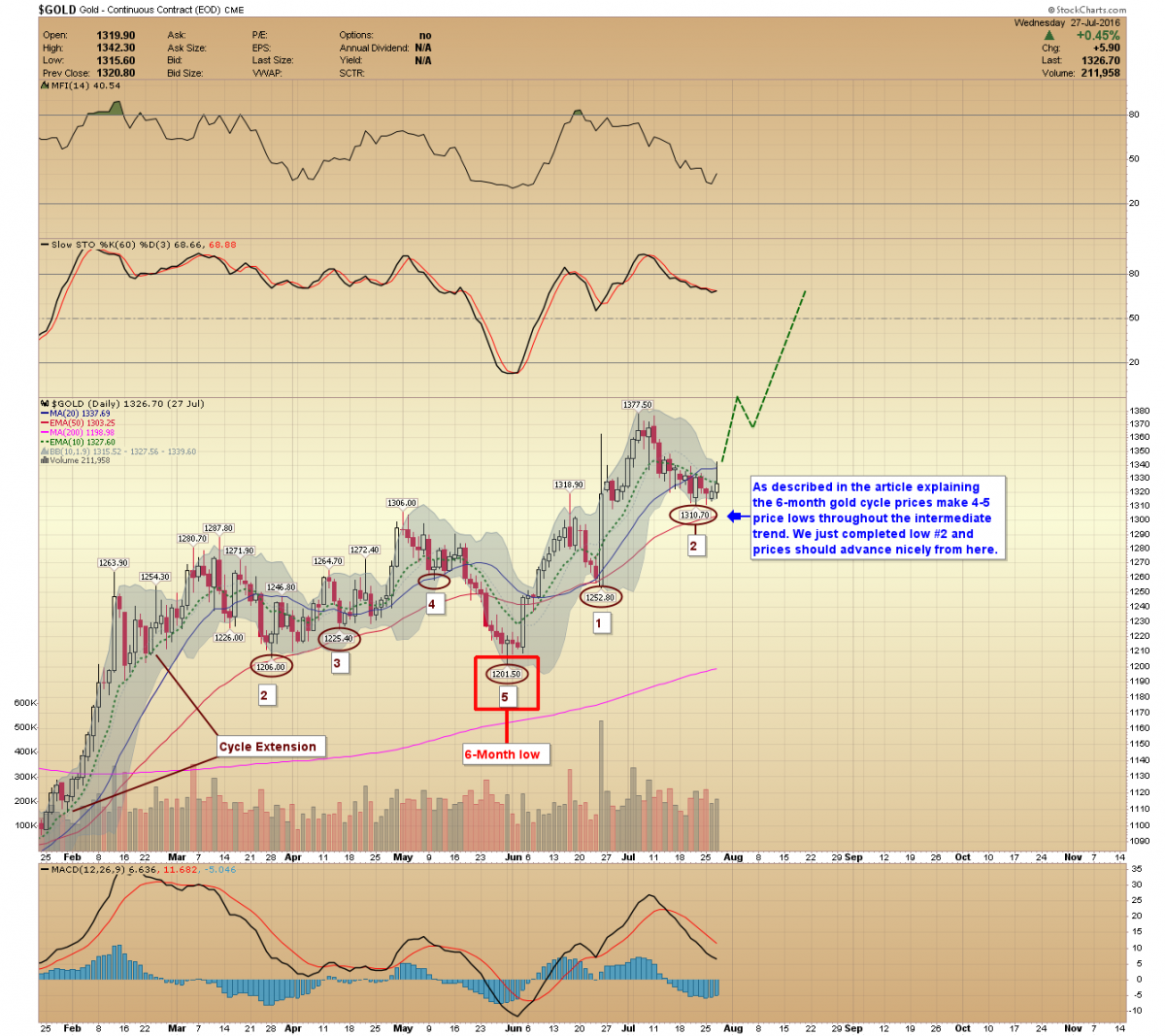 Silver Prices
Silver and gold nearly always correlate – with their cycles matching closely. Silver displayed relative strength in late June, holding above the 10-day EMA during the first cycle low. There is likely significant power remaining. Consequently, prices should rally from here. The second low arrived at $19.27. Subsequently, a new cycle higher has just began.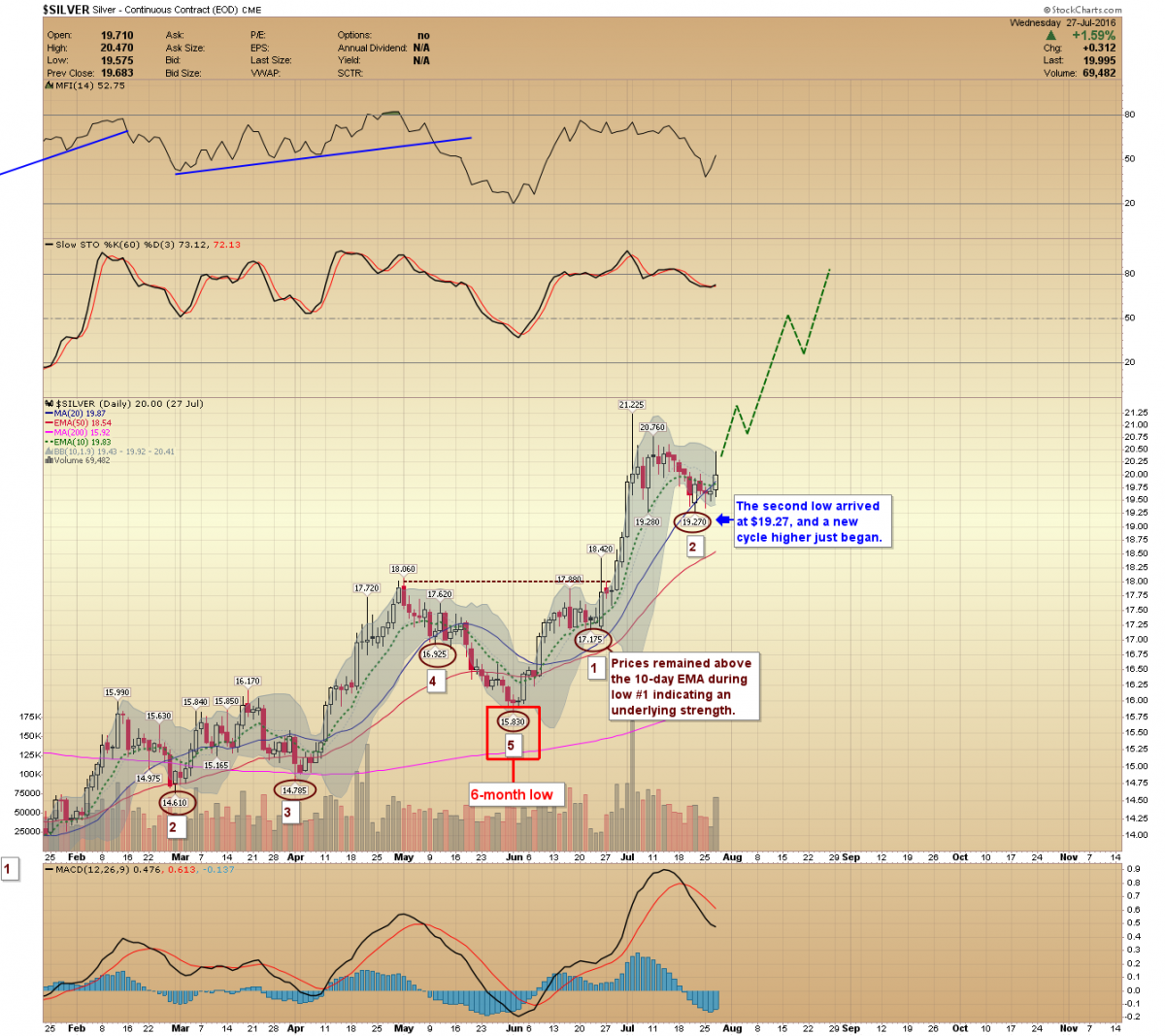 Gold Miners
Miners dropped slightly below their Thursday low of $27.80, but remained above support. The low is in, therefore we could see gold prices approach $37.50 in September. That translates to roughly 360 in the HUI.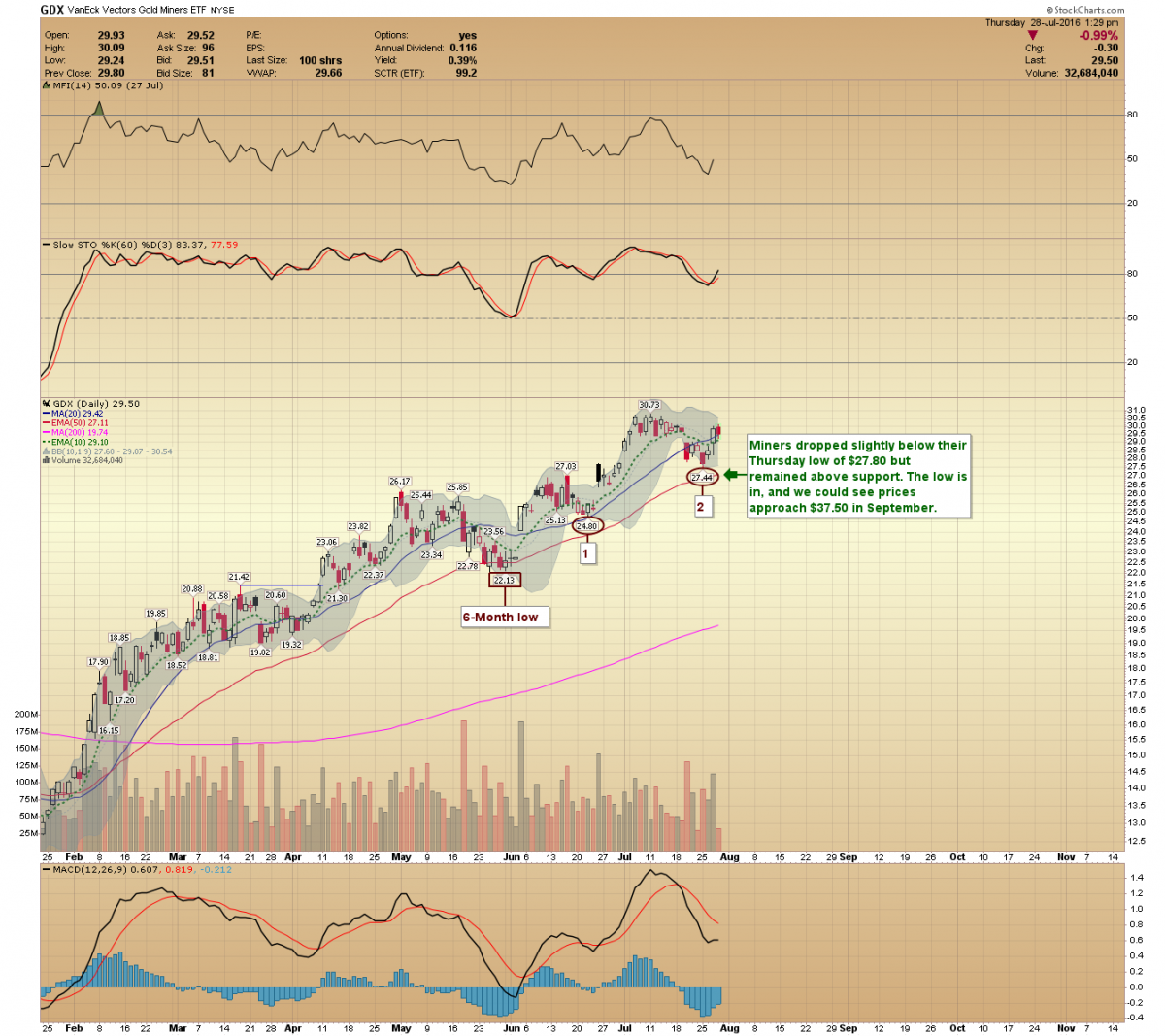 Green Light
We gave members the green light to finish position building shortly after the Fed announcement. It became evident that the Fed-day spike lower in GDX was a fleeting affair, once prices rallied back above the pivot high (chart below). Once prices were comfortably above that level, we released an update to members.
GDX 5-Minute chart: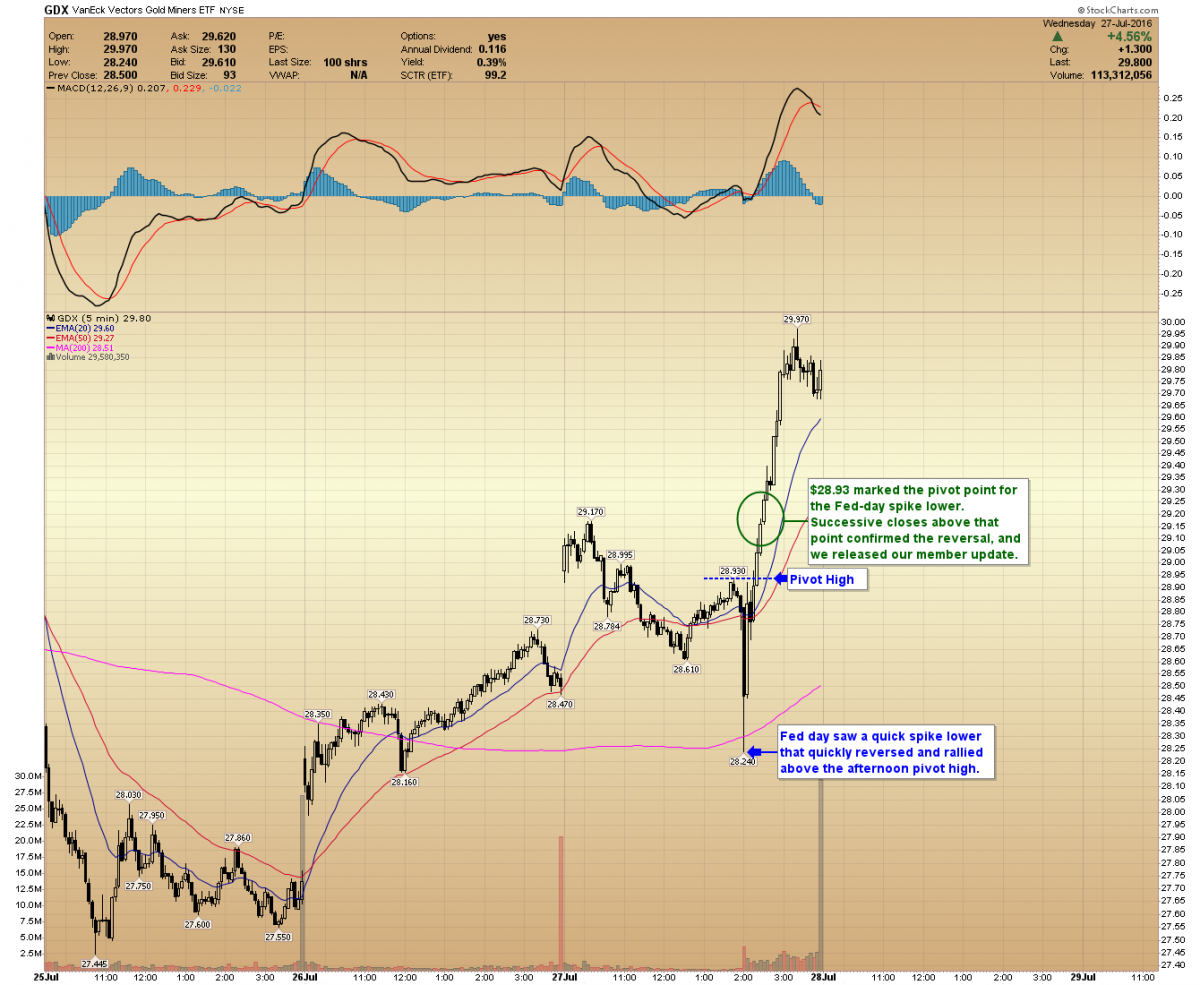 A Traders Tale
So often we over-complicate investing. Sometimes it's due to a lack of experience, but at other times, greed and fear cloud our choices. Early in my trading career, I devastated my account by using too much leverage. The following story teaches the value of proper risk management.
For years my mentor warned me about this pitfall. He believed leverage should be employed sparingly, and only during a well-defined uptrend. He warned that using too much will eventually destroy your account. You can break the rules…and occasionally get away with it. However, eventually the rules will break you. He was so right.
Overconfident, I dismissed those warnings, and began using options in my account. I did very well in the beginning, using them cautiously. I was making good money and decided to increase my exposure. Suddenly one of my trades went exceedingly well…as I made $57,800 in two short days. My wife came home to find me on the veranda smoking a cigar and enjoying my favorite bourbon. The very next day I made $6,500 in 3-hours. I grew confident in my skills as a trader, allowing me to begin dreaming of cars and even motor yachts. Care to guess what happened next? I lost everything, including my original investment over the following 12-months.
My long walk through the wilderness had begun. First, I had to break the news to my wife, explaining how I lost the money she had entrusted to me. She said: "That money could have paid off our mortgage." Needless to say, I was humiliated. Over the next three years, I would contemplate giving up several times. But my passion for trading triumphed…and I refused to quit.
I began reading every book I could find about investing, money management, technical analysis and cycle theory. Day after day, I studied and examined stock charts. Eventually, I was able to save enough money to fund a new account. To be sure with my wife's blessing, I began trading once again. I vowed to never again risk my account so foolishly. I understood it was going to take years…and even decades to produce the desired results. I was ready.
Every investor needs to define his/her risk tolerances and develop trading rules around them. A set of standards or parameters establishing when to get in, how much to allocate per trade, and exit even strategies. I'm sure if you google trading rules, you'll find several ideas. As you gain experience, you'll make mistakes. Consequently, adjust your system accordingly. Be not afraid to learn.
The rough patch I went through forced me to become a better trader. Though it was long ago, the lessons I learned are still very fresh. Some learn from another's mistakes, while others, like me, need to do it the hard way. I hope you steer clear of that troublesome trail, but If you don't, there is hope. Never give up on your dreams and remember, sometimes the journey is better than the destination, enjoy the path.
More from Gold-Eagle.com: