Gold Prices Falling Amid Strong Dollar And Optimistic Economic Forecasts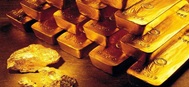 Investors waiting for a strong dip in gold to buy may have found it, as gold prices appear to be in a steady low space as economic data looks rosier than some expected. With the Fed flirting with the idea of raising rates in December, it appears gold may be under $1,300 for the near future.
But what is the economic data that is fueling this dip in the gold price, and does it hold water? Let's look at the latest trends:
WSJ: Data May Be Good Enough For Fed To Raise Rate
Over the past year or so, the Federal Reserve repeatedly flirted with raising rates but only did it once, not multiple times as was first expected. Strong economic data as of late appears to point once again in the direction of the Fed raising rates later this year, according to the Wall Street Journal.
According to the newspaper, Federal-funds futures are showing a near-75% likelihood that the Fed will raise rates in December, giving the economy some more wiggle room to lower rates should things turn south again. As gold enthusiasts know, the idea of raising rates is typically inversely associated with gold prices—the higher the rates are, the lower gold's price tends to be.
But the Fed's potential to raise rates isn't the only factor that influences the price of gold, especially now. The WSJ also reported that Hong Kong gold exports to mainland China increased 15% in the first eight months of the year, suggesting that demand for gold is holding steady there. With gold's continued status as the safe haven asset class of choice for many investors, and growing uncertainty in the political sphere, even a raise in rates may not be enough to send gold below its current prices.
Hedge Funds Have Lost Confidence In Gold?
One of the intriguing things about gold in 2016 was that many top investors, some of whom aren't always interested in the yellow metal, seemed to have gained interest in it. Now Mining.com is reporting that hedge funds may be flocking back out of gold, even though the year to date performance of gold remains strong.
What are investors to believe? On one hand, gold is touted as one of the top ways to get out of a banking system that includes negative interest rates across the world. On the other, many hedge fund managers look at the signs of the economy as written above and move out of gold.
It depends on individual investor philosophy. Some view gold as a temporary safe haven or even investment while others think of gold on a more long-term approach. Most hedge fund managers tend to align with the former philosophy, while "gold bugs" focus on the latter. Mining.com reported that speculators "dumped more than 10 million ounces long gold," which suggests that those who take the short-term approach see the writing on the wall in terms of economic news and may believe that gold prices aren't going anywhere sharply up any time soon.
More from Gold-Eagle.com: