Gold Prices: The Month Of November Is Critical

The first two weeks of November host critical events that will shape the next few months. Most important of which is the US Presidential election. Its outcome could send shock-waves through the entire financial system.
A Trump victory could support gold prices as it would behave more like a currency as investors rush to safety. Silver is viewed more as an industrial metal and could drop with other commodities.
A severe selloff in the general stock market could negatively affect gold and silver miners, even if bullion remains buoyant. Traders sell everything with a profit during a panic to meet margin requirements.
The stock market looks very close to a major breakdown. The NYSE is an excellent gauge of all stocks, and it has already broken below its September low. A Trump victory could ignite a panic selloff like the one we saw during the summer of 2015. Trump is unpredictable – to say the least, and there may very well be a rush to the exits if he's elected. Severe selling could trigger a multitude of stop loss orders creating a waterfall type decline.
I see the potential for a sudden shock throughout the global economy. If this happens, the FED will not raise interest rates in December as expected, but rather look for ways to stimulate growth. Central banks will try again to prop up the financial system with their use of liberal monetary policy.
Weekly S&P500
Stocks could see a swift move lower once they fall below support at 2110. We might witness a similar drop to August 2015 or January 2016. A sharp decline should find support at the 200-week MA (1,940).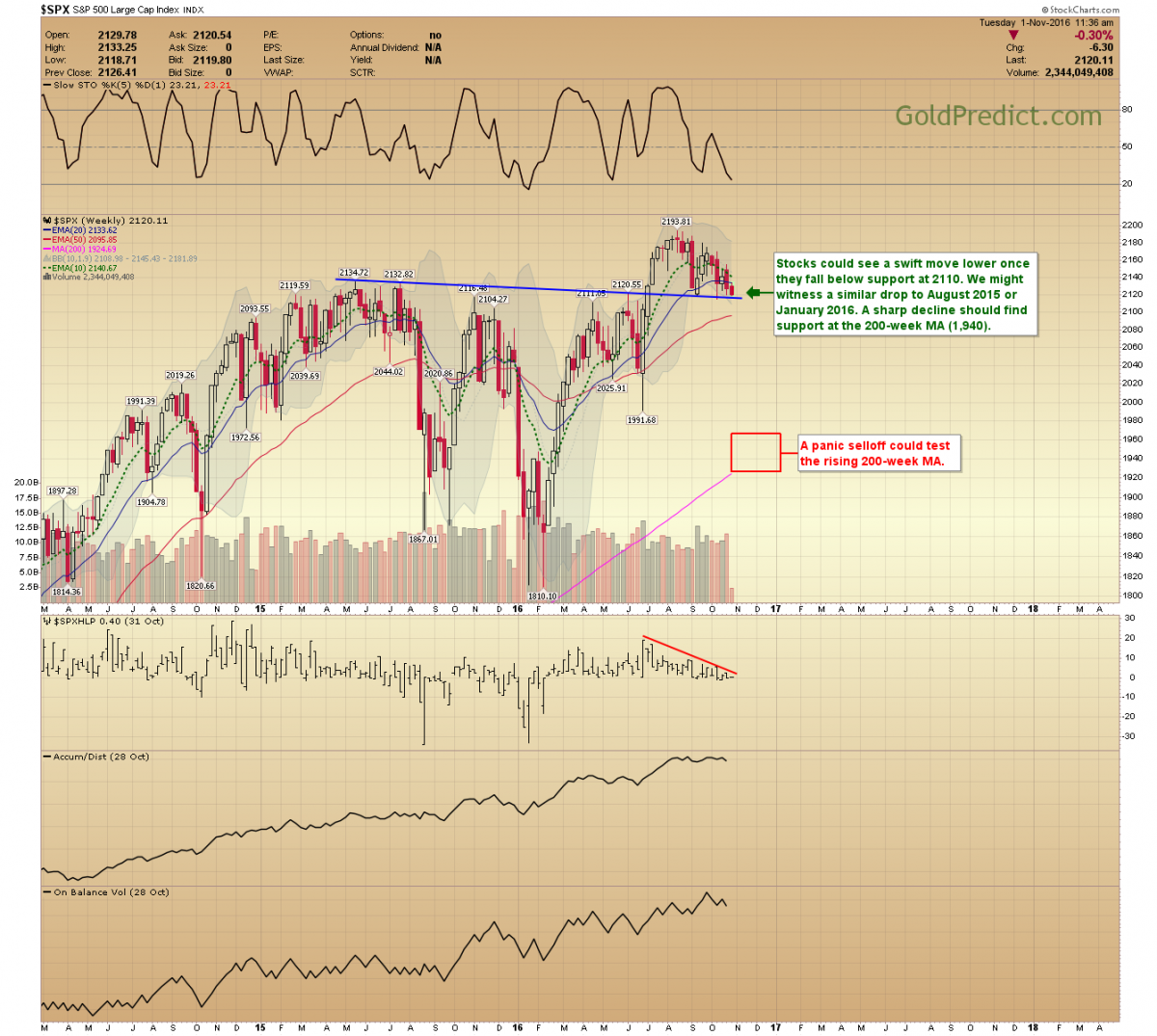 DOW Theory
A DOW Theory non-confirmation arrives when the transports or the Industrials make a new high without the other. The Industrials went on to new highs (bottom) in 2016, but the transports (top) are far from making new highs. This action often precedes a bear market in stocks.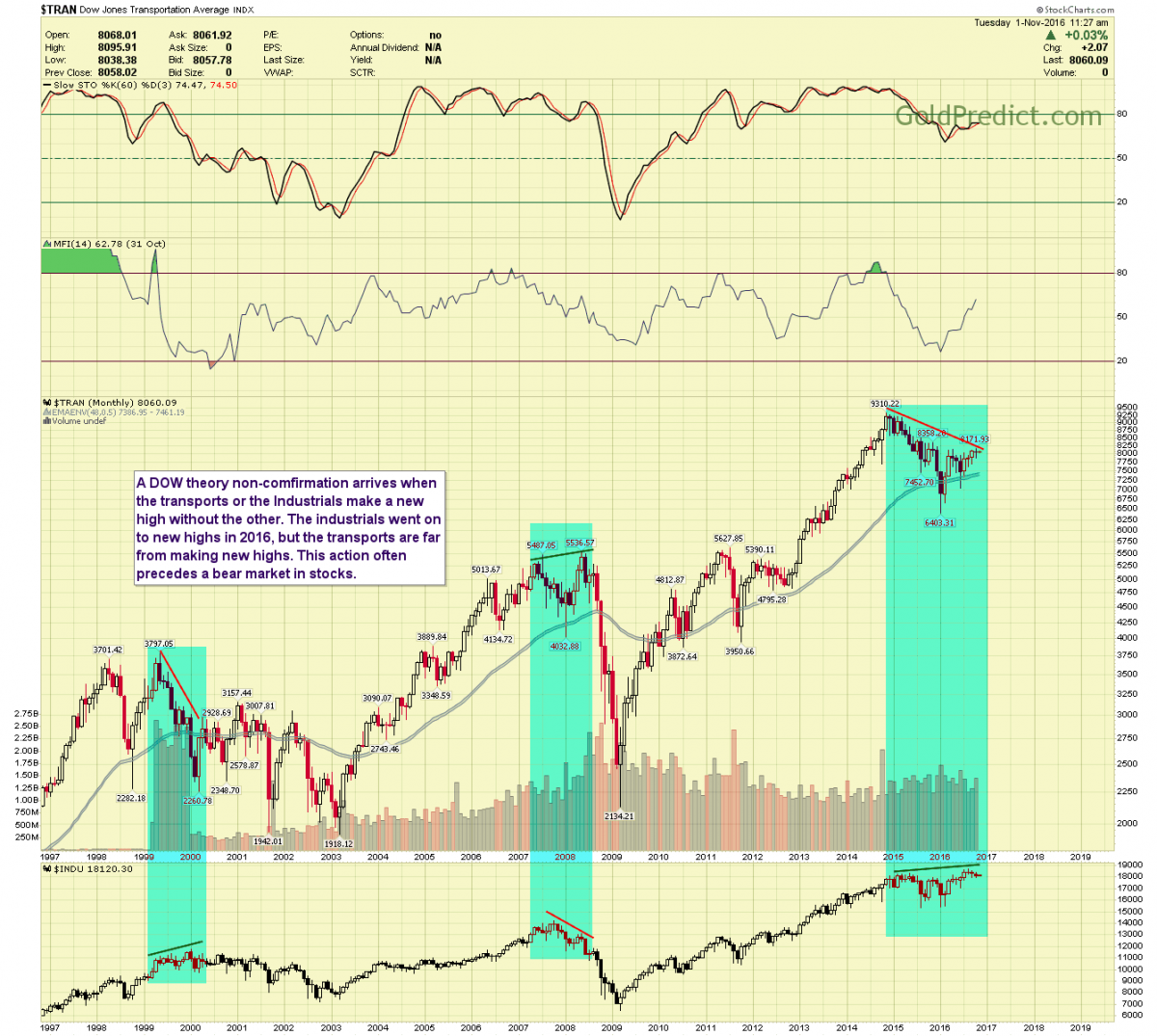 US Dollar
The dollar could spike above 100 if there is a panic and investors rush to safety. It needs to hold support at 97.50.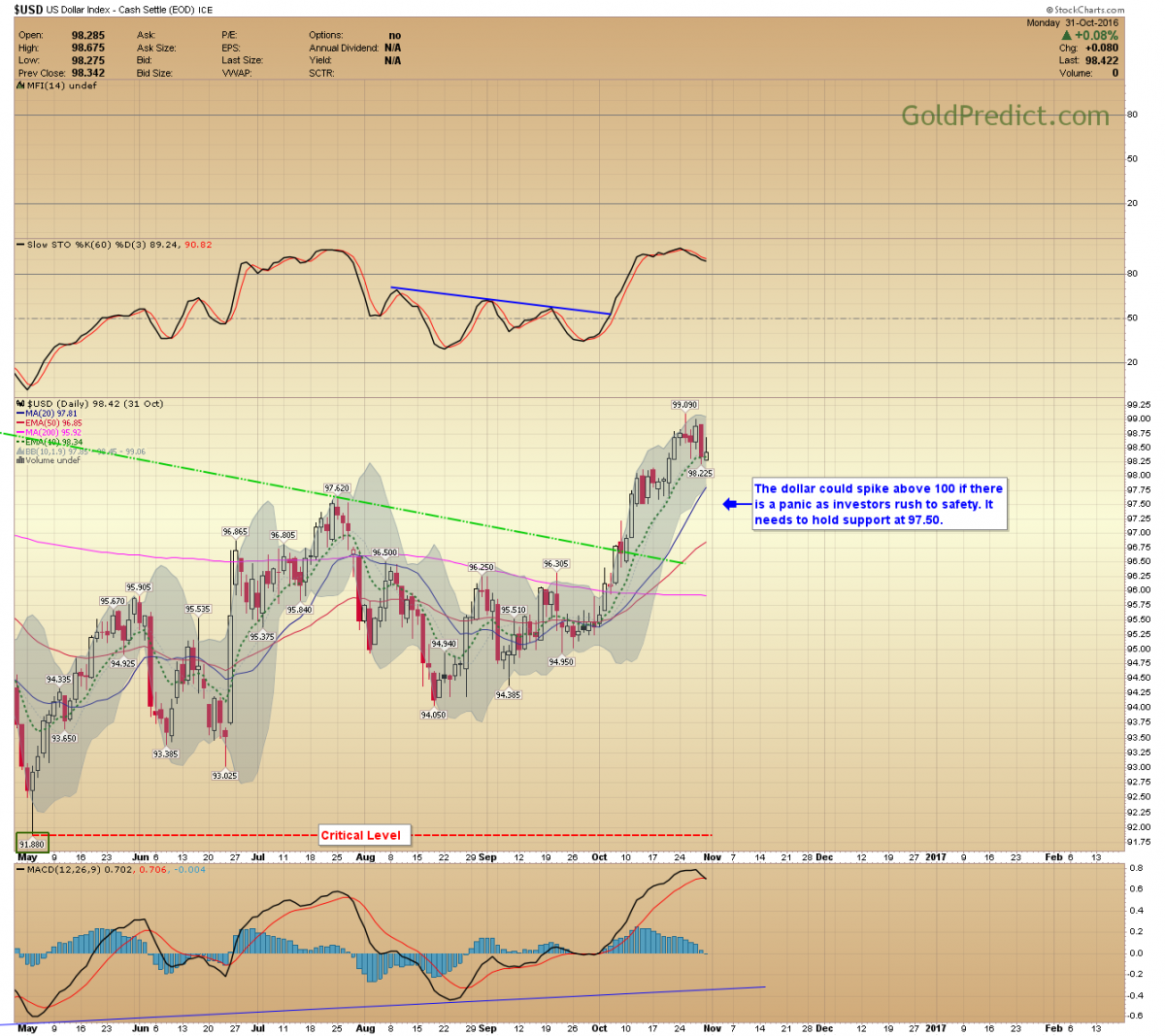 WTIC
The oil cartel attempted to raise prices with talks of production freezes. It was just that – talk, and oil prices have topped. They are now headed down back to $40.00, with the possibility of a spike even lower during a market panic.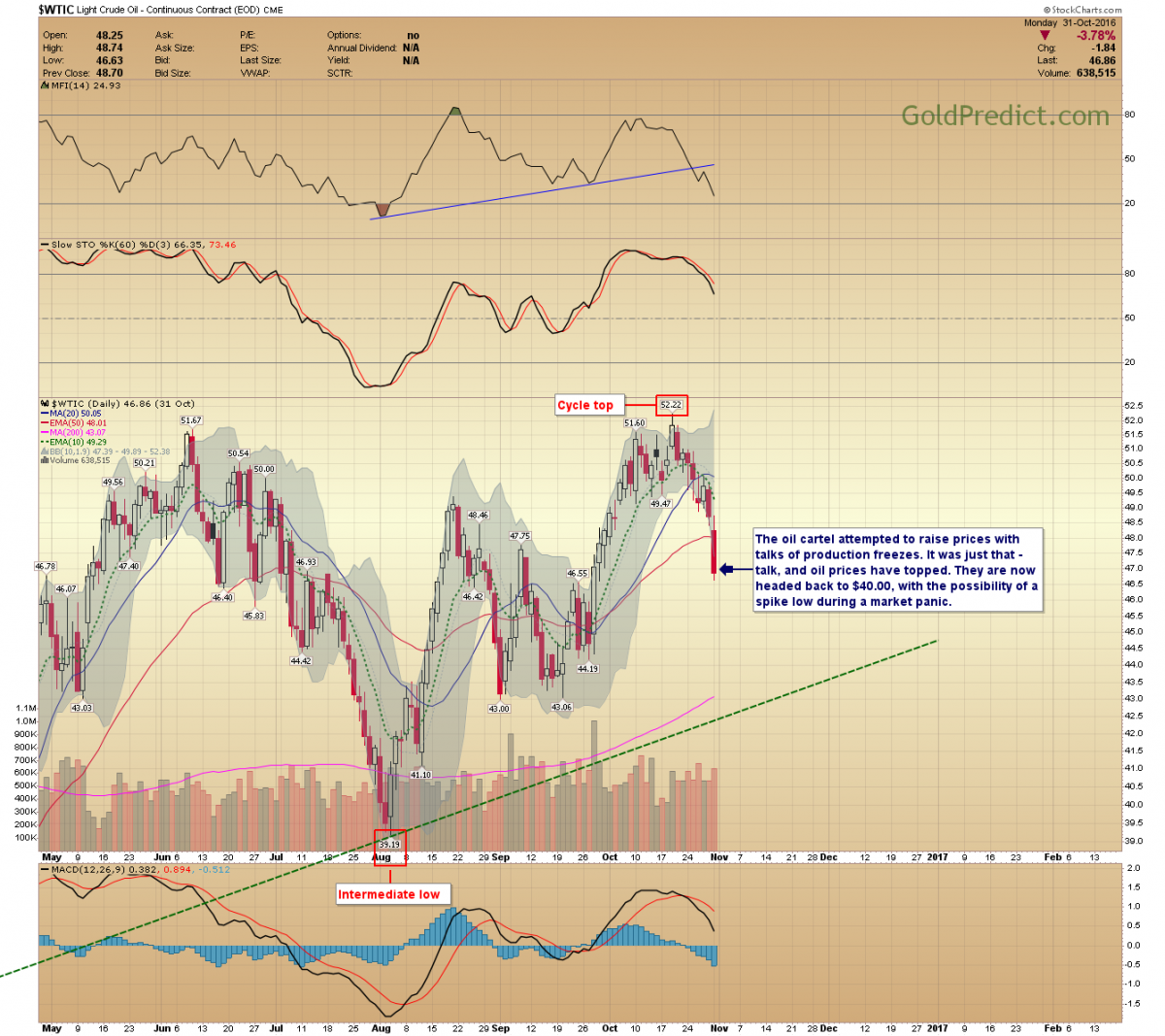 Gold Weekly Scenario 1
Gold prices will meet resistance between $1,300 and $1,310. If prices rally to that level, correct for about 3-weeks and then breakthrough, we are headed to $1,500+ in the 1st quarter of 2017.
In this scenario, we would buy during the three-week pullback anticipating a breakout above $1,310.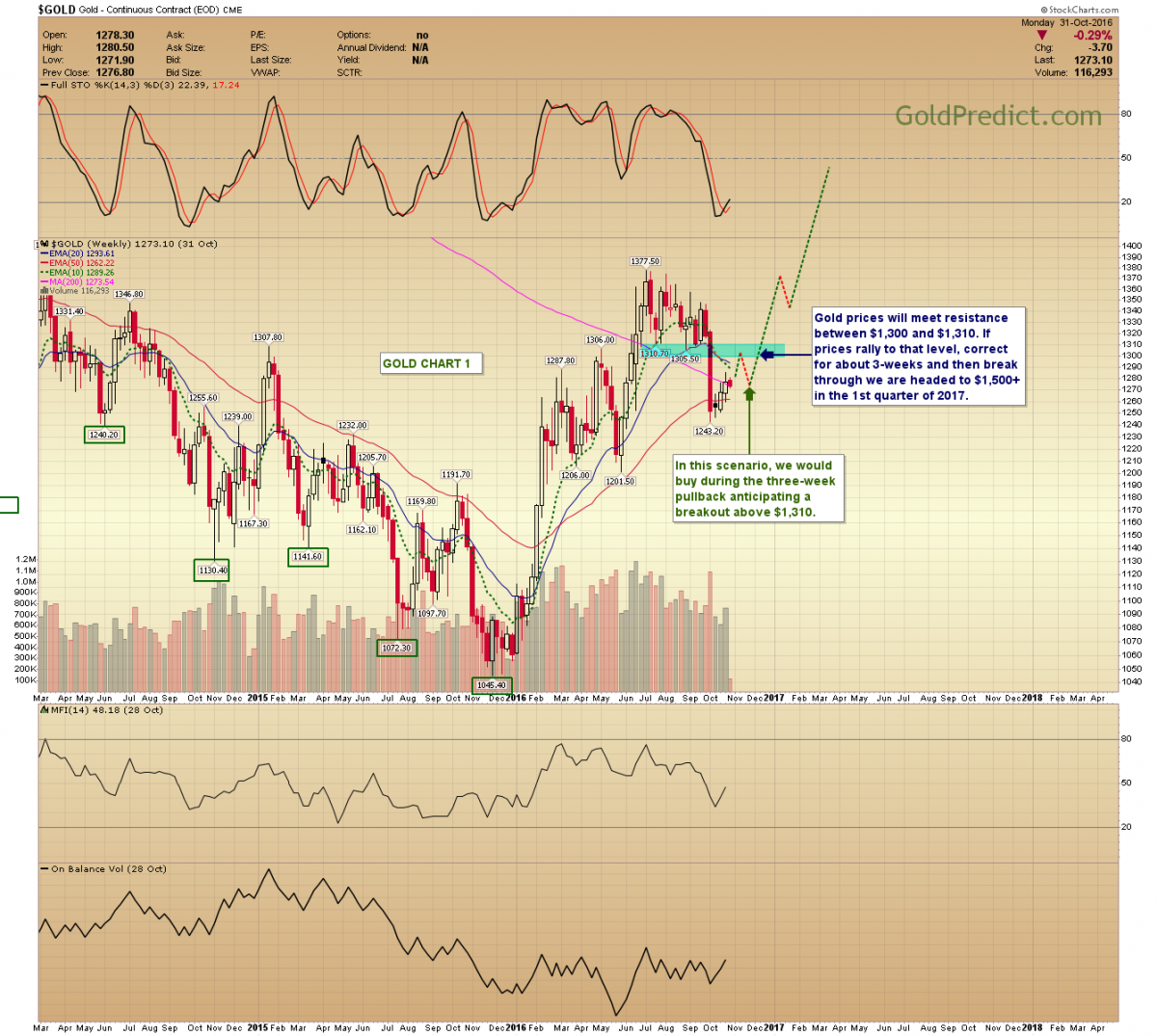 Gold Weekly Scenario 2
Gold prices will meet resistance between $1,300 and $1,310. If prices pullback and are unable to breakout above $1,310, then the global shock mentioned earlier has taken hold. In this case, prices will drop into the first quarter of 2017 forming a secondary 8-year low within the normal 8-year timing window.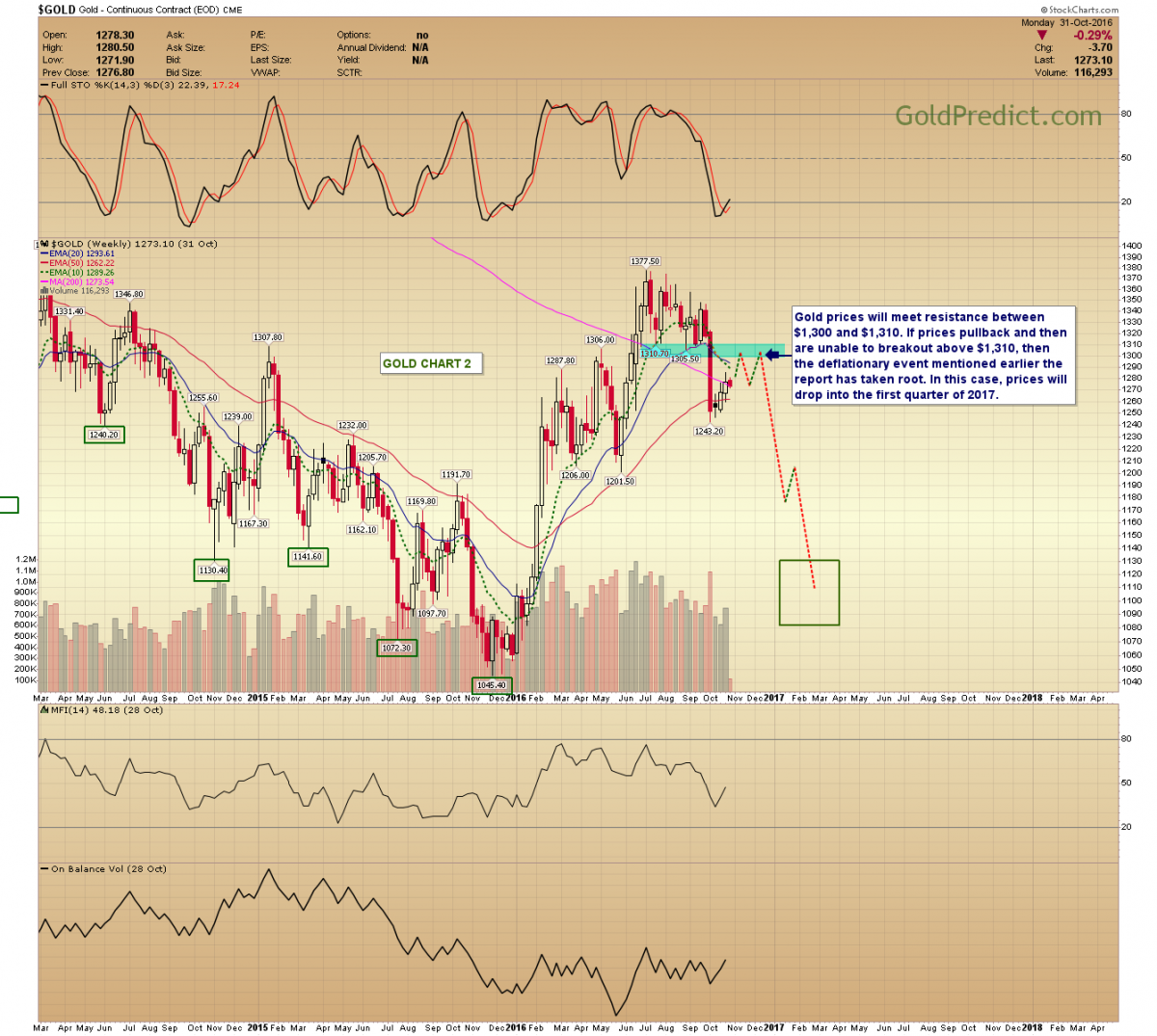 Gold's 8 Year Cycle
Sometimes gold prices make a secondary 8-year cycle low. The line in the sand resides at $1,310. If gold prices can't breakout above $1,310, then we are likely to see a drop into a secondary 8-year cycle low, like 2001.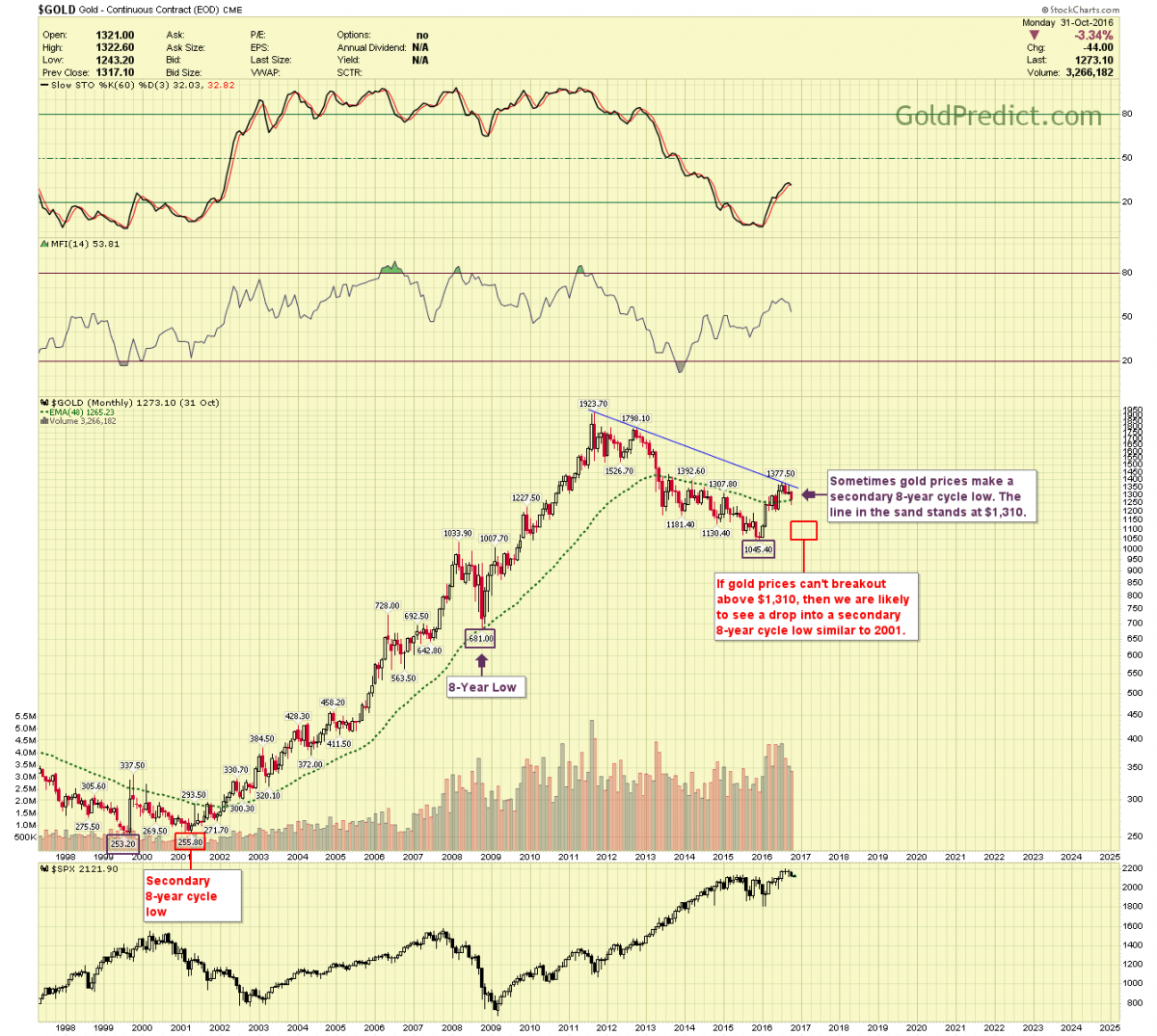 In summary, several volatile market forces are converging during the month of November. Gold has significant resistance between $1,300 and $1,310. We will find out after the FED meeting if the one-more-drop theory is dead. I bought gold futures at $1,254 on October 7th - and plan to keep them for the time being (stop $1,262). Other than my core precious metal assets, I'm not adding to positions until I know more.
I took out a short position in S&P500 futures last week. Moreover, I may add to it around the time of the election. For now, I'm happy to wait and see what transpires. We may receive a favorable risk/reward setup in the coming weeks.
********
Gold-Eagle provides regular commentary and analysis of gold, precious metals and the economy. Be the first to be informed by signing up for our free email newsletter.
More from Gold-Eagle.com: