Gold Prices This Week And Next Week's Forecast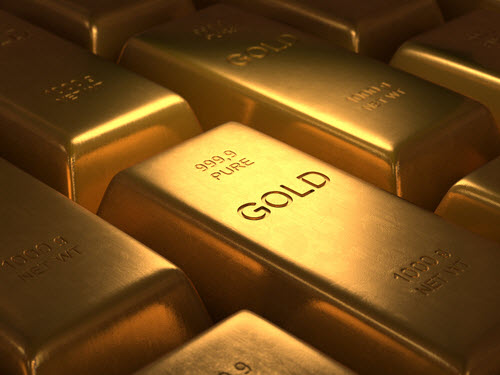 Last week I wrote that I expected gold to give us a pull back to $1,275 or possibly even $1,260, before starting its next leg up above $1,300.
Well, we got that pullback early in the week as gold dropped to $1,280 Monday through early Tuesday, before bouncing hard late Tuesday through Thursday to finish the week down just 0.06%. So I was off on my pullback target by a mere $5.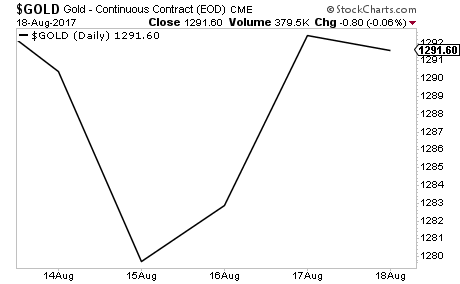 So What's Next For This Week?
The bad news is that because the pullback happened so rapidly, gold didn't wear off much of its overbought status for neither its RSI nor its Slow Stochastics. And because it didn't clear its prior peak of $1,294 from the week before, nor the psychologically important level of $1,300 from a strictly technical perspective, the gold price  remains in a kind of "no man's land" between $1,280 and $1,300.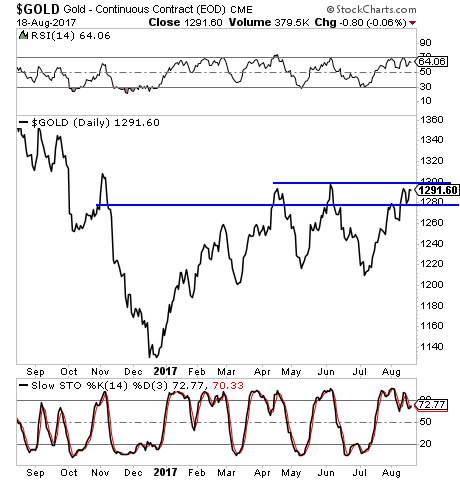 So this week is quite muddy with both $1,285 and $1,300 being in play.
However, the fact last week's pullback was so rapid…and gold reclaimed practically all of the week's losses, it tilts the scales towards a move higher to break $1,300 this week. That move opens the door to $1,315-$1,325 area as an upside target.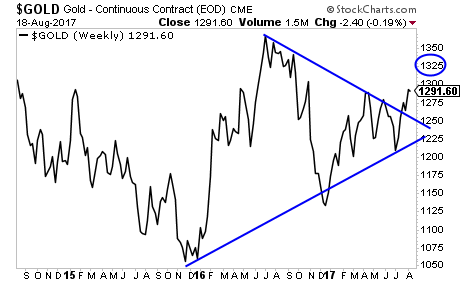 Put simply: This week there are no HIGH probability moves. Nonetheless, the overall trend is upwards towards $1,325. Moreover, I fully expect we'll be north of $1,350 by end of September.
This concludes this week's gold review and forecast. Until next week!
Courtesy of Phoenix Capital Research.
********
Gold-Eagle provides regular commentary and analysis of gold, precious metals and the economy. Be the first to be informed by signing up for our free email newsletter.
More from Gold-Eagle.com: