Gold Prices This Week And Next Week's Forecast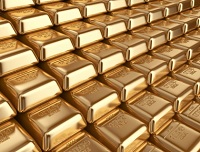 Our forecast from last week unfolded like clockwork with gold prices breaking above the all-important psychological level of $1,300 and following through to our upside target of $1,325.
That was the easy money. This week is not nearly as clear. Gold has major resistance in the $1,330-$1,340 range. Given the momentum of last week, we could see a final burst higher early in the week to $1,340.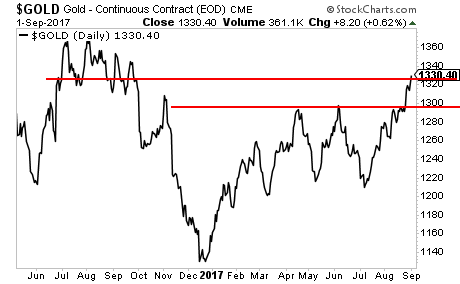 However, gold is a volatile asset class. And it does its best to make things as painful as possible (this is especially true given the abject manipulation in gold courtesy of the large banks).
With that in mind, I have a feeling we're going to see a back-test of around $1,300 or so before things really ignite to the upside.
Long-term gold looks fantastic, having broken a critical seven-year downtrend. The next major bull market is now here. But we're probably going to shake out some momentum players this week before we begin the REAL move to $1,400.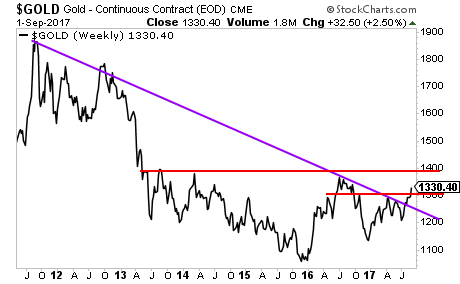 This concludes this week's gold review and forecast. Until next week!
Courtesy of Phoenix Capital Research.
********
Gold-Eagle provides regular commentary and analysis of gold, precious metals and the economy. Be the first to be informed by signing up for our free email newsletter.
More from Gold-Eagle.com: