Gold Prices This Week And Next Week's Forecast
The gold correction we've forecast started last week. However, the ongoing geopolitical issues with North Korea have "muddied" the waters.
Always remember that gold is a "sentiment" trade. The precious metal has virtually no industrial uses, so the economic rules of "supply and demand," don't impact it much. Moreover, gold is also openly and abjectly suppressed by the large banks (this is no longer conspiracy, there have been lawsuit settlements). As such, it requires significant shifts in sentiment for gold to overcome this.
Put simply, in order for gold prices to make a major move that can overcome its regular price suppression, enough market participants need to "feel" a particular way. That happened this week, with a significant number of players feeling concerned about the prospect of North Korea's nuclear program to rush into gold, slowing the pace of its much needed correction.
The good news is that gold wore off quite of bit of its formerly overbought status. Its Relative Strength Index (RSI) dropped well below the overbought level of 70. And its Slow Stochastics have similarly retreated into a neutral territory at 54.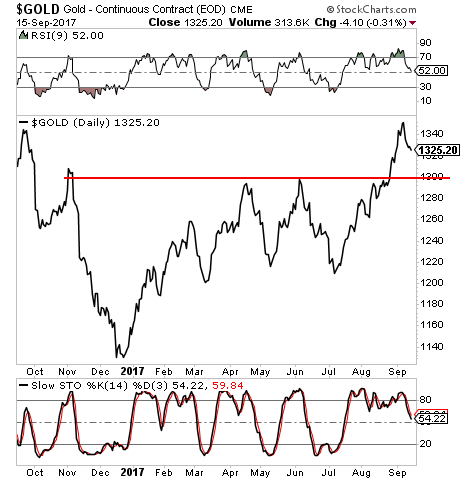 The other good news is that "real rates," as established by the inflation-adjusted Treasury-to-Treasury ratio, suggest that gold might be ready for its next leg up very soon.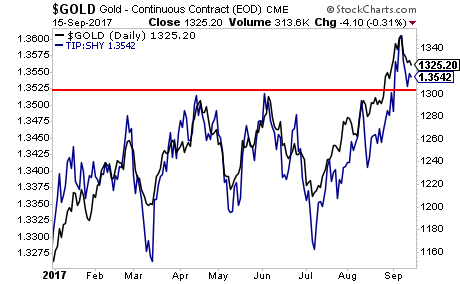 As you can see, the TIP:SHY chart (blue line) bounced off support last week. If it can hold here or better yet, start to rally later this week, gold will be off to the races again.
With all of this in mind, we stick to our initial forecast of gold seeing some weakness early this week. The momentum does remain to the downside, but given what's happening in "real rates" look for the precious metal to establish a bottom sometime after Wednesday.
Here's the road map in chart form.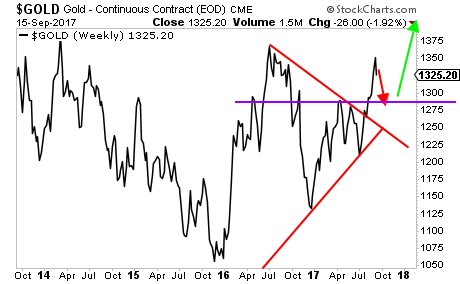 Graham Summers
Chief Market Strategist
visit: Phoenix Capital Research
********
Gold-Eagle provides regular commentary and analysis of gold, precious metals and the economy. Be the first to be informed by signing up for our free email newsletter.
More from Gold-Eagle.com: