Gold Prices This Week And Next Week's Forecast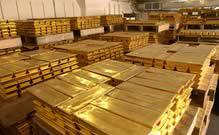 Last week we wrote: Put simply gold is in a kind of "no man's land." It is unlikely it will sell off much more - and it is similarly unlikely it will roar higher. Consolidation/bottoming is the name of the game this week.
Gold ended the week down 0.77%. However, the vast majority of that move came over the weekend when gold opened Monday sharply down. The rest of the week we had the predicted consolidation/bottoming process. Indeed, for a volatile asset class like gold, the precious metal traded within a meager 0.3% range from Tuesday through Friday.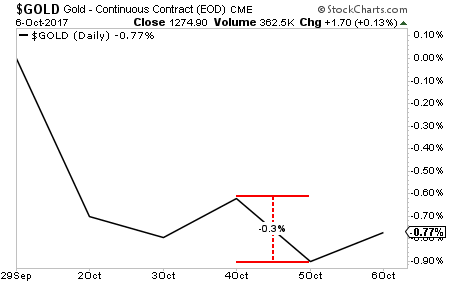 The good news is that after last week's snore fest, gold is now looking even better for bulls. The Slow Stochastics are well into oversold territory and turning up. RSI is within spitting distanced of oversold. And the chart even looks as though we're about to turn.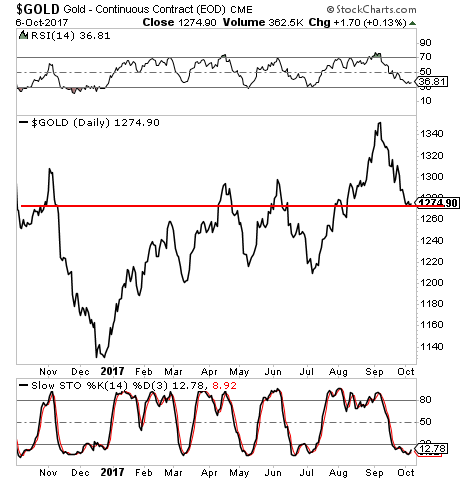 More importantly, gold Miners had a great week last week. You wouldn't know it judging from sentiment or the financial media, but the Gold Miners ETF (GDX) dramatically outperformed stocks last week including the beloved NASDAQ.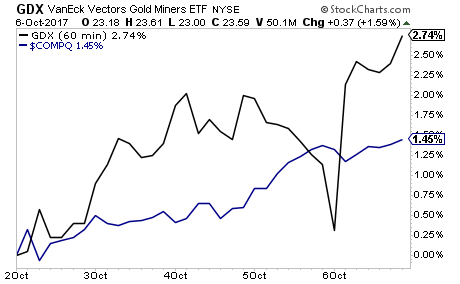 Miners typically lead gold on turns. To see miners not only outperforming gold but outperforming even the most beloved stock index in a week in which most traders were panicking is a very positive sign that the turn is at hand.
It is possible gold has a final drop to $1260 early this week, but the odds HIGHLY favor the next leg up to begin before the week is over. The upside target for this move is $1,420. We should be there before the end of November.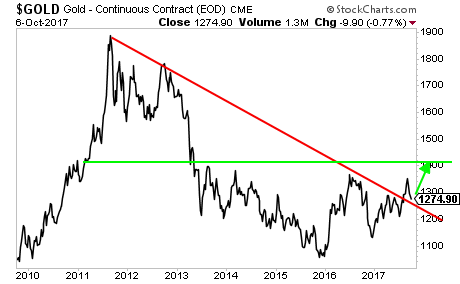 Our forecast for this week: Gold should finish the week higher. Any final flush of the weak hands will hit before Wednesday. And by Friday gold should be up and well into its next big rally. The turn we've been waiting for is finally here.
***
Graham Summers
Chief Market Strategist
Phoenix Capital Research
********
Gold-Eagle provides regular commentary and analysis of gold, precious metals and the economy. Be the first to be informed by signing up for our free email newsletter.
More from Gold-Eagle.com: