How The Fed Rate Hike Could Affect Gold Prices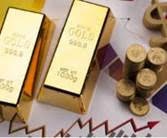 Last week's raise in the Federal Reserve target interest rates was mostly met with expectation by the markets. There was no major rise and no major fall. Ultimately, many experts thought the Federal Reserve rate hike was "baked in" to the prices of stocks and the economy as a whole. Consequently, we haven't seen any traumatic movement as a result.
But that doesn't mean last week's rate hike won't affect the economy—and gold prices in particular.
How The Rate Hike Affects Your Personal Economy
An article at Schiff Gold recently took into account the various points of interest that the average middle class investor will have to worry about, including:
Credit card interest rates. Those holding credit card debt will want to pay it down as soon as they can, especially with the Federal Reserve strongly hinting that they're pursuing three more rate hikes next year.
Stocks could struggle. Although stocks have been at record highs as of late, the old saying "what goes up must come down" keeps many people wary. If you're not wary, remember that higher interest rates tend to discourage the flow of money, which means lower consumer spending.
A strong dollar keeps your savings hefty, even if savings interest rates are still at rock-bottom prices. Recently the dollar has shown particularly strong against the yuan, for example.
It's that last bit of information that might not matter as much to personal finance experts, but will matter a lot if you're an investor who keeps tabs on world trade.
Tightening Rates And The Impact On The Dollar
Typically, higher interest rates means that dollars flow less easily; loans are discouraged by higher interest rates, which encourages savings. That tends to mean that the dollar itself will see upward pressure, at least relative to other currencies that are still inflating at a rapid rate.
This is good if you're a traveler to a foreign country and want to change out your dollars for, say, yuan. But if you're a gold investor—and gold is priced in US dollars—it means that this is a bad time to sell.
The good news is that lower gold prices  due to a strong US dollar will get you more "bang from the buck" if you do decide to buy gold and silver at current prices.
Watching The Pessimism On Gold
A recent opinion piece on MarketWatch published just today by Mark Hulbert suggests that there's not a lot of optimism for gold. If the Federal Reserve truly does look to raise interest rates three times over the next year, that trend will likely continue.
If true, that means that we're in more than a gold "dip," but we're actually in an extended period in which gold might remain under $1,200.
But that doesn't mean there can't be any extenuating circumstances in which gold could shine. A fall in the stock market could send investor demand for gold to higher places, which in turn will drive up the price of the yellow metal. But even as 2016 comes to a close, all of these news items and markets will bear close watching.
More from Gold-Eagle.com: