How Will Central Bank Tightening Effect the Silver Price?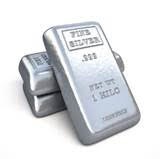 Recent news for precious metals has been bearish. Not only are gold and silver struggling to maintain the gains they established early on in the year—and slipping while they do so—but the stock market in recent months has continued to stay at the high levels that create lots of optimism in the mainstream. However, some recent news in the stock markets—U.S. stocks falling as central banks are signaling the end of QE—has pointed to a potential different direction. Will this mean a response in the price of silver, or will silver stay in the same place it's been for most of 2017?
The End of the "Great Recession" Period?
If central banks are raising interest rates and signaling the end of quantitative easing—another measure meant to spur economic activity—then these different strategies could be a sign that the great recession period is coming to an end. That seems like old news to some, but the truth is that we can still see the effects of the great recession all around us: particularly when it comes to interest rates. Though the Federal Reserve has recently been raising these rates, they still remain extremely low relative to their history thanks to the Fed's actions during the recession.
The end of this period would signal that the strength of the U.S. dollar might be primed to go up, which in turn means that the prospects of the price of silver aren't as optimistic as silver bugs would like to admit. But if that's the case, why is the stock market down on the recent news?
Monetary Easing as a Tool for Holding Down Precious Metals
Monetary easing, or using different strategies to plug money into the system and spur economic activity, tends to prop up the prices of equities including stocks. That provides the answer we're looking for: the end of quantitative easing would potentially mean less money available to buy up relatively cheap assets. It could even mean lower demand for bonds. Indeed, we saw that recently, the 10-year German bond yield hit an 18-month high in its yield as a response to lowering prices.
What does this mean for silver? Silver's role as a hedge against more mainstream investments like stocks and bonds means that it's often inversely correlated with the success of stocks and bonds. If the monetary well that has helped drive up the stock market since the great recession is drying up, it may be a signal that other hedges like gold and silver may represent an important part of an investor's portfolio.
A Caveat to Silver Bugs
These issues are complex. While silver and gold might seem to benefit from lower stock and bond prices, we've seen very little movement as of late that suggests investors are flocking to precious metals. But if central banks are serious about tightening their belts and currencies become stronger as a result, it could mean lower prices for silver and gold—which in turn means a tremendous buying opportunity, depending on how investors see the future of both precious metals. 
More from Gold-Eagle.com: