How Will Gold Prices React To Strong Consumer Confidence?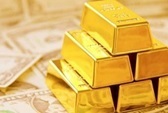 Many economists consider consumer confidence to be one of the strongest indicators of the health of an economy. And with the index hitting a new high since December of 2000 in March, the news sent the stock market hurling upwards yet again, stopping a recent streak of drops. But what does consumer confidence mean for the price of gold?
Early this Wednesday morning, gold stands at about $1,255 per ounce—not far from where it was before these numbers were released. But whether or not gold will hold on to that healthy number will require digging a little deeper into consumer confidence and how it might affect the yellow metal.
Gold's Reaction To Yesterday's News: More Confidence
The conventional wisdom says that as long as the economy is roaring and the stock prices look favorable, investors won't flock to precious metals like gold because they don't need to. But as we saw yesterday, gold held its own against good news for the economy, suggesting that the two are not inversely correlated with each other.
While gold's price doesn't have to go up or down even when there are strong indicators in other fields on any particular day—after all, just one day is a small sample size. Consequently, gold investors should consider it encouraging that the precious metal price shrugged off the news and maintained its strength.
What if we "zoom out" and look for consumer confidence trends to see how they might match up with gold's price?
Weighing Historical US Consumer Sentiment
Knowing what we know about where precious metals went in 2016, it's interesting to look at this chart of the last five years in U.S. consumer sentiment, courtesy of TradingEconomics.com: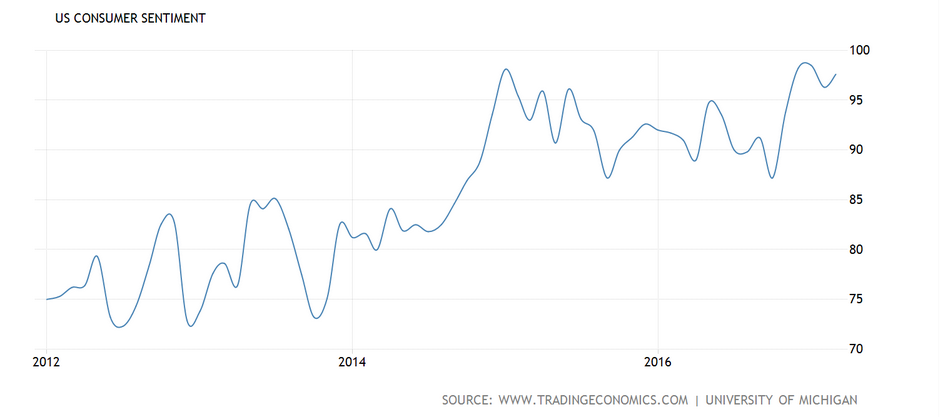 On a macro level, this might as well track the history of precious metals, especially in 2016. Although there are plenty of areas in which confidence went down just as precious metals went up—we also see an overall high consumer confidence in 2016, even while the Brexit vote supposedly wiped out investor confidence.
This is why it's important to note the difference between the two. Investor confidence is very hard to track—unless you use the Dow Jones Industrial Average as your meter—while the consumer confidence index and U.S. Consumer Sentiment are always going to have specific numbers are associated them. There are indexes of Investor Confidence, but few releases about confidence seem quite as news-grabbing as consumer confidence, particularly when it goes up or down. March's high index report was newsworthy in particular because it has been decades since confidence has been this high.
Will Gold Prices Match Or Fall?
The more confident consumers are, the stronger the economic headlines tend to be. This can be bad news for those who buy gold as a hedge. But gold's role in the world's economy is more complicated than merely serving as a hedge, as the recent performance of gold against the consumer index has shown. What remains to be seen is if the two will split—with one going high and another going low—as 2017 develops.
More from Gold-Eagle.com: