Signs Of Silver Price Optimism Outpacing Gold?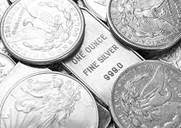 This week has seen a sluggish Dow Jones Industrial Average struggling to break even while the price of gold looks poised to hold on to its gains. But what's been lost in the shuffle is the price of silver, which has made some progress against gold, inching up above $17.50 and entering the realm of 1/70th the price of gold.
Is this uptick in the price of silver a sign of things to come, or merely the tip of the arrow for the precious metals market?
Tracking The Price Of Silver
With the stock markets not showing much, if any, signs of life this week, a spotlight has shifted to precious metals. The most obvious precious metal is, of course, gold, which has performed well enough to move above previous positions. But some websites have pointed out how silver prices are following gold with plenty of momentum, much like an object in space using a gravity boost from a larger object to increase its speed.
Traditionally, the ratio of silver to gold has been a good indicator of silver's potential—if silver is currently underperforming this ratio, as it has been in recent years, then that points to upward momentum for the gray metal should precious metals take off. This week has shown signs of that, as gold has moved above $17.50 and even to $17.60 per troy ounce.
Finding Better Returns With Silver
One of the reasons silver can be such an attractive choice to investors is that it often represents a chance for greater returns on investment by percentage. Although many investors will flock to gold in these scenarios, the savvy precious metal investor will look at silver as well.
Silver may be currently undervalued relative to gold—but when compared to the stock market, the difference becomes even more pronounced. Those who currently believe stocks to be overvalued might see silver as an interesting alternative if they're not completely comfortable with the price of gold. This could potentially lead to a greater demand in silver if the entire precious metals market starts rising, though identifying such a bull market will take more than a week, even for the savvy investor.
A Unique Investment When Stocks Seem Too High
There is plenty of optimism in the silver markets right now. Those already with some presence in silver will find this week's returns encouraging; the true question is how long this will last.
For those who have looked too much to gold as a hedge against stocks, silver can be a comforting alternative: it provides exposure to precious metals while also having a tremendous degree of upside. There is plenty of volatility in silver, of course, but a fully diversified portfolio can handle this volatility with ease.
What remains for the market this week? Silver may continue to inch upward. Whether or not this represents a slow buying opportunity before a bull market for silver remains to be seen, but for now, silver's price is experiencing a great degree of optimism.
More from Gold-Eagle.com: