Is The Silver Price Even A Better Bargain Than Gold's?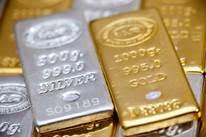 Everyone knows about the shockwave that Donald Trump's election brought—except after Tuesday night, when Dow Futures plunged around 600-800, it appeared that the shockwave was going to be much nastier than it was. Instead, the market rallied on Wednesday and has even showed healthy signs of life today, moving up triple digits at the time of this writing, midway through Thursday morning.
Investors have likely read about what caused the price of gold to its current prices, but might there be a better bargain out there for precious metals investors in the price of silver? Let's examine this idea more closely.
CNBC's Daryl Guppy: Silver Offers More "Profit Opportunities"
Saying that the upside in gold appears to be at about $1,350 right now, Daryl Guppy (writing for CNBC) sees some profit opportunity there, especially if markets appear skittish again at some point in the future. But an even better opportunity, argue Guppy, is present in silver prices, putting a potential target at $21 per ounce, with a longer-term target as high as $26.
"Silver is slower to move but it has more room to move and this delivers better profits," writes Guppy. This is a time-tested argument for silver, which typically sees larger-percentage swings because of its lower price respective to gold.
For talented investors, the price of a commodity alone isn't the only factor in investing—but rather, how much space the price has to move upwards. That certainly seems to be the case with silver price optimists as of late.
Silver Prices Up Thursday On "Election" Rally
At EconomicCalendar.com, Sam Bourgi noted this morning's rally in the price of silver despite the U.S. dollar looking a little bit stronger as well. Typically, the two have an inverse long-term relationship.
Some instability on the world scene might have some investors still iffy about the stock market's chances. Not only have protests erupted over the election of Donald Trump, but the intensity of these protests is making news. With the protests moving to several cities across the national landscape, it appears that the unrest is at least somewhat serious.
Instability tends to be bad for markets, and good for hedge investors who believe that instability is on the way.
Watching The Silver Price For The Coming Week
Some are shocked by the stock market's stability, while others don't believe that it will last for long. If you belong into either group, it might be worth considering silver as an investment. And if Guppy's expectations for silver's long-term prospects hold true, the current price of silver suggests a buying opportunity.
Unless there are extenuating circumstances, national news will probably continue focus on the political stories rather than the economic stories. A stable price of silver is likely to follow in that trend, especially given how stable its prices have been throughout the election news as of late. Those watching the silver price may want to see where it moves in respect to gold, however, before jumping at a buying opportunity.
********
More from Gold-Eagle.com: