Silver Price Has Not Yet Begun To Lead Gold Price
Gold Prices This Week And Next Week's Outlook
We have been noting silver's relatively positive Commitments of Traders (CoT) alignment vs. that of gold. Before Friday's pervasive market disturbance that likely improved both CoTs, the reading in silver was already constructive.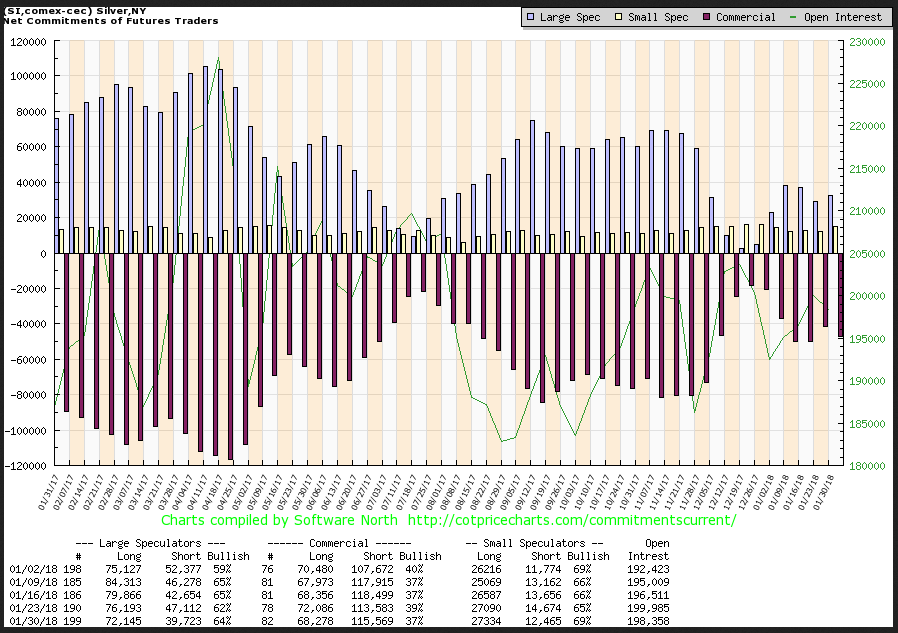 The gold CoT (not shown) remained less constructive.
Of course, gold continues to deal with an epic line in the sand per the monthly chart's noted resistance. This line would represent a new bull market that would be acknowledged far and wide if it were to be successfully exceeded. So why should it come easily? It shouldn't and it likely won't.

While I was proven a pretty handy contrary indicator last week in favoring silver to gold, the play is not cooked yet; especially since work done in this week's NFTRH 485 indicates that the 'inflation trade', moving upward along with Treasury yields as expected, may not be done yet. Here's the currently lame Silver/Gold ratio.

And here is the monthly chart of silver in a long-term flag-like consolidation.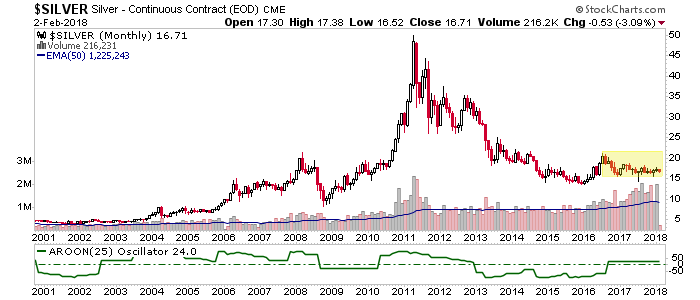 The positives on the monthly silver chart include a still intact AROON uptrend signal from the first leg up in 2016 and increasing volume interest. As an aside, this is similar to the big picture view of the HUI Gold Bugs index, which we have noted has more work to do on daily time frames but remains constructive on the big picture.
Bottom Line
Last week we talked about the prospect of silver taking over leadership from gold and were summarily served with a drop in the ratio. Flipping it over, a rising Gold/Silver ratio is usually bad for the precious metals and commodities. Last week it even came with a hit to stock markets.
Work done in this week's premium edition of NFTRH indicates that pending resolution to the current market disturbance, risk is still generally 'on' with rising long-term US and global yields. The precious metals have been rising since mid-December along with an inflationary risk 'on' bid. It continues not to be the best this sector will have to offer. That would come after the party flames out.
The longer the sector wallows and grinds apart from the positively correlated risk 'on' trades the better in the long run. But the Silver/Gold ratio can be watched for signs of any coming rallies, whether real or as just as an 'inflation trade' also ran. Right now, the SGR remains firmly down trending and HUI, pending some bounce potential, has violated some key short-term support parameters.
Website: https://nftrh.com/
NFTRH Premium Market Report: https://nftrh.com/nftrh-premium/
********
Gold-Eagle provides regular commentary and analysis of gold, precious metals and the economy. Be the first to be informed by signing up for our free email newsletter.
More from Gold-Eagle.com: