Silver's Equal and Opposite Symmetry to 2016 Indicates Future Sustainable Rally

Once again we focus on silver because that is where the most interesting signals are. Gold is lumbering along, but silver is making a statement!
Last week we noted the following with respect to silver:
"Back on the short-term price view for the precious metals sector, we have been tracking silver's positive risk vs. reward situation for some time now. This has been noted in the contrarian bullish positioning of Large Speculators (who've greatly reduced longs) and Commercial Hedgers (who've greatly reduced shorts)."
The Commitments of Traders (CoT) structure has been pinned to a contrary bullish state for significantly longer than was the case immediately prior to the two most recent precious metals rallies, which took place last summer and in December for a seasonal pop. So why has a rally failed to materialize this time? I have a theory and it is not at all bearish for those with patience and perspective.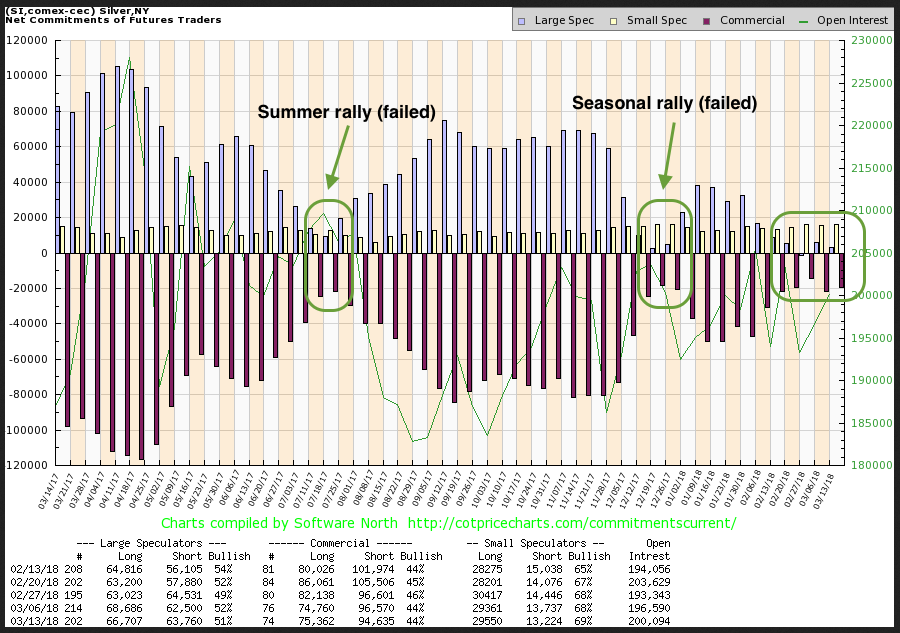 From this week's NFTRH Premium edition (#491)…
"The Commitments of Traders (CoT) data above have been interesting and frankly, I'd have thought silver would get a decent bounce by now.
But let's dig deeper into the situation. Is it such a bad thing for silver's CoT to be so constructive for so long? Its' really not too long, but it is significantly longer than the two previous situations. But do silver bulls want a decent bounce because they are casino patrons looking to make a little coin or do they want a resumption of the impulsive bull phase that took place in the 1st half of 2016?
Speaking as a would-be silver bug, I want the latter. Now, as to the extended current period of constructive CoT structure with no corresponding silver price increase consider this… In 1st half 2016 silver, gold and the miners kept going up up up with the gold bug generals out front touting every step of the way."
Back then the fundamental picture was degrading and the CoT data were very contrarian bearish (CoT is really not a good timer, after all) and yet up and up went the precious metals complex. So again referring to the graph above, do we really want a repeat of last summer or December, or do we want something sustainable?
I'll take 'B', Sustainable.
Now think about equals and opposites and symmetry and consider this long-term view of Commercial Hedging activity in silver. Commercials are nearing historic low net short levels and that is just plain bullish, if you've got patience!
The reason I talk about "equals and opposites" is because I think that we are neutralizing a massively over bullish sentiment event from 2016, which may indeed have been the first launch to an extended precious metals bull phase. Just look at how persistently contrarian bearish the silver Hedging data were in 2016. All for a relatively modest rally to a hair over 21 bucks an ounce (which is now key bull market resistance).
So unlike with the quick bounces indicated by the short phases of positive CoT alignment in the first graph above, silver is now grinding out a longer phase and finally neutralizing the 2016 sentiment event. The process will take as along as it takes and by the look of the gold CoT, it could be a while yet.
Again, here you can see how the summer rally and the December seasonal rally were the products of quick trends in the CoT data as large Speculators rapidly reduced longs and Commercials rapidly reduced shorts. What is happening today is an oh so slooow grind in a favorable direction.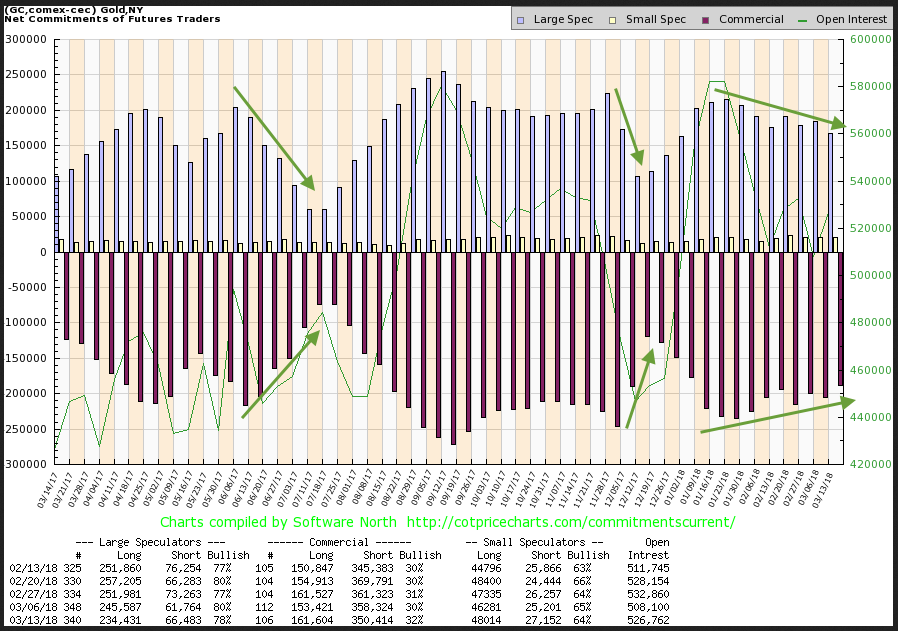 But CoT becomes actionable at the end of a trend, not during a trend. Silver is in a favorable position and gold is not. In 2016 silver was pinned to an unfavorable CoT structure for months before the precious metals sector finally turned bearish. This time we very well may have an equal and opposite situation going on. Patience, folks. Prepare to remain intact first, and to speculate and capitalize second.
Let's take a quick look at daily silver and gold prices. Silver has been locked below strong resistance and is sagging to key support. A break of that support would bring on what could be a final flush. A hold would see the current grind extend.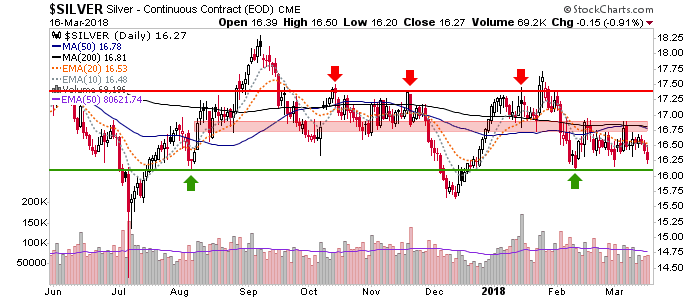 Gold sagged as well. We have been allowing for a touch of the SMA 200 (black line) within the modest uptrend. More support is in the 1260 area.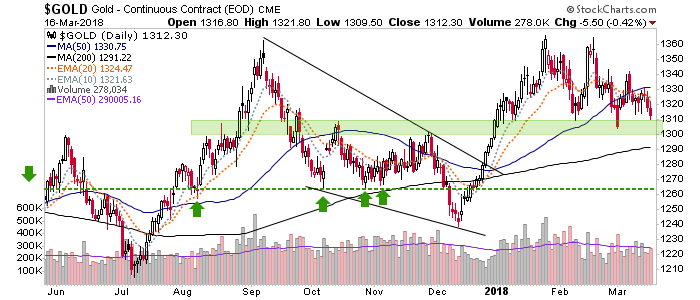 We'll close with a long-term chart showing the ratio of silver to gold. Gold bottomed first but then silver soon took over leadership in the 2016 rally. The ongoing consolidation since then has been a thing of beauty as speculative urges, especially those of inflationist gold bugs, have been utterly destroyed in the sector.
The consolidation in silver/gold is now nearing a bottom retest and the ratio is oversold. The point of that consolidation flag is simple: to kill everybody's spirits before the next real bull leg takes place. We are well in process to that goal right now.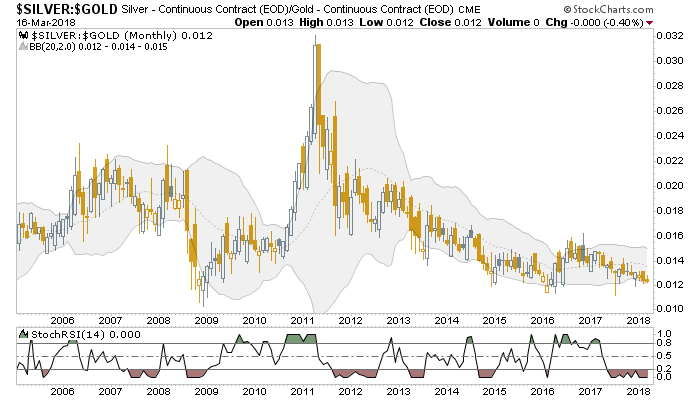 When the time is right we will be prepared to actively manage not only silver and gold prices but also a raft of quality miners, royalty companies and explorers into what looks to be a big buying opportunity out ahead, unlike the little trades that have popped up now and again since the 2016 rally topped out.
Website: https://nftrh.com/
NFTRH Premium Market Report: https://nftrh.com/nftrh-premium/
********
More from Gold-Eagle.com: