Gold Prices This Week And Next Week's Outlook
For the last couple of weeks we have been tracking improving gold and silver Commitments of Traders (CoT) data, noting that a seasonal low (on historical average) is in the offing and also ongoing tax loss selling as reasons to expect a bounce or even a significant rally in precious metals sector.
Last week the CoT played ball as it slammed to a bullish alignment in both metals. This was especially so in silver, which is the metal that would lead a sector rally. We saw significant Commercial short covering and large Speculative long capitulation in silver.
For a more dramatic look at the quick snapback to a bullish orientation in the would-be leader, let's use this graphic from snalaska.com: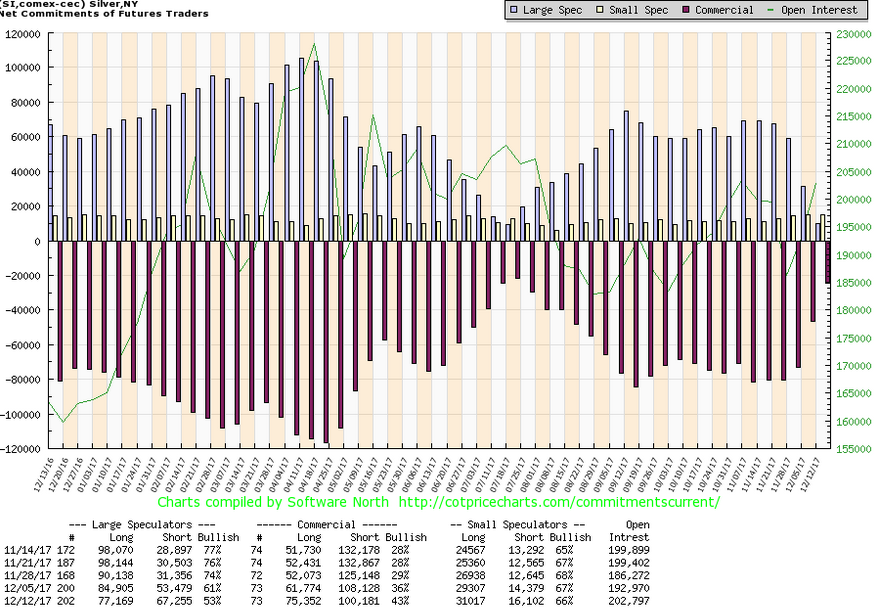 To this favorable development we continue to note that December – on the average over 30 years – sees a secondary low in gold and a sharp rally in January. Here is the graphical data courtesy of Sentimentrader.com (markups mine):

The daily chart of gold shows that the price bounced from a wedge bottom and an oversold level to the 200 day moving average. This is still technically in a downtrend and more bottom grinding cannot be ruled out.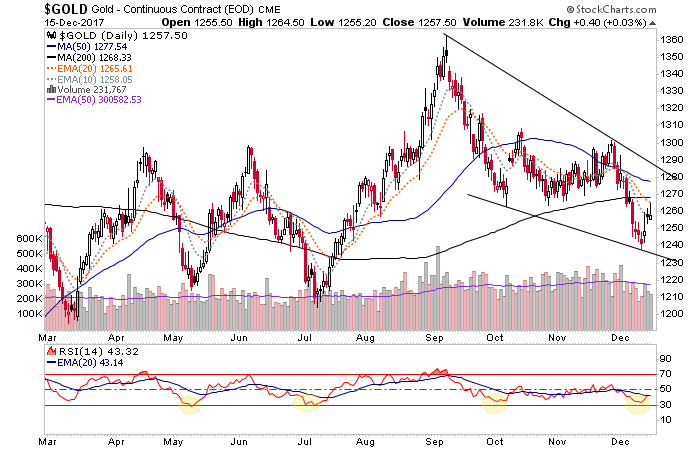 Silver as well remains technically bearish and has already bounced to resistance. On neither metal do we see compelling washout volume so again, don't dismiss the possibility that there may be more work to do before a real rally gets going.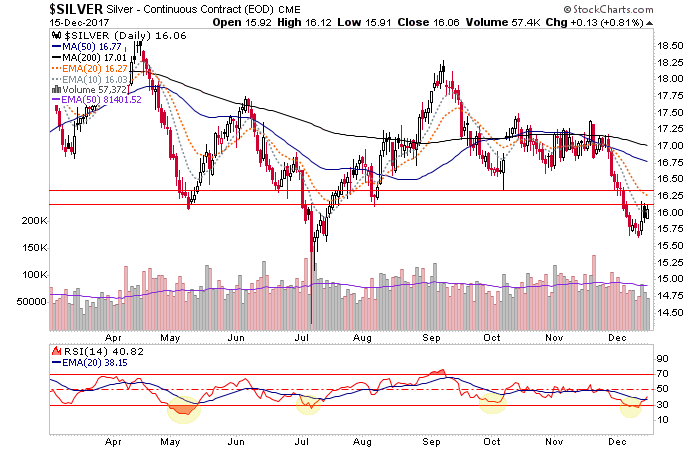 Beyond the short-term stuff noted above, our bigger picture theme is one of a slowly shifting macro environment. Please see this article for much more detail…
Amid Bad Fundamentals, Gold Sector Rally May Have Begun
http://www.gold-eagle.com/article/amid-bad-fundamentals-gold-sector-rally-may-have%C2%A0begun
Bottom Line
We are working through tax loss selling season and into Santa season. The gold sector's true fundamentals are deplorable, but then again so too were they in tatters at the beginning of the great bull market that began in and around 2000. The article linked just above provides much color and perspective to go along with this week's short-term update.
Personally, I am continuing to use quality miner and royalty/streamer positions as a counterbalance to stock market positions (and lots of cash equivalent, like T Bill fund SHV, now paying income). The stock market is very high risk and very bullish. The first part of that equation is the thing that would one day flip the gold sector into a fundamentally bullish mode.
Website: https://nftrh.com/
NFTRH Premium Market Report: https://nftrh.com/nftrh-premium/
********
Gold-Eagle provides regular commentary and analysis of gold, precious metals and the economy. Be the first to be informed by signing up for our free email newsletter.
More from Gold-Eagle.com: