American Silver Eagles Sell Like Hotcakes In May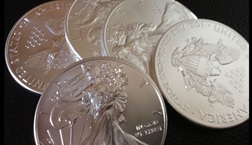 Now that we've entered June, a clearer picture of the silver market in the previous month is emerging. And one thing that many silver investors have noticed in particular: the high demand for items like the American Silver Eagle. We know that 2015 was a hallmark year for the sale of the highly popular coin, but it appears as though 2016 may be on pace to break that record after another strong performance in May.
SchiffGold.com reports that, "American Silver Eagle sales are equally impressive [as gold sales]. Last month, the US Mint sold 4,498,500 ounces of the silver bullion coins. It was the fifth consecutive month with sales over 4 million ounces."
According to the blog post there, the supply of silver is not keeping up with the increased demand—which could spell higher prices in the long run.
Frequent followers of this space know that we have a fixed eye upon the Federal Reserve's meeting for this quarter in June. Although indications were strong that the Federal Reserve was looking to raise rates, after a dismal U.S. jobs report that suggested we may even be pulling a U-turn and heading into a recession, it appears that silver is once again becoming one of the most intriguing investments of 2016.
The Previous Records for Silver Sales
In order to understand the current context of silver coin sales, it's important to look back to the past—in 2002, when silver demand was at similar rates. Taking a look at the history of the price of silver shows that silver remained stable for another year or two before spiking—and ultimately ending up much higher than its prices in the early 2000s.
Is that an indication that current silver demand will push the price of silver up to record new highs? Of course, the future isn't easily discernible just because we have a few charts showing what happened after demand skyrocketed in years previous. But it's worth noting.
Some Silver Stocks Beating Expectations
If you're less interested in silver coins and more interested in the kinds of returns you can see from silver stocks, then SeekingAlpha.com's highlight of Pan American Silver is worth your attention. PAAS was able to deliver remarkable results even with the unstable prices of silver for the previous quarter, and since "silver fundamentals look good," it may be that this stock—and many other silver stocks—are destined to hold on to their growth for the coming year.
Stocks like PAAs have been able to increase their silver supply, which means they stand to gain a lot if the prices of the precious metal do head upwards again. At just $16 per ounce or so right now, there's plenty of upward mobility left. With some stocks like PAAS performing so well on the year, it's hard not to be at least intrigued in what the precious metal stocks have to offer right now—particularly if you believe that precious metals like silver are much closer to a bottom than they are a top.
******** 
More from Gold-Eagle.com: