Appetite for "Riskier" Assets Forces Gold Dip; But Will It Last?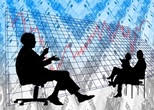 It's no secret that the stock market is having an ambitious week. The NASDAQ went over 6,000 points this week as the Dow Jones Industrial Average put up extremely healthy numbers. And as many gold and silver investors know, this kind of optimism in stocks usually means that the need for a hedge like gold has comparatively dropped.
That put gold in the mid-range of the $1,200 per troy ounce mark, giving it a quick drop downward early this week. But the question we're asking: will it last?
Reuters Sees Higher Appetite For Risk
Although there is much debate as to what constitutes risk in investments, many people view the stock market itself as an essentially risky investment, particularly if viewed on a short-term basis (as a longer term investment, the stock market tends to do very well).
Reuters recently pointed out a higher tolerance for risk in the markets, which tends to reflect optimism in the economy as a whole. This pushed the gold price to a two-week low, of course, but it doesn't mean that the conditions are permanent, either.
Mark To of Hong Kong's Wing Fung Financial Group was quoted in the article as saying the recent gold dip and higher stock market surge could be a result of optimistic results—something of a hiatus in the escalating tensions with North Korea, which some see as good results from the French elections.
Conseuently, this week's early events pointed to more stability in stocks than we saw just a few weeks ago. Even those who see a big correction coming for stocks have to admit that these new highs will at least create a larger cushion in the long-term.
Gold Progressing As Planned?
In this context, it might seem as if gold is performing poorly this week. But there are those who like gold's slower rise in 2017, reports Myra P. Saefong of MarketWatch, who points out that gold futures have climbed some 10% on the year, which puts the current week in a much broader context of returns.
Quoting George Milling-Stanley of State Street Global Investors, who believes gold may test the upper range of $1,350 per troy ounce this year, Saefon reported that there is optimism among those who don't want gold to accelerate too quickly, but rather to make stable gains all year long.
Reasons For Stock Market Optimism
Gold's behavior this morning is minimal—as of this writing, it's down just about $2. However, there could be plenty ahead that makes for interesting trading in the markets. In particular, a tax plan rollout by the Trump administration figures to please a lot of businesses, many of which are looking for a reduction in the corporate tax rate.
These stories—as well as international stories such as North Korea—always could affect the markets in strong ways, which in turn affects the price of gold. And though good news in the stock market tends to be good news in general, things aren't always what they seem. To some, that's why gold as a hedge will continue to be a quality investment—even if stocks look bullish.
********
More from Gold-Eagle.com: