Gold's Price Can't Seem To Make A Decision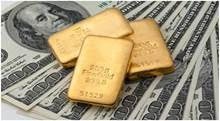 Oftentimes in this space we have occasion to point to a variable or two that could be responsible for gold's recent movement. But this week, we have mixed results. As of this morning, gold is up slightly—similar to the results we had yesterday (Monday). But gold has also sunk far from its previous levels in the mid $1,200 range, which forces us to look at more than one variable to explain the price of gold's recent behavior.
Anticipating Comments From Janet Yellen
As the Federal Reserve raised interest rates in June, there has been strong anticipation in the markets that monetary policy is going to continue to tighten up, which most would anticipate will strengthen the U.S. dollar and, by extension, weaken the prospects of gold's price. That's why there is a lot of interest in Federal Reserve Chairwoman Janet Yellen speaking to the House Financial Services panel. MarketWatch reports that Yellen "says there are not many rate hikes to go" and that the tightening of monetary policy "will be gradual," which bodes well for gold's prospects on the week.
Before these comments, it could be argued that Yellen was looking for a stronger and faster tightening of monetary policy, which helps explain gold sinking so quickly in recent weeks. As we saw before the major political headlines this week, gold has been pushed down by anticipation of a stronger dollar.
Problems In Headlines Causing A Gold Resurgence?
Instability in the headlines has become the new norm, it seems, particularly as it relates to headlines regarding the current U.S. administration. CNBC reports that new developments in the "Russia" story as gold "jumps" and the U.S. dollar "tanks."
But are these two stories related? While some investors might find that unpredictability in the headlines is good for gold, it could be argued that 2017 has seen some of the most unpredictable headlines in years, while gold has not moved significantly higher on the year.
Finding The Root Causes Of Gold's Recent Movements
The gold price's recent dips and subsequent boosts are likely due to monetary policy and not necessarily the headlines. Gold's performance since mid-June, in which interest rates were raised, seems to corroborate these ideas. Investors should be wary of using any particular news headline—especially if it's not related to gold—as headlines come and go with the current speed of the news cycle.
Where might gold head from here? If Janet Yellen continues to signal that her money tightening policy will not be ambitious, but gradual, we can expert more stability than some might have anticipated. And "stability" when it comes to gold's price might simply mean a slow decline if the U.S. dollar shows strength. But the best laid plans of the Federal Reserve won't necessarily occur as predicted, particularly if there are economic headlines that change the story of the U.S. dollar. For the immediate future, it appears that the strength of the dollar is the most important variable to watch—and economic headlines continue to matter more than political ones.
Gold-Eagle provides regular commentary and analysis of gold, precious metals and the economy. Be the first to be informed by signing up for our free email newsletter.
More from Gold-Eagle.com: