Gold And Silver Are Not Out Of The Woods Yet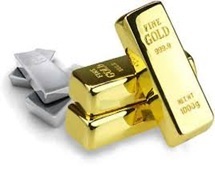 Summary
Price action over the prior week.
Anecdotal and other sentiment indications.
Price pattern sentiment indications and upcoming expectations.
Price Action Over The Prior Week
With the market pushing higher this past week, silver has broken out of its initial resistance of 18, whereas (NYSEARCA:GLD) and (NYSEARCA:GDX) have not followed silver's lead. This still leads me to maintain caution in the complex.
Anecdotal And Other Sentiment Indications
As you know, I peruse what is written about the metals and markets quite often. It provides fodder for my updates.
Now, we have all read and heard about the issue surrounding "fake news." It seems to be all the hype in the media of late. So, I am going to expand upon this concept and bring your attention this week to "fake reasons."
You see, as I read articles all the time about why markets or metals are going to rise or fall, most of the "reasons" for expected moves never seem to have the effect people expect. They are simply "fake reasons." At the end of the day, they mean nothing to the market, and do not cause the desired or expected effect. They are simply "fake."
The best example to which I can point is the Trump election. Everyone was so certain that the metals would rally whereas the stock market would tank if Trump were elected. And, with the benefit of hindsight, we have seen how the markets have ripped higher after the election, and the metals went lower and now reside within the same region they were in at election time. Clearly, the market was following a "fake reason" for moving the market.
Another example of a "fake reason" is a raise in interest rates. Everyone was touting how a rise in interest rates was going to "cause" the metals to tank. However, each Fed rate hike was accompanied by a rise in the precious metals. So, we can add interest rates to the list of "fake reasons" for a market move.
This past week, we saw another "fake reason" for a market move. Many expected the stock market to tank if the healthcare bill did not pass or if it was pulled. Well, the bill was pulled, and the market rose 2%. Yet another "fake reason" to move the market.
Courtesy of https://www.elliottwavetrader.net/
More from Gold-Eagle.com: