Gold And Silver Prices This Week: Silver Surges Over 11%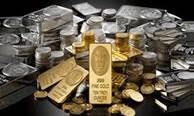 The precious metals continued to build on gains seen since the affirmative Brexit vote last week. Most notably, gold and silver are showing exceptional strength now during June, seasonally one of the weakest months for the precious metals.   
Gold Price
Gold finished the week to close at $1,344.90, up nearly $26 or 2% from the close a week prior. This was gold's fifth weekly gain in a row -- and a new 52-week closing high.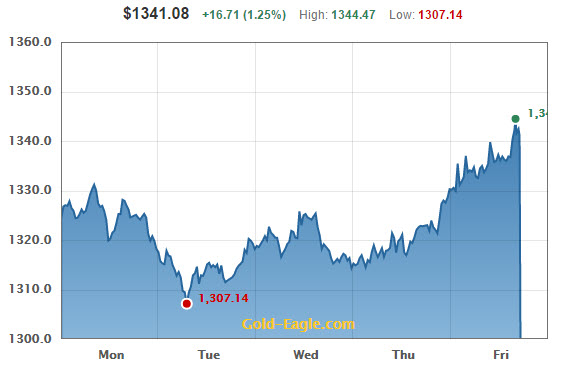 (Source: http://www.gold-eagle.com/rate/price-of-gold/  )
On the yearly chart, gold can be seen to be working on overcoming the spike high post-Brexit at $1,362.  Support should be seen at the previous resistance zone which held prices since February, between $1,285 and $1,306.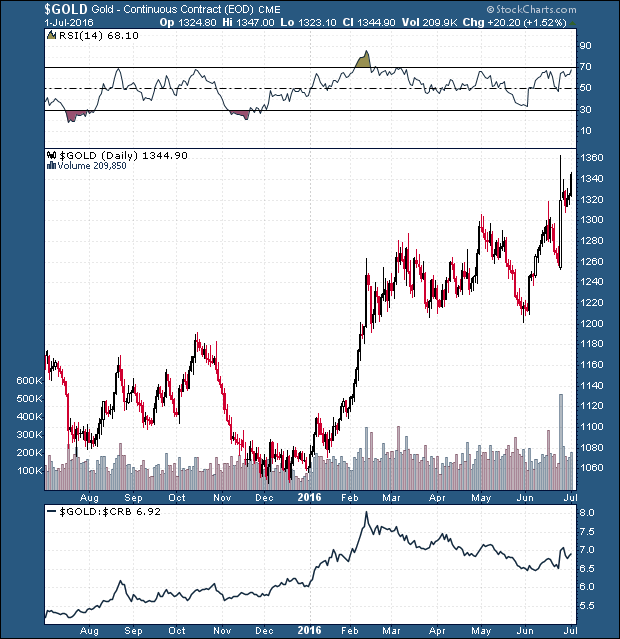 Silver Price
The gains in silver this week exceeded those seen in gold.  Silver surged $2.03 higher from a week prior to finish at $19.85, an 11.4% gain. This was also the fifth weekly gain for silver in a row -- and a new 52-week high.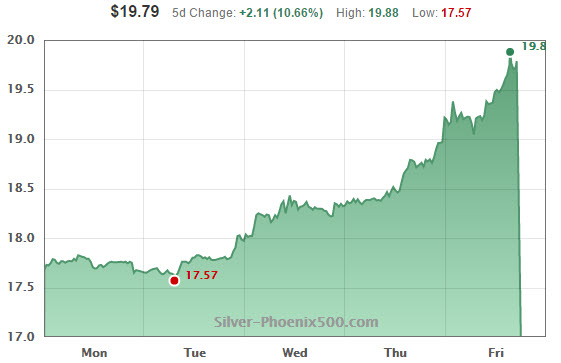 (Source:  http://www.gold-eagle.com/rate/price-of-silver//oz  )
On the yearly chart, we note that silver, which was lagging gold during the early part of the spring, is now playing catch up. Prices look set to test the psychological $20 this week, while support should be seen between $18.00 - $18.75.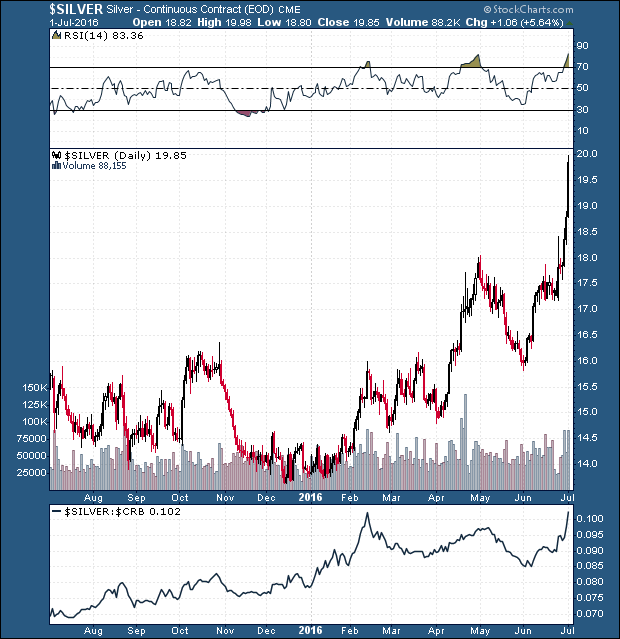 HUI Gold & Silver Miners Index
The gold and silver mining equities finished the week at 258.95, a gain of 21.1 from the close a week ago or 8.9%. This is a new 52-week high for the precious metals miners.
The sector is now up 160% from the lows of five months ago.

Related Markets
The US dollar closed marginally higher by $0.15 compared to a basket of international currencies, to close at 95.72 on the USD Index, for a gain of 0.15% for the week.
The S&P500 Index of large-cap stocks rebounded from the Brexit panic last week to close with a 3.2% gain to 2102. Notably, the US stock market is now just 1% below its all-time high, set in May of 2015 at 2126.
******** 
Gold-Eagle provides regular commentary and analysis of gold, precious metals and the economy. Be the first to be informed by signing up for our free email newsletter.
More from Gold-Eagle.com: