Gold Falls On US Jobs Data…What To Expect Moving Forward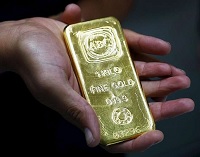 Gold has been having a great time as of late. In fact the value of the precious metal hit a three month high recently. However today, the value of the precious metal is falling off of highs as the result of data released with regard to US jobs. Unfortunately, the jobs report was far worse than expected. Consequently, we'll talk about what we glean from the US jobs report, how this has anything to do with gold, and what we can expect to see with regard to the price of the precious metal moving forward.
US Jobs Become A Cause For Concern...Again
Following along the lines of what we saw mid last year, US jobs are coming in weak yet again. Today, ADP released its jobs report for January. While we saw a tremendous month in December, with growth of 262.000 jobs added to the US economy, January didn't do so well. In fact, in the month of January, the United States economy only added 151,000 jobs; falling well below expectations of 190,000. Not only did this miss expectations, it is a signal that the US economy is headed for more hard times.
Jobs are a great signal for gauging the stability of any economy. After all, when economies are strong, businesses see more sales, and need to hire in order to fulfill orders. Adversely, when economies aren't doing so well, jobs grow at a snail's pace. In the United States, it is expected that jobs will grow at a rate around 200,000 per month under positive economic conditions. So, seeing growth of only 151,000 jobs is a major concern for the economy.
How This Has Anything To Do With Gold
As with any other commodity, gold is largely at the mercy of the law of supply and demand. When supplies are high and demand is low, the value of the commodity declines. Adversely, when supplies are low and demand is high, the value of gold climbs. This is where the US economy comes in. When economic conditions are poor, consumers look for ways to save money. As a result, we won't see as much by way of sales in gold jewelry. So essentially, because jobs numbers are down, investors are expecting to see downtrends in the sales of gold jewelry, pushing demand for the precious metal down.
Things Aren't Always As They Appear
Gold, like most other financial assets, isn't always cut and dry. What may seem like a bad thing for the value of the precious metal may actually be a positive thing. In this particular case, what seems negative is actually positive for gold. The reality is that from the outside looking in, it seems as though poor jobs data will lead to declines in demand for gold. However, I believe that the contrary will actually happen relatively soon.
You see, gold is considered to be a safe haven investment. This means that when market conditions are poor, investors start to look toward the precious metal as a way to keep their money safe. This leads to increases in the value of gold as demand for the precious metal climbs. That's where the jobs data actually looks positive for the gold outlook. The reality is that when economic conditions are poor, we tend to see negative movement in the stock market. In fact, today the Dow is down in a big way thanks to the poor jobs data. Unfortunately, economic conditions aren't likely to improve any time soon. After all, the global economy as a whole is struggling! This means that market conditions are likely to remain negative, leading to further gains in the value of gold. So, I'm expecting for today's dip to be nothing more than a blip on the chart that will ultimately show further uptrends.
What Do You Think?
Where do you think gold is headed moving forward? Let us know your opinion in the comments below!
More from Gold-Eagle.com: