Gold Price Expected To Fall Further On Weakening China Demand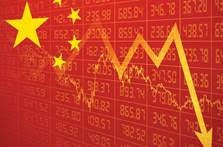 Gold has had an incredible run throughout the year. However, it seems as though more and more news is hitting that will likely lead to declines in the value of the precious metal. In fact RBC Capital Markets recently released a report that is causing declines in the precious metal today surrounding demand concerns. Today, we'll talk about the news, how the market is reacting and what we can expect to see from the price of gold ahead.
RBC Capital Markets Sees Weakening Demand In China As A Major Concern
China is a very important market for gold investors to keep a close eye on. That's because the country became the world's largest producer of the precious metal in 2007. In 2013 it became the world's largest consumer of gold. In fact the country is now responsible for over 25% of global gold jewelry demand. Consequently, anything surrounding supply and demand of gold in China is likely to cause movement in the price of the precious metal.
Early this morning RBC Capital Markets said that gold is likely to see further declines until the year 2017 approaches as the result of weakening demand in China. As a result, the investment bank is expecting that the annual average price of gold for the year 2016 will fall to $1,258 per ounce this year. In a recent report, RBC Capital Markets analyst, Christopher Louney had the following to say with regard to what is expected from gold.
"Admittedly, there are abundant risks around this, but falling over one's self to chase a price higher is rarely a winning move... Upcoming Fed announcements will be key to whether or not our investment thesis stands, but given the investor-only nature of this year's gold rally, we still think it is tenuous at best, or primed for a correction at worst.
Overall, we think the Chinese gold market will continue to grow, but lower net demand and continued supply growth means that the demand shortfall should narrow this year... Thus, feeding the dragon should be easier this year than in those past."
How Gold's Price Reacted To The News
As investors we know that the news moves the market. Any time there's positive news with regard to an asset, we can expect to see gains. However, the news that was released with regard to gold was anything but positive. As a result we've seen a continuation of the downward movement today. Currently, gold is trading at $1,310 after a drastic fall throughout the trading session.
What We Can Expect To See Moving Forward
At the moment it seems as though tides are starting to shift in a big way for gold. With the coming Federal Reserve meeting at which interest rates are expected to increase, weaker than expected demand out of China, and the coming ECB meeting in which stimulus is likely to be a major topic, almost everything seems to be pointing to declines in the price of the precious metal. However, there is some hope here. India is the world's second largest consumer of gold, where demand is expected to rise as we enter the wedding season in that country. Also, there are still major unanswered questions with regard to the global economy that could cause tidal shifts in the value of the precious metal.
More from Gold-Eagle.com: