Gold Price Forecast: Breakout Underway
Gold has finally broken out of a simple yet powerful technical boundary – the declining linear trendline which defined the 2011 – 2017 period in precious metals prices. The ramifications for this breakout are significant and we expect higher gold prices are in store for the next year at minimum.
The technical breakout referred to herein is clearly visible from the declining (magenta color) long-term trendline, which began at the all-time high in 2011 at $1,923 per ounce: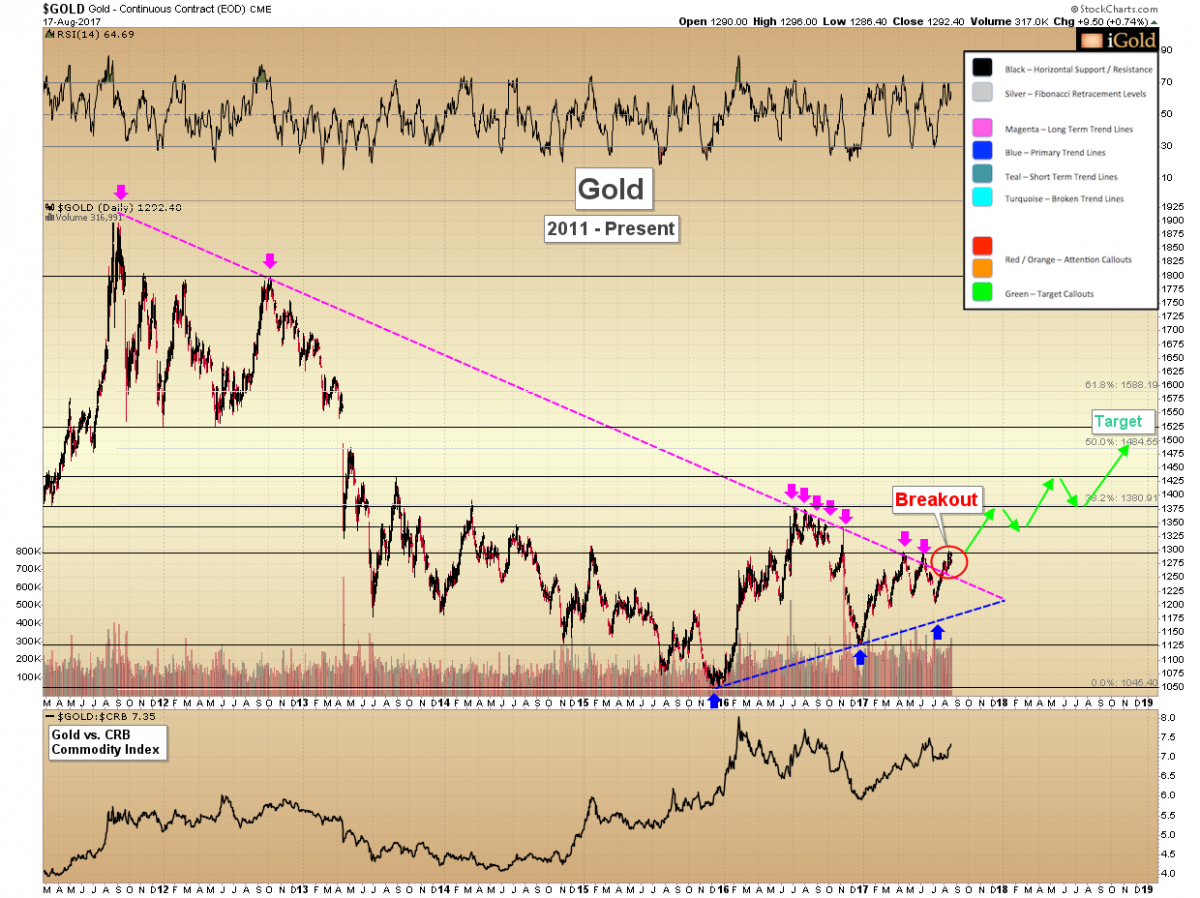 Note that over the course of 2016 – 2017, gold made no less than seven attempts to overcome this key declining resistance level (magenta arrows). In fundamental terms, this trendline represented a group of sellers who were exiting the gold market at lower and lower prices every few months.
At each of these attempts to overcome the downtrend, buyers became exhausted and more sellers showed up on the scene. Of course, they had fundamental reasons to sell – strength in the US dollar last November after Trump's victory and a rising stock market are two examples. Yet no matter the reasons, sell they did, the result being that gold continued to struggle to gain momentum over the past year.
Sellers Becoming Exhausted
The important shift that is occurring now is that those sellers are becoming exhausted. Buyers are stepping in and scooping up gold at higher and higher turning points (blue arrows) over the past two years, and the evidence indicates that the buyers are in the process of gaining control over the market for the foreseeable future.
By breaking through the $1,260 level two weeks ago, and sustaining that level through two subsequent weekly closes, gold has now finally cleared that declining trend of sellers, as indicated by the "Breakout" annotation above.
What Next For Gold?
First, we must note that it is required to see $1,260 continue to hold on any further weakness. This level represents the broken former trend of sellers. Often, markets will come back to retest broken technical levels from the opposite side, just to see if those buyers truly are as determined as they initially appeared to be. We must see those buyers show up again near $1,260 if the price were to fall that low in the coming 2-3 weeks. Otherwise, we would have to admit that something new has shaken up this market, and the breakout attempt has failed. Protective measures should be considered in a failed breakout scenario.
However, the evidence suggests that this breakout is legitimate, and significantly higher gold prices are in store for the next 6-18 months. Our targets are based on a confluence of technical levels that appear on the chart above. The levels are:
The 50% Fibonacci retracement level of the entire 2011 – 2015 decline comes in at $1,485 (faint silver lines on chart).
Fibonacci was an Italian mathematician of the 12th century who discovered that many aspects of nature follow a repeating pattern, termed the Fibonacci ratio or sequence. Examples include seashells, hurricanes, flowers, and galaxy spirals. Interestingly, financial markets often respect Fibonacci ratios as well, the markets being an aspect of human nature.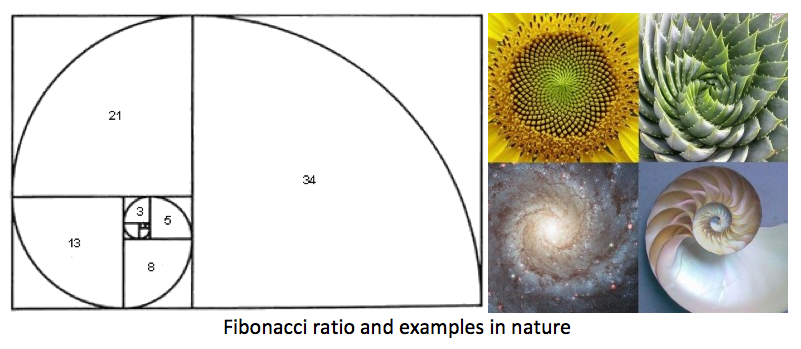 Fibonacci ratio and examples in nature
Important horizontal resistance at $1,525 (black line on chart above). This is a level which acted as support on three occasions in 2011 – 2012, which was then broken decisively in 2013. All things considered, we expect sellers to show up near $1,525 when prices reach that area again.

The technical target from the amplitude of the prior consolidation is $1,535. This projection is derived from a measurement of the 2015-2016 advance (from $1,045 in December 2015 to $1,378 in July 2016 = $333, rounded down to $330). This figure is then added to the apex of the triangular-shaped consolidation ($1,205), which gives us the final target of $1,535.
In sum, we have a confluence of three technical targets between the $1,485 - $1,535 zone, and this zone thus becomes our highest probability level for the formation of the next intermediate-term top in the gold market.
Takeaway On Gold Prices
Investors should not underestimate the significance of a legitimate breakout from a 6-year downward trend, as we have just seen in the gold market. This break signifies a shift in the underlying market – sellers are becoming exhausted and buyers are regaining control.
A confluence of technical levels between the $1,485 - $1,535 zone give a high-probability target over the next 6-18 months. The strength of the advance to come could be just as significant as the early 2016 advance, which saw prices rise from $1,045 to $1,378 in just seven months.
The opportunities in gold deserve consideration at this juncture. In the next article, we will cover related projections and opportunities in silver and the gold mining sector, which tend to move on a leveraged basis to the price of gold itself.
******** 
Gold-Eagle provides regular commentary and analysis of gold, precious metals and the economy. Be the first to be informed by signing up for our free email newsletter.
More from Gold-Eagle.com: