Gold Price Forecast For Early 2017: Expect A Dip?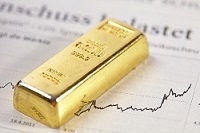 2017 is only days away…with 2016 sufficiently wrapped up, looking toward the future and forecasting the price of gold is the next step. Where do we expect the price of gold to head in early 2017, and why? To answer those questions, we'll approach our gold price forecast from a few different angles.
DailyFX Sees A Dip On The Way
DailyFX's recent gold forecast is not bullish for gold. In fact, they see a "bearish trading bias," noting that the XAUUSD "Speculative Sentiment Index" has fallen to lows in recent days. This lack of confidence could spell a dip for gold.
What exactly is the XAUUSD? You might recognize the symbols AU and USD—the symbols for gold and the US dollar respectively. The XAU/USD is similar to other indexes measuring two prices or strengths against one another, such as the EUR/USD (Euro and US Dollar).
Projecting The Price Of Gold In The First Quarter Of 2017
DailyForex.com has its own projections to make, believing that gold may stay in the realm of $1,100 at the end of the quarter, which would be a further dip of some $50 from where gold stands today. This relatively modest decrease certainly seems within the realm of possibility, especially with so many investors moving to stocks with the results of the US election.
If gold truly will move down about $50 in the first quarter of 2017, then there may be a buying opportunity in the works. The recent "dip" may not be the true dip at all. Those who are looking for an efficient store of value may want to be cautious and wait to see what 2017 has in store for the yellow metal.
Credit Suisse's Pessimism On Gold
Early in December, Credit Suisse appeared to have seen some of this coming, lowering their projections for their 2017 gold forecast.
With bond yields potentially going up, there is a safe store of value in buying bonds, which can then drive down the demand investors have for gold. And if the Federal Reserve continues to increase interest rates, it's possible that this situation may prevail beyond the first quarter of 2017. Moreover, it could even last the entire year and even beyond.
With no interest payments being made by owning gold, investors looking for a stable source of income from their storage of value aren't as interested. But it is important to remember that gold is not supposed to offer returns. Furthermore,, many people deem it as just another form of money.
Where Will Gold Go In 2017?
There isn't a lot of optimism out there in the markets as it currently stands. Gold may have enjoyed a strong 2016, but it appears primed to go down, at least for the first quarter of 2017. Whether or not this change will represent a buying opportunity for further growth or may remain thanks to higher interest rates can only be found out as 2017 unfolds.
Gold-Eagle provides regular commentary and analysis of gold, precious metals and the economy. Be the first to be informed by signing up for our free email newsletter.
More from Gold-Eagle.com: