Gold Price Looking For Strong Finish At The End Of 2016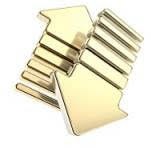 There are just three days left in 2016, which means that this week will wrap up the financial year. For the price of gold it's been a strong year, despite the fact that confidence in the stock market and in the economy as a whole has taken a bite out of gold's post-Brexit bump.
We also saw a dip in gold prices over the holiday season (which continues into Saturday's New Year's Eve), but with signs of life on Tuesday after a tough losing streak. Does that mean that gold is looking for a strong finish at the end of 2016, even while the Dow Jones Industrial Average is on the hunt for 20,000? Let's look more closely.
Charting Gold's Movements Throughout The Year
The following chart from BullionVault provides a great "map" of gold's rise and fall throughout 2016 (as measured in US$/Kilo):

Here we can easily see the sharp rise of gold to two new essential levels: in early 2016 - and after the Brexit vote. Since then, gold has been in a steady declining trend…with a slight temporary uptick in late October.
It's that slight uptick that concerns us today. Yesterday, MarketWatch saw a little bit of hope for gold. Today's gold prices haven't moved much as of this morning, but don't show a downward trend yet, either.
That might give some optimism for those who recently bought gold, believing there to be a temporary dip in prices.
2017 Has No Guarantees
While gold may look to boost its gains on the year in these last few days, the history of 2016 is largely written. We now know where gold has gone in 2016, which included a rather strong fluctuation from lows to highs.
What the "gold" weather will be like in 2017 is anybody's guess, although there are many who believe the Federal Reserve will continue to at least aim for interest rate hikes. Typically this is bearish for the prospects of gold—or at least the conventional wisdom would have you believe as much.
In truth, no one can predict the rise and fall of gold any more than they can predict the rise and fall of equity markets. If you believe that gold is now finding a new bottom…and that 2017 is still bullish for gold, only imprudent investors can disagree with any amount of certainty.
Watching The Dollar Index
MarketWatch also made a point of examining the Dollar Index, which has essentially mirrored the strength of gold—albeit inversely. To wit: The stronger the dollar is, the lower gold prices will be. In fact, you can track last week's poor gold performance to a strong Dollar Index, which recently even hit a 14-year high.
It's difficult to imagine the dollar keeping up this pace, which would be bearish for gold.
The price of gold is highly dependent on many economic factors, but few are as important as the strength of the US dollar. Those who are looking for a hint as to where gold will finish 2016 would be wise to watch the greenback as well. 
Gold-Eagle provides regular commentary and analysis of gold, precious metals and the economy. Be the first to be informed by signing up for our free email newsletter.
Free Gold-Eagle Newsletter!
Fresh weekly insights on gold, precious metals, and the economy
Leading authors from around the world
Always free
Stay informed!
More from Gold-Eagle.com: