Gold Price: Uncertain Economy, But Dollar's Streak Could Present Opportunity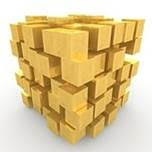 When is the time to get into gold? That's been the question for any investor that does not define themselves as a gold bug as of late. Though the stock market has shown some signs of losing confidence and there is plenty of reason for large-scale financial cynicism—both typically good for the prospects of the price of gold—the actual price of the precious metal has stalled as well, hovering in the low $1,300 range and below. After a morning dip today, the price of gold could close below this important psychological benchmark.
Typically Rosy Janet Yellen Talks about Economic Uncertainty
One of the most important signs that the economic news is uncertain and deserves close scrutiny: even Federal Reserve chairperson Janet Yellen is addressing a lack of confidence in the economy. Typically, the Federal Reserve wants to paint as rosy a picture as possible in order to keep markets moving and confidence in equities high. Though many analysts can see through this façade, it's still an important part of the Federal Reserve's high-profile role in the economy.
Said Yellen: "My colleagues and I may have misjudged the strength of the labor market." Of course, perpetual bear investors have long seen these weaknesses, as the economic measurements for labor participation tend to present a less-than-ideal outlook on the job market than do the conventional numbers. Another issue on Yellen's plate: inflation. Because inflation and the labor market's success (or failure) tend to go hand-in-hand, one would expect so-called "healthier" inflation numbers than what is currently being measured. The current unemployment rate has been fluctuating in the mid-4% range as of late.
Gold Primed for Strong Run—Except for Dollar's Recent Streak
If investors are bearish on the stock market and see a top coming soon—at least a short-term top—then they have few places to stash their money other than precious metals. However, a strong U.S. dollar has recently been pushing precious metal prices down. With stronger dollars come lower prices for commodities priced in dollars, since the dollar is then capable of buying more. We're seeing that bear out in the price of gold as of late.
Is this an Opportunity to Buy the Dip?
Gold has shown plenty of signs that it's ready to take off and accelerate, particularly if there's another economic correction—or even worse, an economic crisis. Gold even appeared prime to take off well into the $1,300 range and possibly the $1,400 range late this year, even as the stock market was performing well.
Now, we're seeing mixed messages. Even Janet Yellen is not painting a rosy picture of the economy, which should worry those who have seen nothing but smooth sailing ahead. But until the U.S. dollar loses its strong grip as of late, the price of gold won't have any fuel with which to take off. That could change, however, particularly if geopolitical headlines disturb confidence in the stock market and push more money back into hedges like precious metals.
More from Gold-Eagle.com: