Gold Prices Are Entering The Buy Zone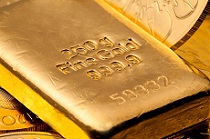 Gold, silver and miners are quickly approaching their respective buy zones. Moreover, an exceptional bottom is rapidly approaching.  The move down into an intermediate cycle low is often terrifying. Investors that are unfamiliar with cycles are caught off guard by the sharp moves, and suddenly, turn bearish. Instead of looking up, they begin looking lower, fearful that a bear phase has begun. This is when you'll see renewed calls for the market to make a new low. Tour our editorial titled Gold Forecast: The Next Great Buying Opportunity posted August 12th for further price goals.
Corrections Are Normal
It's important to understand that all assets go through periods of expansions and contraction, along with stages of pessimism and optimism. Nothing goes straight up. It's our opinion that a new bull market in precious metals began a little less than a year ago. Prices have barely registered a correction since then…that is until now. What we are seeing is simply the first meaningful pullback in a bull market that will advance for several years.
Weekly Gold Chart
Below is a weekly chart of gold. You'll see that we are experiencing the first meaningful correction since the December $1,045.40 low. Using technical analysis, I've come up with the following ranges for a potential bottom.
•    First, the descending triangle that developed out of the $1,377 top projects a target of roughly $1,245-$1,228.
•    Secondly, Elliott Wave Theory maintains that when the market goes into a correction, it often will correct to the territory of the previous Wave 4 of a lesser degree. There is a 4th wave "expanding triangle" of a lesser degree that should keep prices above the $1,200 level.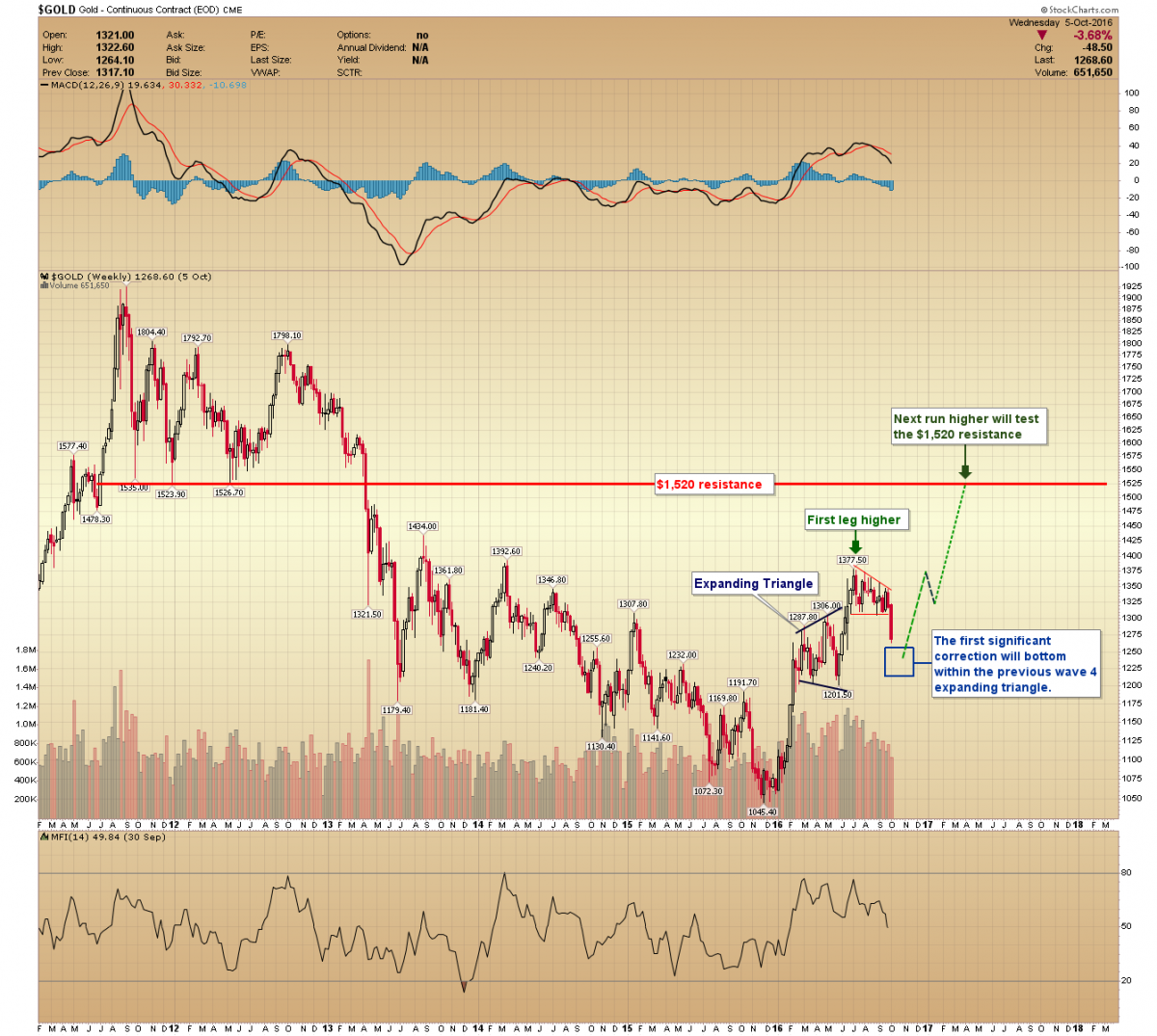 We expect a significant bottom to form between $1,245 and $1,210 in gold. From there, prices should rally to the next resistance zone of $1,520 before dropping into an intermediate cycle low.
Weekly Silver Chart
Silver prices rallied from the bear market low of $13.62 to a high of $21.23 during the initial thrust higher. From that high, prices dropped to $18.46 - and began forming a bear flag lasting 5-weeks. Technical analysis supports a measured target ranging from $17.25-$16.18 in silver. We like silver going forward…and believe the next leg higher will test resistance at $26.00.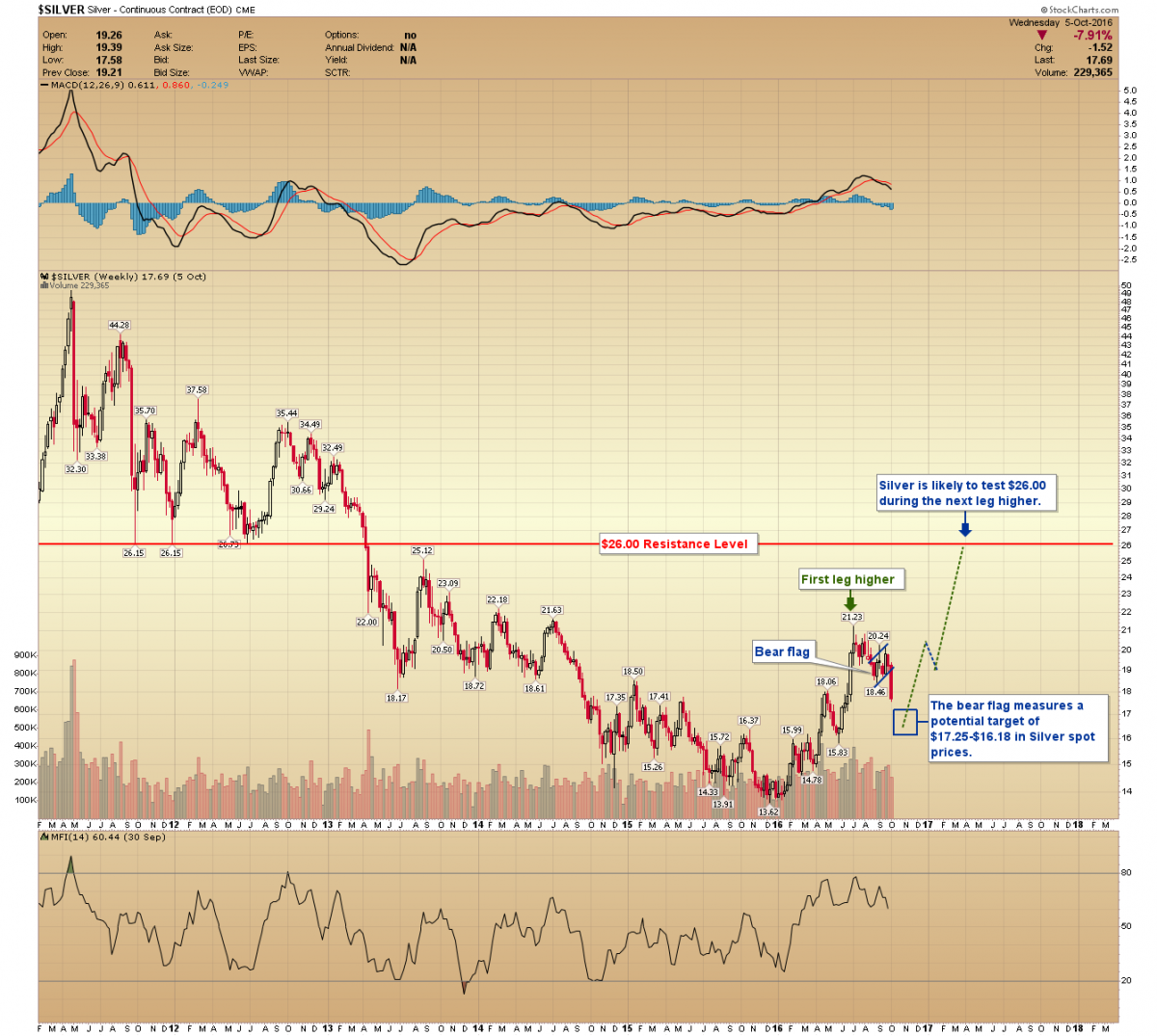 Weekly Mining Chart
Mining stocks have been the asset class of the year - and are likely to retain that title for the foreseeable future. From the January 99.19 low, prices exploded to an August peak reaching 286.05 points. That is an incredible 7-month run. We expect prices to drop below the May 194.64 level just far enough to scare investors out of their positions. Prices should a find bottom above the 170 level, and then, begin the next leg higher.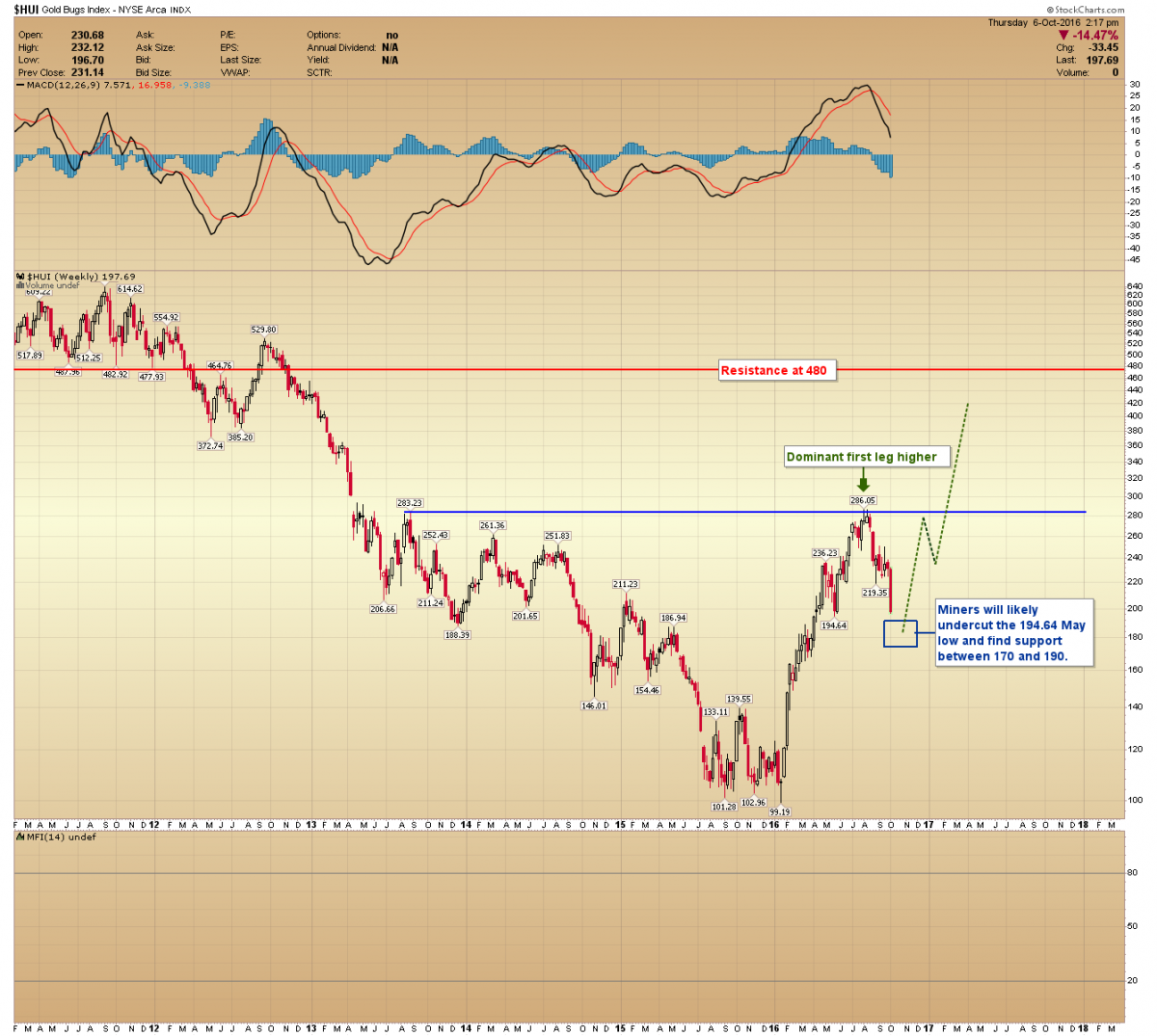 Investing In Precious Metals
Precious metals and miners are conceivably the most volatile asset class on the market. They harvest deep emotions and travel to the core of personal beliefs. People around the world will continue to lose confidence in governments. Consequently, more and more individuals will turn to precious metals. Physical bullion will be in short supply and carry a hefty premium. Small investors will be drawn to penny mining stocks during the latter stage of the bull market. Similar to the dot-com bubble, cheap mining stocks will soar without the proof of reliable, or even minable resources.
Summary
Gold prices and silver prices are nearing an important bottom. This could become the last great buying opportunity at reduced prices.
Many factors will influence the next few trading days; the US non-farm payroll numbers are forecasted to come in at 172,000 on Friday. A number much higher or lower than the median forecast could shift prices drastically. We are looking for key reversal days to mark the bottom. There should be significant money flow into GLD, GDX and GDXJ as the bottom develops. We will update members during the bottoming process as our primary objectives are realized.
********
Gold-Eagle provides regular commentary and analysis of gold, precious metals and the economy. Be the first to be informed by signing up for our free email newsletter.
Free Gold-Eagle Newsletter!
Fresh weekly insights on gold, precious metals, and the economy
Leading authors from around the world
Always free
Stay informed!
More from Gold-Eagle.com: