Gold Prices Up For Two Straight Months; More To Come?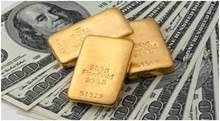 That's a wrap for February. Even though there is the possibility of a Federal Reserve rate hike looming in the news, gold has now increased in price for two straight months, recovering from a low in late December of last year that appears to be an aberration at this point.
But when looking at the gold price, the question comes down to whether or not the current precious metals market has legs. With two straight months of increases, is gold running out of steam, or is it just getting revved up?
Tracking Gold's Performance On The Year
The graph below from MarketWatch provides an excellent summary of gold's performance over the last year: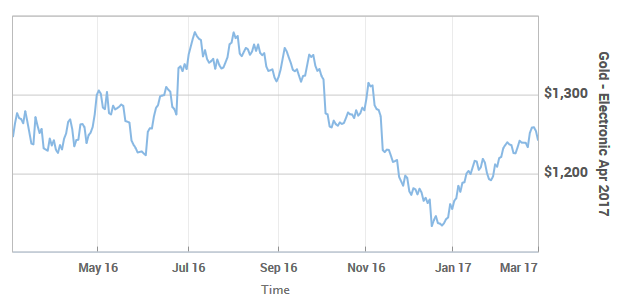 Source: MarketWatch
While there is a dip in late December that puts the current price of gold more in line with the performance of gold in 2016, pay attention to the performance of the yellowish metal since November. Gold is still coming up to those levels, but gold's price essentially dropped like a rock in November and December. The two subsequent months have seen gold recapture much of those prices. But if past history is any indication (and it is a weak indication at best), there is more room for gold to move.
What Will Matter For Gold's Price In March
With February, as always, a short run, we now find ourselves in March. What will happen to the price of gold in March? As usual, these predictions are difficult to make, but we can point to an important event that, as always, will have interesting economic consequences.
This event will be what the Federal Reserve decides to do in terms of confidence in the economy. A recent article by CNBC has noted that there appears to be a shift in favor of raising interest rates during the upcoming meetings. These meetings fall on March 14-15—the Ides of March, for you students of history—and with the stock market continuing to perform well, it's difficult to see how the Federal Reserve would explain not raising them.
Is the likelihood that high, however? According to Schiff Gold, investors are only putting the chances of a rate hike in March at 22%, when quoting a FedWatch tool at Bloomberg.
How Does Last Night's Speech To Congress Factor In?
President Donald Trump gave a much-lauded speech to Congress last night. To be sure for once, both analysts on the right and left seem encouraged by it. One can only imagine that this sense of optimism in leadership—even if it turns out to be short-lived—will be good for markets and potentially point to an increase in interest rates.
According to Reuters, what has put gold at its current healthy price is largely dependent on the US dollar and its relative weakness. Many experts were waiting on the speech to Congress to clarify what the President's position on trade and the strength of the US dollar might turn out to be.
Reuters Technical analyst Wang Tao sees spot gold increasing to around $1,278 per ounce. That would mean more room for the current gold market. Those watching gold's increase on the year would not be surprised.
More from Gold-Eagle.com: