Gold Prices This Week And Next Week's Forecast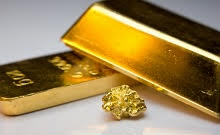 It is an honor to be asked to contribute a weekly article on gold and the gold sector by the founder (I.M. Vronsky) of the first gold website I ever read way back in 2001, Gold-Eagle. You may know me (if you know me at all) as an antagonist toward certain gold "community" figureheads because group-think has been hazardous for the average gold bug post-2011. But I am a gold bug. Moreover, I do believe in having more honest monetary systems, so by definition I am interested in gold.
Introduction behind us, let's note that gold topped as projected in the mid-upper 1300s. Long-term charts show that was a point of decision between bear and new bull market - and consequently a correction was likely.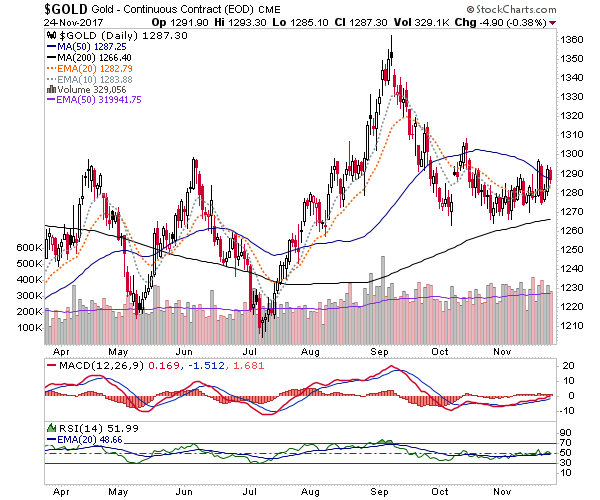 We then projected gold to find support at the 200-day moving average. Subsequently, it has been nesting just above it, closing last week at 1287.30, where the price has settled right at the 50-day moving average.
So far, so good for a would-be seasonal rally in December or January. Here is gold's seasonal chart (source: mrci.com). Note the corrective low for November, which may be in now and the secondary low in December. Also note the strong tendency to rise again in January into a February top. (Insert here all due caveats about market seasonal averages, especially this year when so many have gone atypical)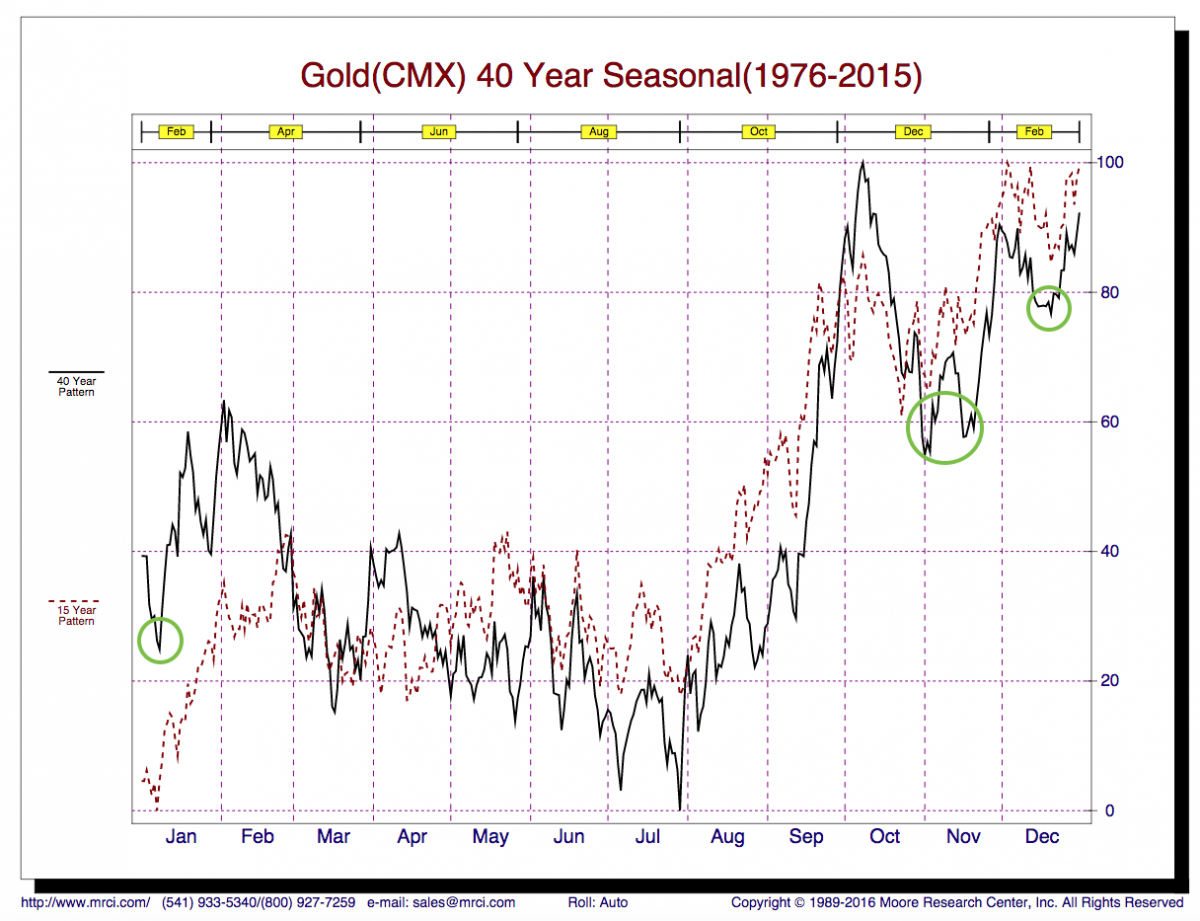 The latest gold Commitments of Traders readings have been elevated toward an alignment that usually resolves bearish. In other words, large speculators have been briskly bullish and commercial entities heavily hedged. Below is the latest data collection (November 14), Courtesy of barchart.com.
CoT Key: Producers | Swap Dealers | Managed Money | Other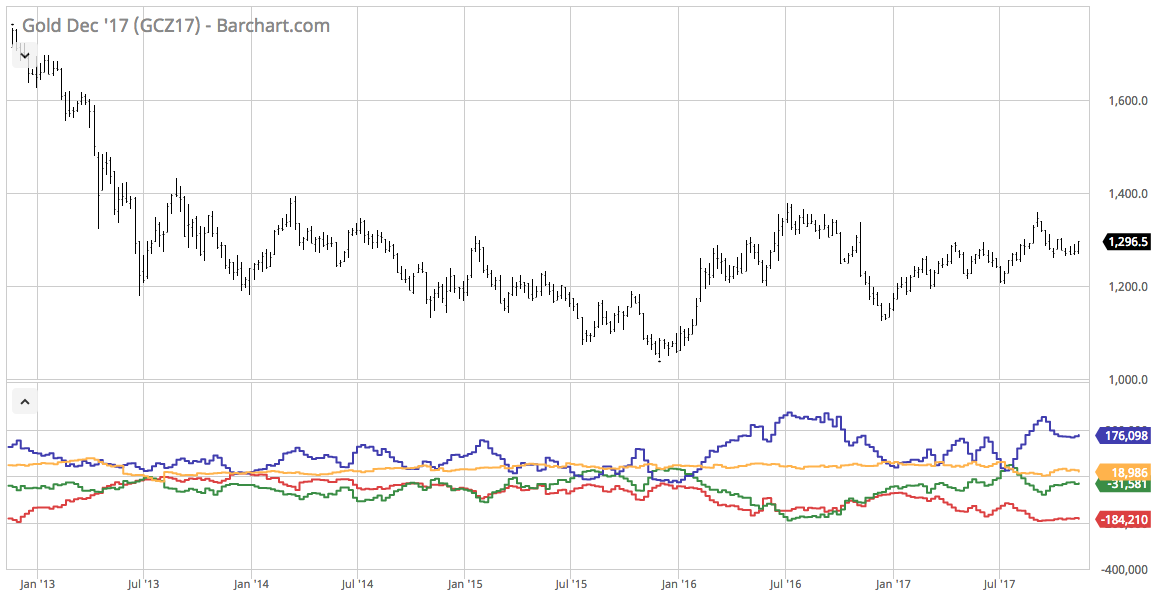 Gold and Silver Commitments of Traders data have been a source of some anxiety out there because they are not anywhere near a contrarian 'buy' reading. Such readings come about when speculators (Managed Money) are all in - and commercial entities (Producers & Dealers) are heavily short or hedged.
But that does not have to mean the rally from the last 'buy' level is over. Both metals hit good contrarian buy levels last summer and then rallied (with gold getting to, but not through its key breakout zone). The metal prices have consolidated…which is what the CoT have done as well. But they still reside at relatively high levels. The upshot is that this is not supportive of a big contrarian buy in the metals, but it does not preclude a resumption of a metals' rally, given the thus far normal pullbacks to higher lows.
While the risk 'on' asset party has pressured risk 'off' gold, the weakening US dollar seems to have been a tail wind of late. The daily chart pattern with its constructive RSI and MACD could foretell a November/December seasonal bounce. But whether or not it materializes now, gold has done constructive work in holding above the 200-day moving average.
Website: https://nftrh.com/
NFTRH Market Report: https://nftrh.com/nftrh-premium/
********
Gold-Eagle provides regular commentary and analysis of gold, precious metals and the economy. Be the first to be informed by signing up for our free email newsletter.
More from Gold-Eagle.com: