Gold Showing Optimism Going Into Fed Meetings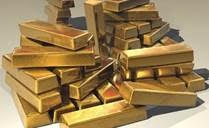 The middle of June is upon us, which means that it's time for investors around the world to wait and watch as the U.S. Federal Reserve considers raising interest rates. Perhaps that's the reason the Dow Jones Industrial Average is within a few points of its opening as of this writing (morning on Wednesday, June 14th): there's simply too much hinging upon this latest decision to make powerful investment moves yet.
What can we expect with these Fed meetings, and how will it impact the price of gold? To answer that question, we can look at gold's performance earlier this week up until now:
Gold's Price Revealing Pessimism In The Economy?
A pessimistic economic outlook can be good for a hedge investment like gold, particularly as investors who are waiting for the Federal Reserve to make a move see that the economy is a little too fragile to consider raising interest rates. That's the conclusion over at MarketWatch: economic news has been just sour enough to cast some doubt on whether the Federal Reserve will take action this month.
In the wake of that potential indecision is the prospect of gold's price, which has rebounded a bit. Perhaps most telling is its performance early on today, with gold currently at a $10 spike as it stays in the upper $1,200 per troy ounce range. If investors are tipping their hand and showing that they believe the Federal Reserve won't raise interest rates, most of the macro indicators we've seen thus far appear to be consistent with that conclusion.
Rough Headlines On Wednesday Add To Uncertainty
The report of a stunning attack by a gunman on U.S. Congressman in Alexandria, Virginia early this morning has rightly made headlines around the world and potentially unsettled investors—investors who could use stable headlines if they're going to make a good run out of the Dow Jones Industrial Average this summer.
There is the possibility that investors, unsure about the stock market this morning, have moved to hedge investments like gold to find some gains as the markets otherwise wait for news from the Federal Reserve.
The Prospects For Gold This Week
Although the markets seem hesitant, all indications are that the Federal Reserve may be fine going ahead with another interest rate hike. Some investors may be looking to "buy the dip" after a shocking announcement from the Federal Reserve this month, should it indeed be in the works.
For gold investors, the question is tricky: will the Federal Reserve hint that the economy is a bit too sluggish to move forward with an interest rate hike, and if so, will that be good for the long-term prospects of gold? Or will the Federal Reserve follow through on most expectations and raise interest rates, which tends to be worse for the price of gold, all other factors being equal?
In the middle of this week, one thing is clear: a lot is riding on what happens the next few business days. Now, as ever, is time to keep an eye on the headlines.
More from Gold-Eagle.com: