Gold, Silver And Mining Price Update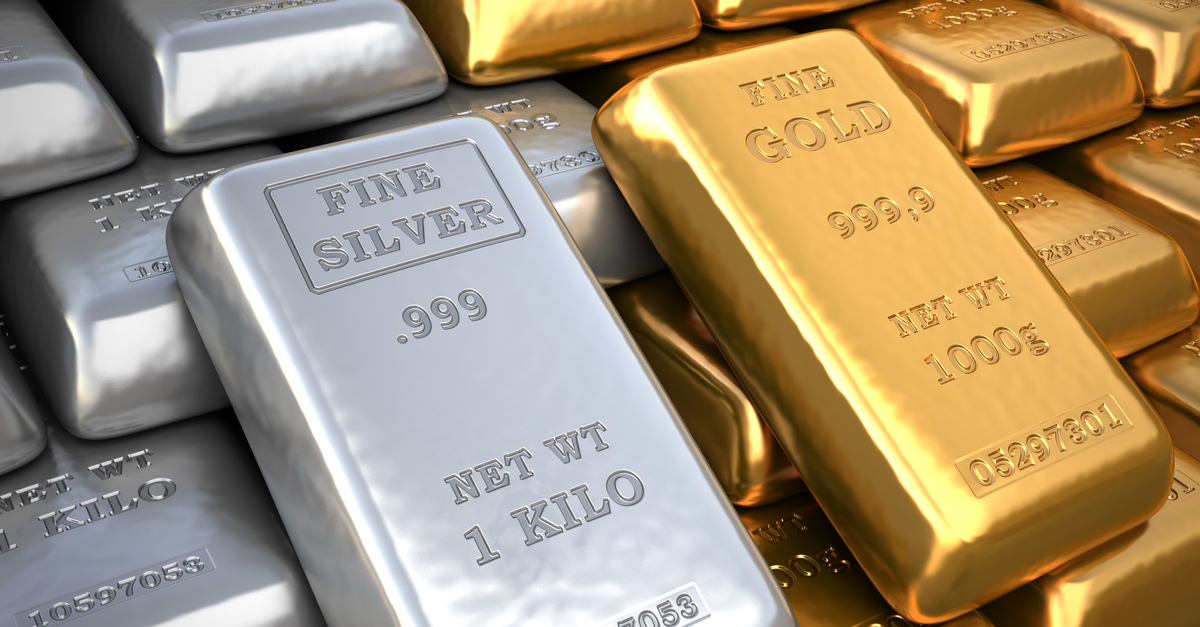 Metals and Miners are keeping us on our toes; they rarely make it easy. Gold and silver prices appear to be consolidating, but miners look a bit scarier. I outline critical levels for GDX, GDXJ and the XAU. I'll keep a close eye on the structure and update as the trend develops.
I entered long positions December 20th and then again on January 9th. I may add the final tranche in the coming days.
Our overall forecast calls for a robust 2018 in precious metals and miners. If we're correct, the next leg of the bull market is just getting underway and should last several years. We believe It's important to have and keep positions. There will be some scary moments along the way. The bull doesn't like to be ridden...it does its best to throw as many riders as possible. If it were easy to ride, they'd call it a turtle market.
I have suitable buffers on the current USLV and JNUG holdings. I'll give them a little breathing room if prices correct. If/when there is evidence of a bottom, breakout or price reversal, I'll add the final positions.
Gold Prices
That was the third consecutive Doji, and prices are threatening to correct. Progressive closes below the 10-day EMA could send gold into an early cycle low. This part of the cycle can be tricky. It often looks/feels like prices will go one way, but they do the opposite. There is decent support between $1,295-$1,310 if prices correct.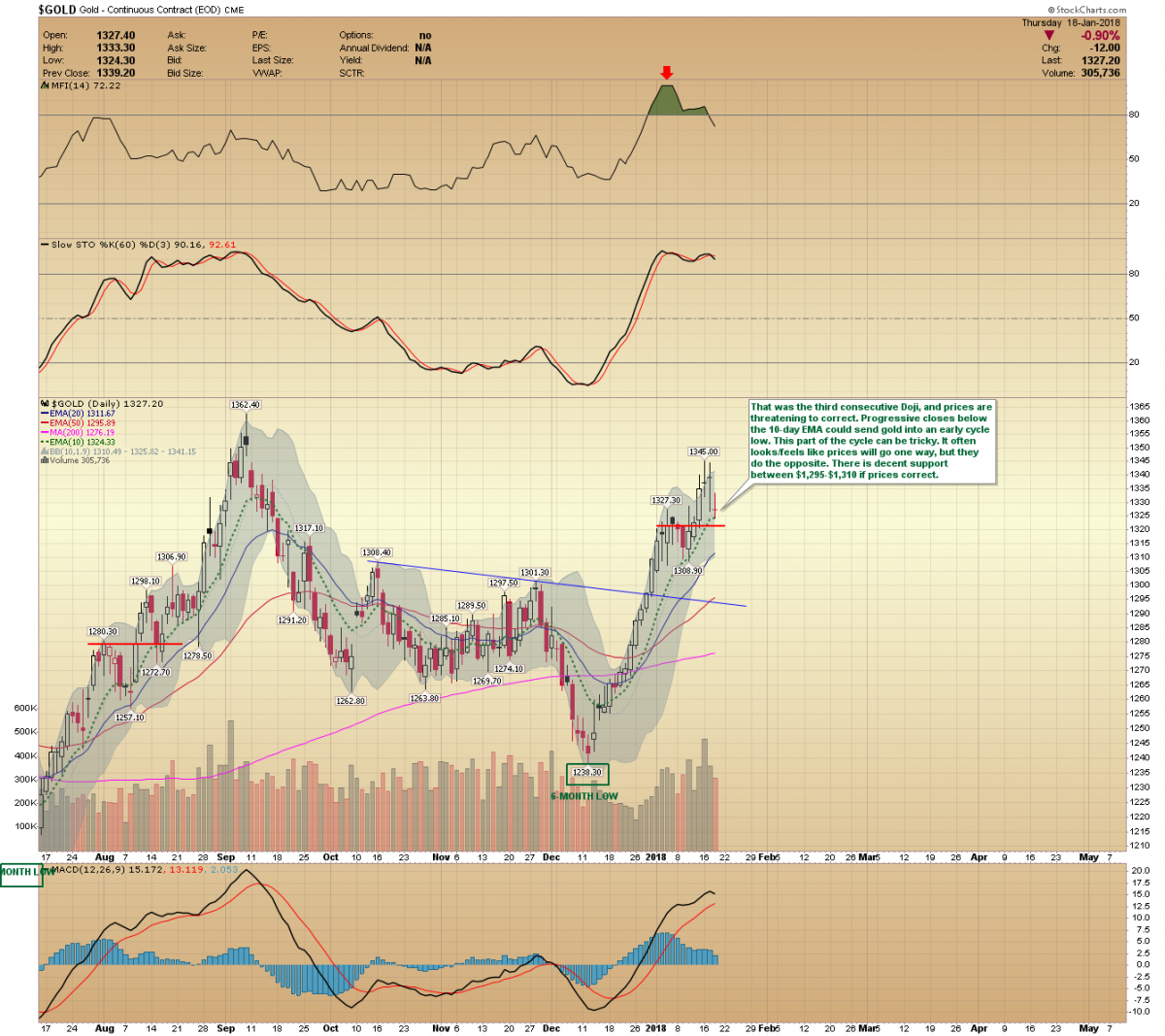 Silver Prices
Prices have been jumping back and forth around $17.20. It looks like a simple consolidation point. However, a daily close below $16.80 could lead to a broader pullback. If we hold $16.80, then we expect an upside breakout (close above $17.45) within the next week or two and subsequent rally to around $18.50 before the next pullback.
GDX
Prices made an outside reversal candle on Wednesday and then closed below the 10-day EMA. Is this a simple gap fill or the beginning of a more meaningful correction? Monitoring the gap between $23.40-$23.50 is key. If prices close significantly below $23.40, then the pullback could persist 1-2 weeks. However, if prices fill the gap but maintain closes above $23.50, then this was just a gap fill before the next upswing. Time will tell...I'll direct members as the structure unveils.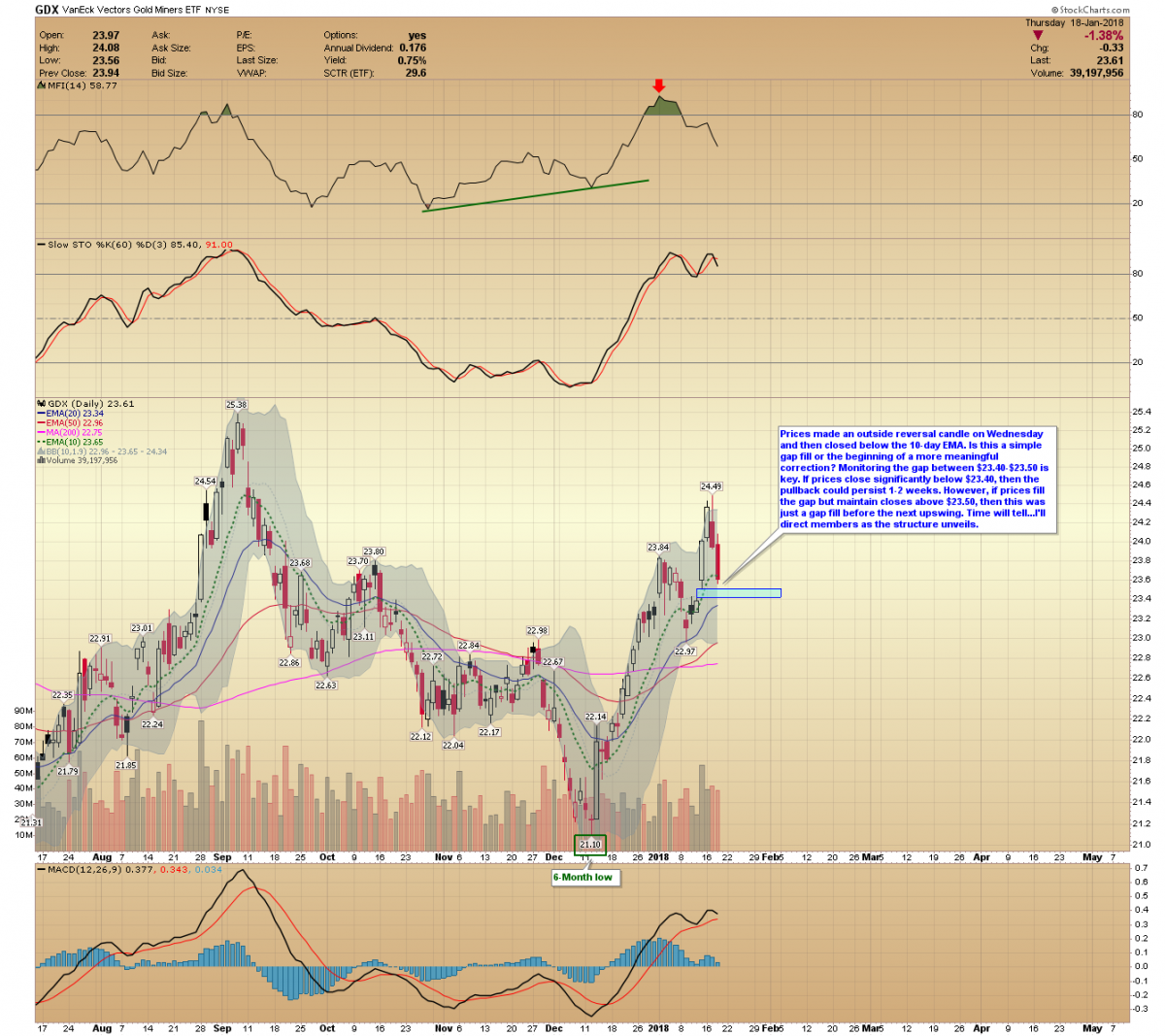 GDXJ
Juniors filled the majority of the gap on Thursday. GDXJ needs to sustain closes above $34.00 to prevent a deeper correction.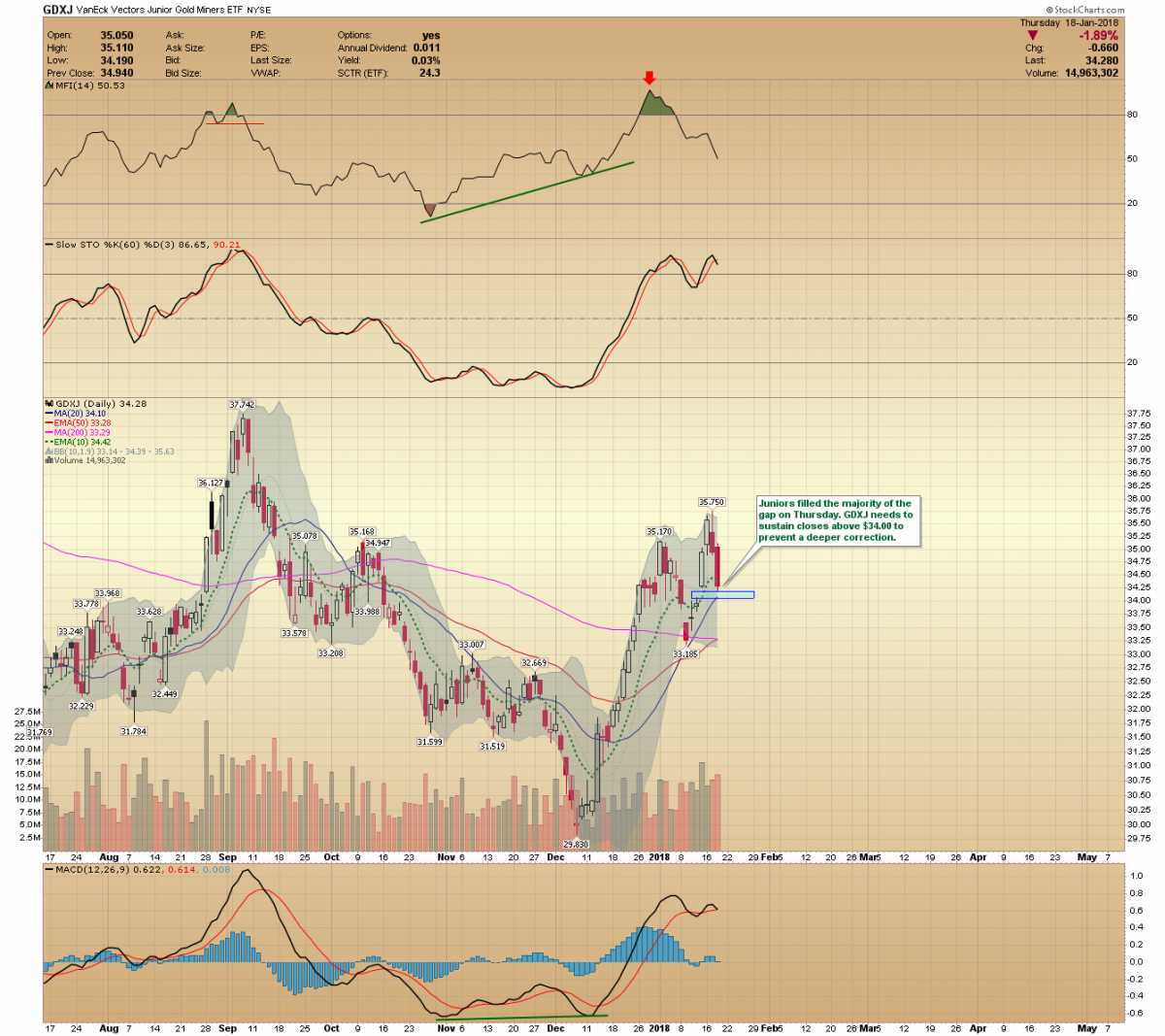 XAU
Since last May, the short-term cycle has averaged between 20-24 trading days. These events occur between the 4th and 10th day of every month. Ideally, the next turning point will arrive between February 5th and 8th. Unfortunately, it's too soon to know if this will time a high or a low. To present a high, the XAU needs to maintain the January 9th 84.57 low.
One point of concern...prices reversed at the upper trendline. It could be nothing, but declining and then closing significantly below the 84.00 level would be negative and I'd consider exiting my JNUG positions. Whereas, closing above 91.00 would constitute a breakout and validate our 2018 outlook.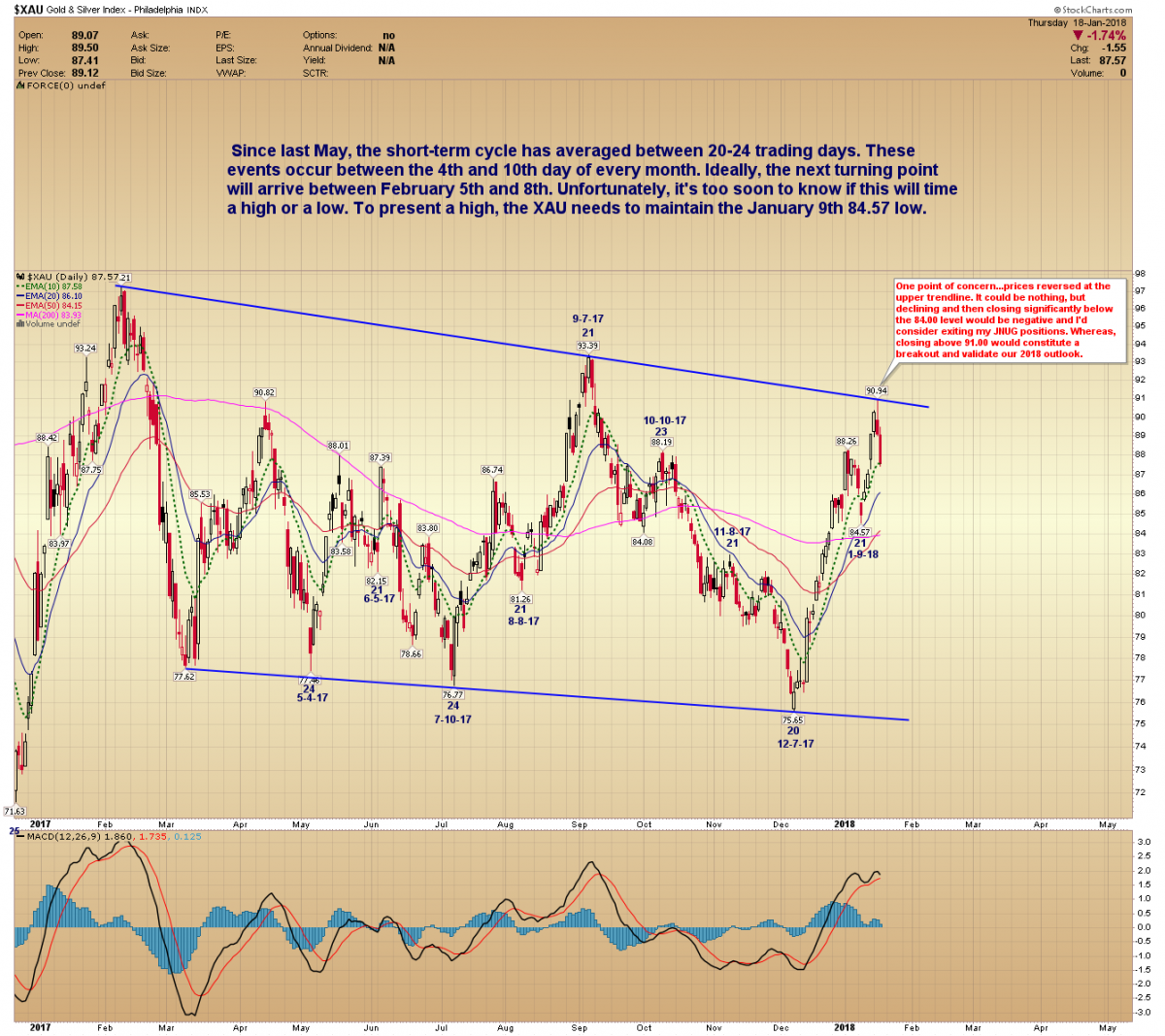 USLV
I'm watching closely for an appropriate time to enter the final tranche of USLV.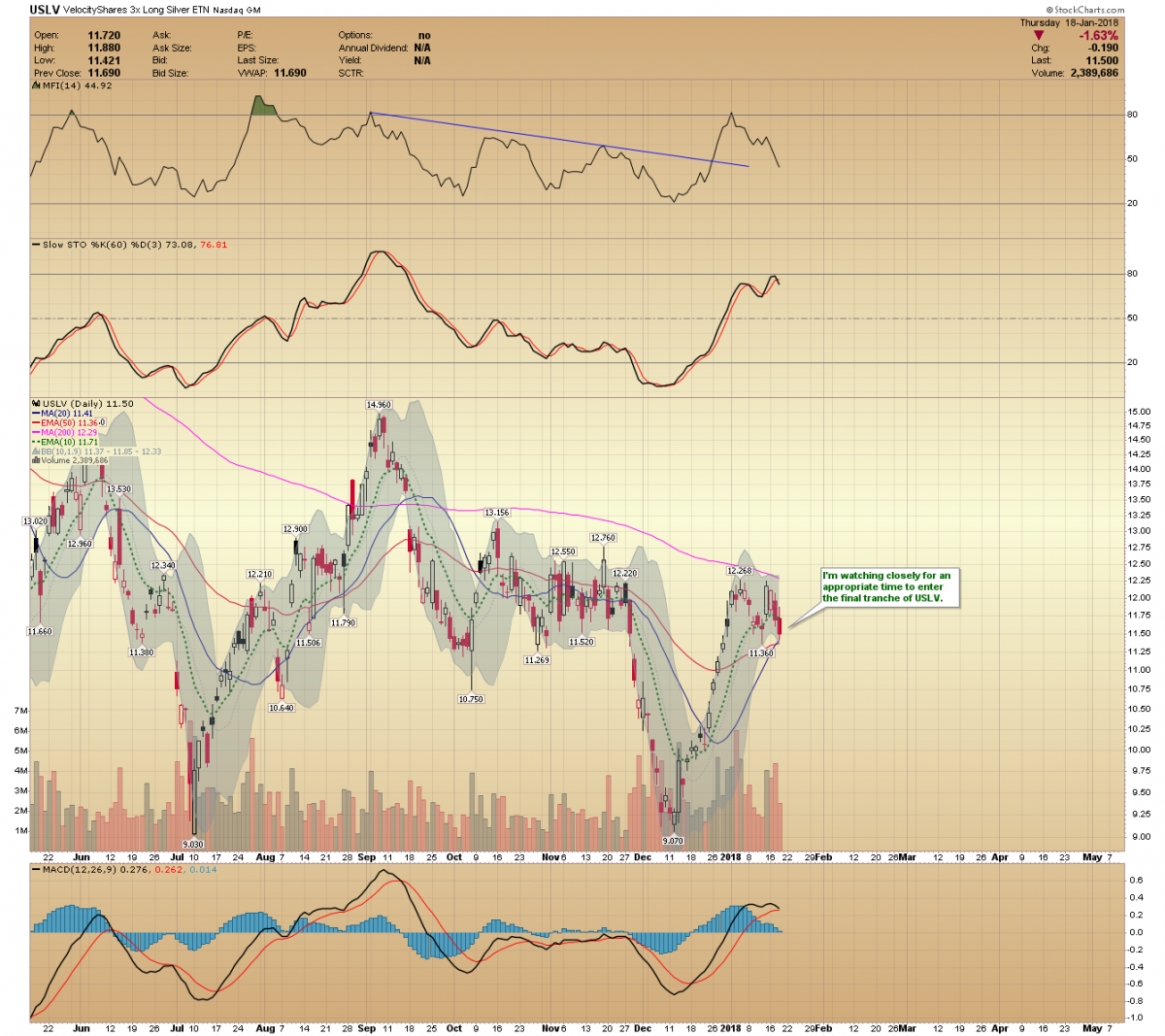 JNUG
I'm watching closely for an appropriate time to enter the final tranche of JNUG.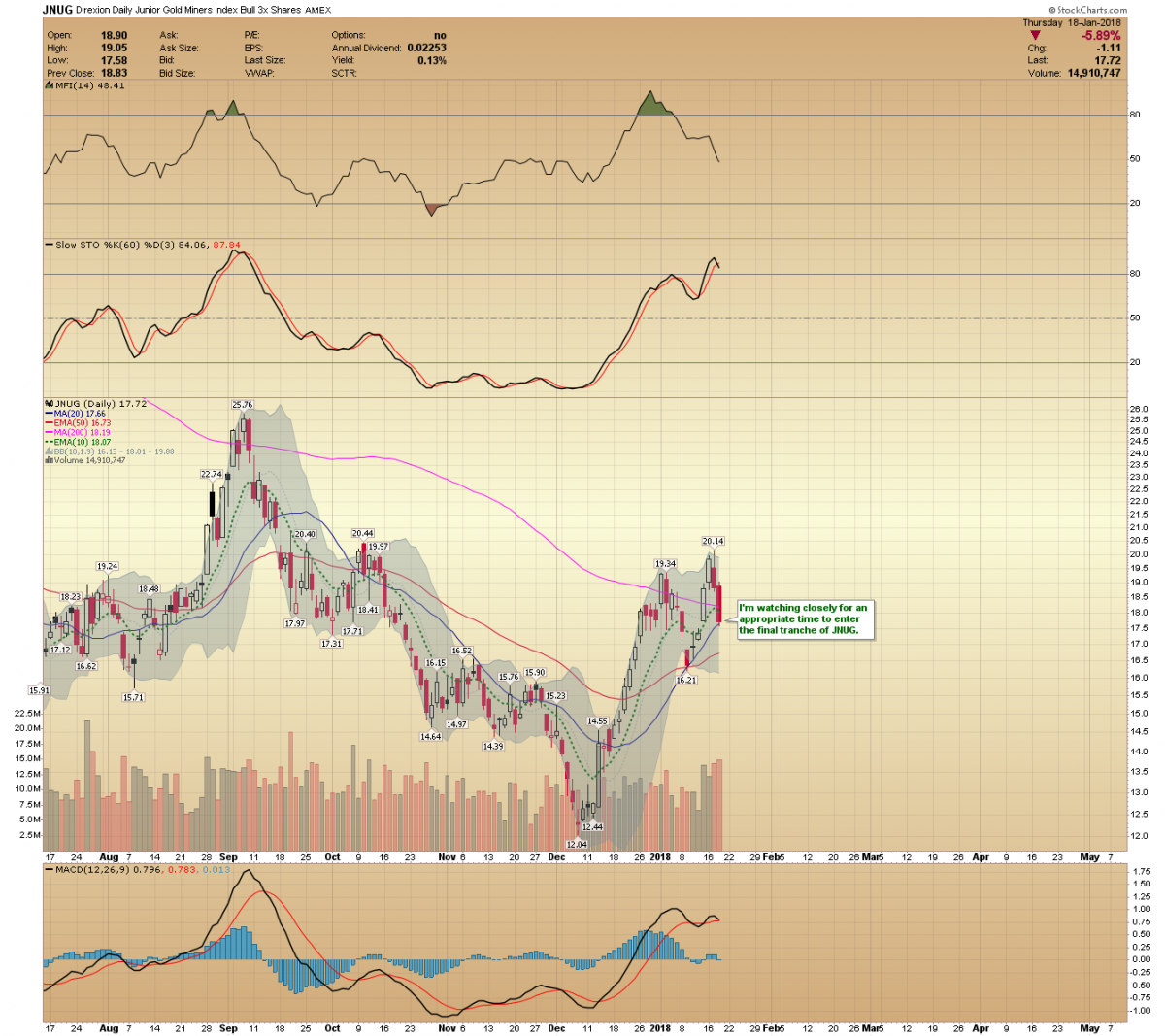 WTIC
Oil has been consolidating after touching $64.89. The MFI is slowly rolling over and dropping below 80 would support a top. At this point in the cycle, a daily close below $63.00 should be enough to verify an intermediate cycle peak.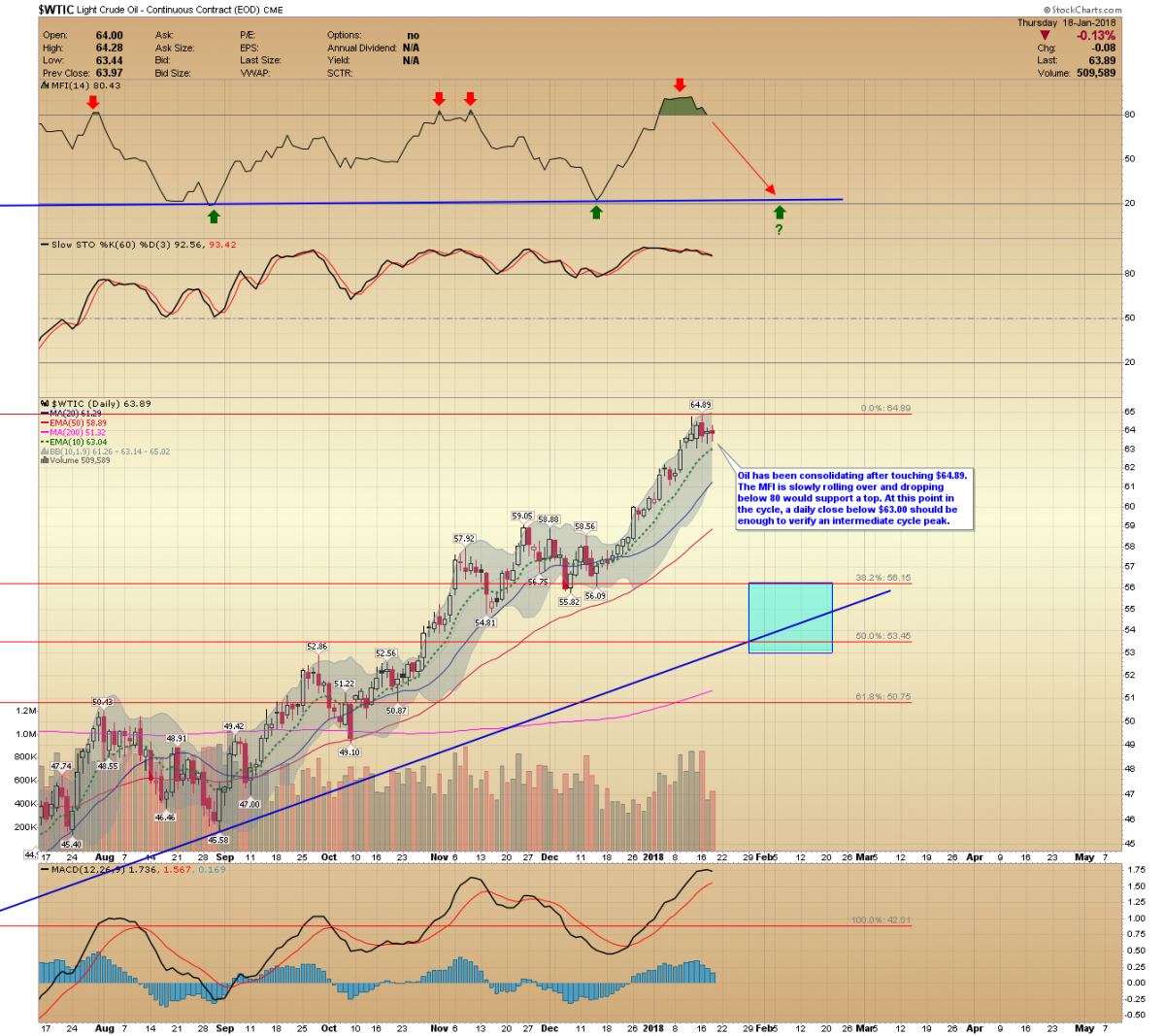 SCO
Still holding a small SCO position with a stop just below the $21.25 low. A daily close above $22.17 would support a bottom.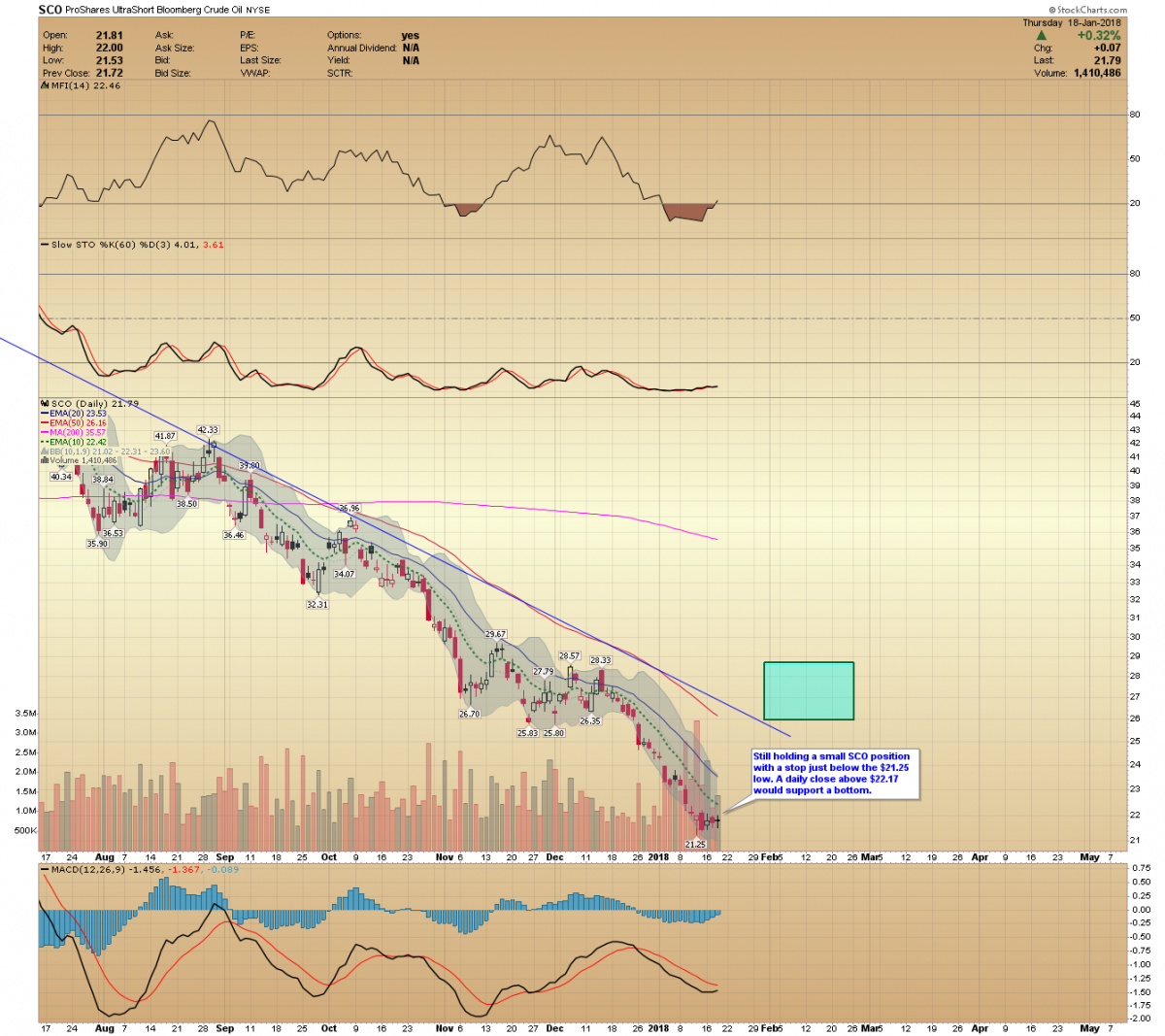 Today's Levels
Gold prices needs to get above $1,340 to generate additional buying. Dropping below $1,330, and then $1,324 would likely spark more selling.
Silver should see buying return above $17.20. However, dropping back below $16.90 would be a short-term negative.
Oil fell to $62.78 overnight and rebounded. Prices would have to rally back above $64.00 to create additional upside. Whereas, dropping back below $62.78 would support an intermediate top and likely send prices lower.
*********
Gold-Eagle provides regular commentary and analysis of gold, precious metals and the economy. Be the first to be informed by signing up for our free email newsletter.
More from Gold-Eagle.com: