How Will Silver Fare if The Market Continues to Boom?
To employ a quote often attributed to Mart Twain, the rumors of a stock market demise appear to have been exaggerated. Although one turn of the calendar can always have something different to say, this year has been very profitable for general stock market investors as the Dow Jones Industrial Average (DJIA) has moved up to 21,000 points multiple times, setting new records and bringing a wave of enthusiasm in its wake.
But this article is about silver. Specifically, how silver might fare if this trend continues. To forecast the price of silver during a bull stock market, let's look at its performance throughout this year and guage where the precious metal has been—and where it might be headed.
A Brief Summary of Market Performance Throughout 2017
Anyone paying attention to the economic headlines—or even the news headlines in general—will have noticed that 2017 has been a healthy year for stocks. It seems as though a new "record-breaking" day on Wall Street has become the norm.
Indeed we see that trend play out on the MarketWatch 6 month chart: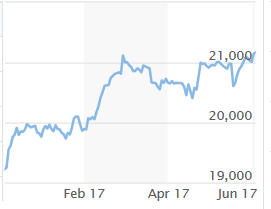 At one time, the Dow Jones Industrial Average eclipsing 21,000 points was major news—now it's happened a few times. Though this is a very brief and very superficial look at stock market success, it does show an indicator of what 2017 has been like.
But since we're forecasting the price of silver, an additional question needs to be asked: how has silver fared when compared to the DJIA charts? Let's look closer.
Tracking Silver's Performance As the Markets Rose
During a bull stock market, one might expect "hedge" investments like gold and silver to at least over, and possibly even go down as demand lowers. But silver is much more than a "hedge" investment, which means we shouldn't necessarily expect a negative correlation.
To look at that, we turn to the charts from APMEX.com: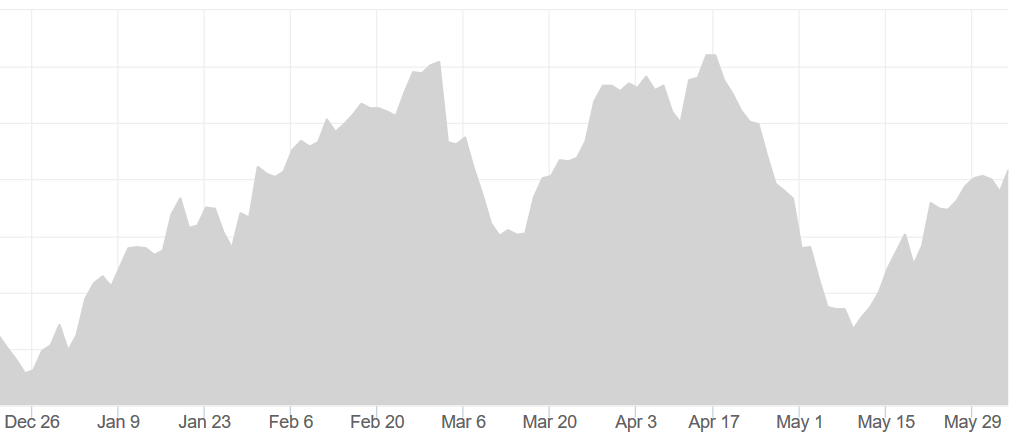 Alhough there are certainly some negative correlations to be seen—March seemed to have sent silver down a bit while the DJIA was breaking new ground—the overall trend has shown that there is more to the price of silver than simply how the stock market has performed. Indeed, silver has gone up on the year thus far, just as the DJIA has.
But we're forecasting silver's price here. Where will silver end up? As 2017's performance thus far has shown, a bull market in stocks is not necessarily bearish for the expansion of silver.
Forecasting Silver in June and Beyond
If silver's price is relatively independent of the stock market's excellent year, then there is always room for silver to move up, even if we continue seeing positive economic headlines. That could even mean that silver is due to stay strong, even in the wake of a potential interest rate hike that could come at the middle of this month from the Federal Reserve.
Those who are optimistic about silver's prospects but still believe in the markets may have learned by now that sometimes, you can have your cake and eat it, too.
********
More from Gold-Eagle.com: