Investors Start To Make Big Bets On Gold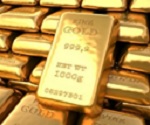 Not feeling too optimistic about the stock market? Turns out you're not alone. Billionaire investor George Soros recently made another major move into gold—one that's capturing headlines all over the world.
"Billionaire investor George Soros," writes the Wall Street Journal, "who has recently returned to trading amid what he sees as coming economic troubles, in May disclosed a 19 million share stake in the world's largest gold producer, Barrick Gold Corp (ABX)."
At about $20 a share the Soros ABX investment makes for about a third of a billion dollars -- in one single stock. It turns out that Soros has a few other views, as expressed by his latest investments, which suggest a rather bearish outlook on the global economy. As Forbes says, "Soros also believes China is set for a so-called 'hard landing' as capital moves out of the country due to an over-leveraged banking system and the ramifications of poorly allocated capital investments. An eventual devaluation of the Chinese Renminbi (yuan) will spur added deflationary forces globally, he believes."
Additionally, reports Forbes, Soros "has made a bet against the US stock market" -- thanks to his derivative positions, while also increasing investments in stocks like Silver Wheaton.
Since this is the first time we've apparently seen Soros actively trade in the market since 2007, it suggests that the billionaire genuinely sees troublesome times ahead.
But Soros is just one investor. As it turns out, others are beginning to see the yellow light when it comes to gold. Rick de los Royes who helps manage metals and mining at T. Rowe Price, told the Wall Street Journal that "It's been an unbelievably quick change from despair to euphoria since the beginning of the year." Moreover, Jeffrey Gundlach of DoubleLine Capital sees gold going to $1,400.
Today's gold prices are up about $10 as of this writing.  And it looks like gold may again be headed to the famously psychological $1,300 mark. Silver is also up on the day, eclipsing $17 an ounce once again. It appears that the recent correction in precious metals is at an end.
There is more evidence of investor bullishness toward precious metal stocks as reflected by higher prices. We see recent higher stock prices for Silver Wheaton (SLW)…likewise with Yamana Gold (AUY) and the aforementioned Barrick Gold (ABX), the world's largest gold company.
Mark Haefele, global CIO at UBS Wealth Management, recently wrote for CNBC.com that gold isn't going to tank from these higher prices, saying "the potential downside for gold is limited." Although mentioning that he believes the Fed will raise rates twice more this year, he doesn't see it happening in June but rather September and December. And while he doesn't see the current surge lasting over the next few months, he's bullish on the opportunity for gold to be in the same position a year from now. If you believe that the US stock market is overheating, it's possible that being in the same position next year can be a very attractive prospect indeed.
More from Gold-Eagle.com: