Monthly Gold Price Is Banging On The Door Of A New Bull Market

Gold Prices This Week And Next Week's Outlook
Last week: "Gold and the precious metals sector remain in a still-intact short-term uptrend within a seasonal rally that could run through January."
The precious metals sector (gold, silver and PM miners) remain on course for that prospect or even a continuation into February. The technical status is that gold prices are nearing key resistance (to a new bull market) around 1378, silver has made a move to break out short-term (but still lurks at resistance) and HUI continues to be in a series of higher highs and higher lows from the December bottom.
This article primarily focuses gold and silver. We updated the miners' status at the site on Thursday night, after the big drop. HUI was still intact then and is still intact now. https://nftrh.com/2018/01/25/hui-parameters-intact/.
Today I would like to update something interesting going on in the metals. First, note the not very constructive state of gold's Commitments of Traders.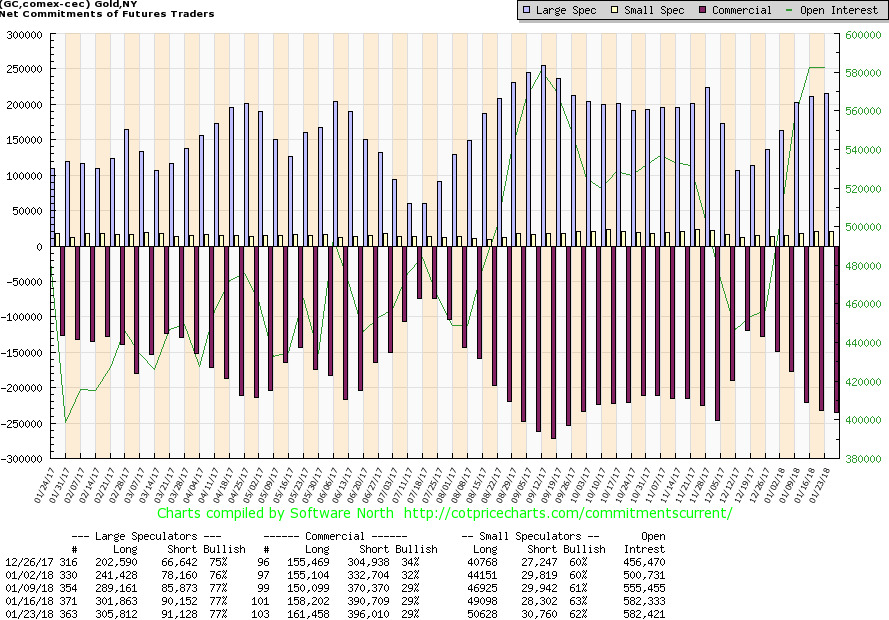 As the gold price has reached the levels of last summer's top, so too is the CoT approaching its level of last summer. So should we raise a bearish alarm? Not necessarily; not yet. The silver CoT has something to say about that.
This is simply not an alignment that would in and of itself indicate the end of a bullish trend in the metal's price.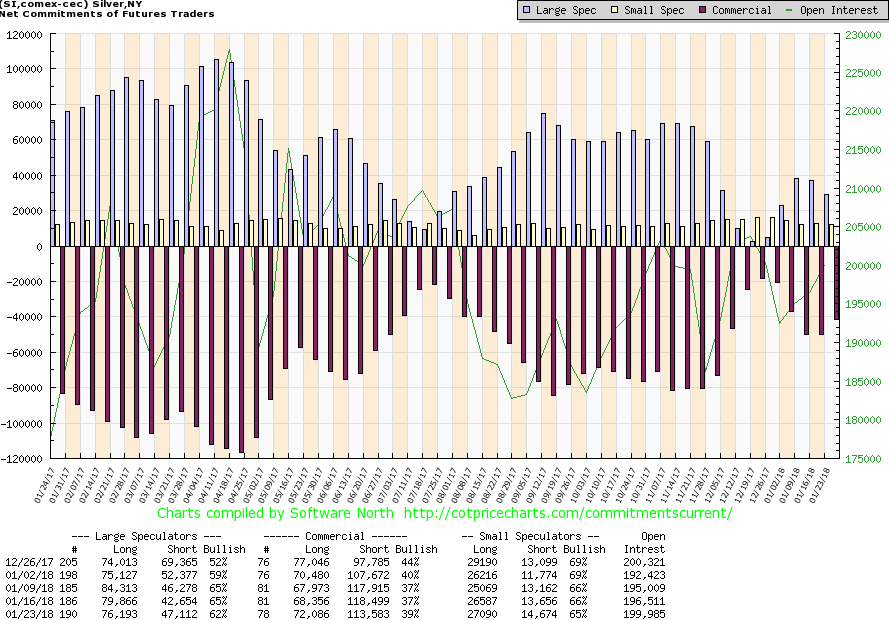 Silver has refused to lead thus far and that could be viewed as a negative divergence or as a propellant for a final rally leg. Here's the daily Silver/Gold ratio.

In nominal terms gold predictably halted at the September high.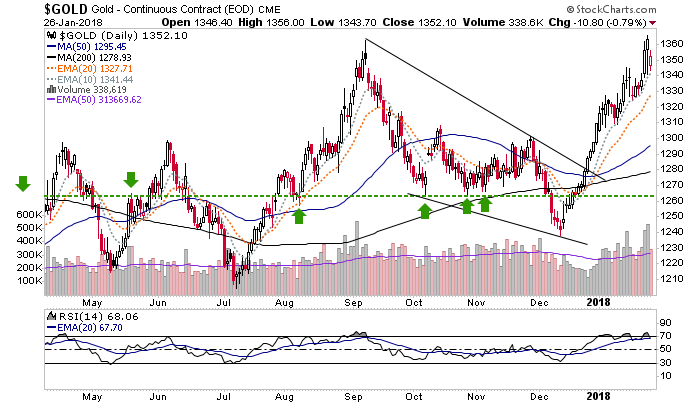 But the monthly view shows a new uptrend with the price banging on the door of a new bull market (2016 high of 1378).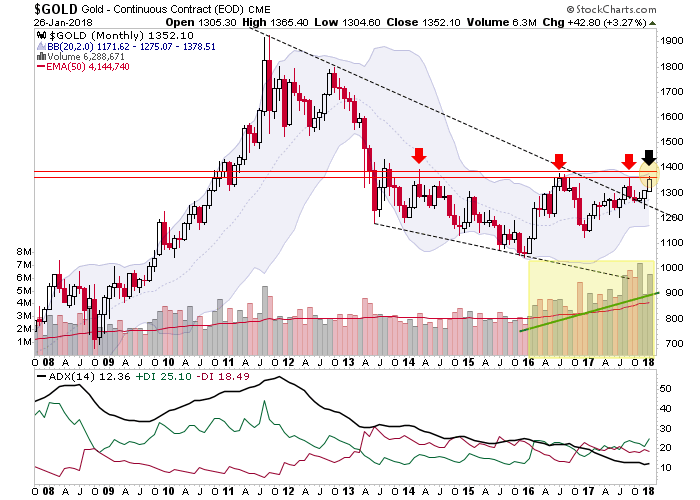 The TA rule is that the more times resistance is tested, the weaker it becomes. One potential outcome could be a break through resistance that ultimately fails when the current sector rally ends, but also puts in a "new bull market" marker (i.e. a higher high above 1378). Of course, there are plenty of other possibilities but this one seems doable and relevant to a bullish 2018 and beyond.
Back on the short-term, daily silver holds the key to the question of whether it will wrestle away sector leadership from gold for a final run higher. The pattern does look poised as it has been eating away at resistance. But as of now, it's still technically grinding at resistance.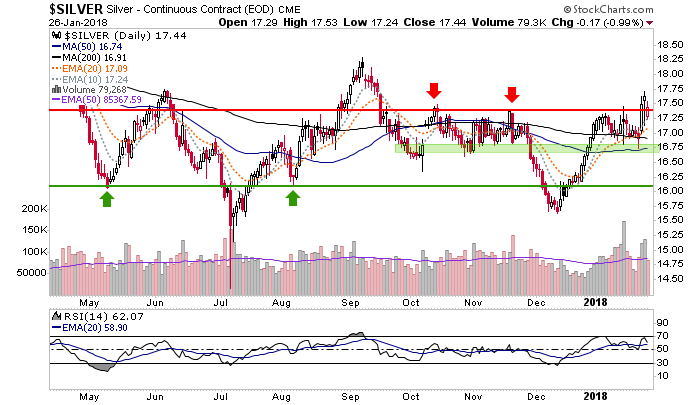 The markets are approaching some very interesting junctures as you can see by this post discussing the happy-go-lucky '3 Amigos' indicators, which would one day morph into the less happy '4 Horsemen'.
https://nftrh.com/2018/01/25/usd-euro-to-be-a-4th-horseman/
Thank you for reading. Keep an open mind and things should unfold in an interesting manner in the coming weeks and months. This weekly article is a general outline, but there is much more detail in play for the precious metals and all other major markets, which we routinely update in NFTRH. The point being, don't take any one analytical source (including this one) as a be all, end all. There is a lot of work to do in this complex macro environment.
Website: https://nftrh.com/
NFTRH Premium Market Report: https://nftrh.com/nftrh-premium/
********* 
Gold-Eagle provides regular commentary and analysis of gold, precious metals and the economy. Be the first to be informed by signing up for our free email newsletter.
More from Gold-Eagle.com: