More Good News For Silver Bulls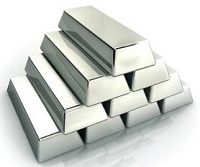 Silver has had an incredibly strong year, thus far, in 2016. Furthermore, from the data that is being released at the moment, I am gathering that we are likely to see more big gains. The reality is that silver demand is climbing while supplies continue to fall. Today, we'll talk about what causes price movement in silver, what we're seeing from the factors that cause silver to move, and what we can expect to see from the precious metal moving forward.
What Causes Silver's Price To Move
Silver, like any other commodity, is heavily dependent on the law of supply and demand. This means that when supplies are outpacing demand, we can expect to see declines in the precious metal. Adversely, when demand is outpacing supply, we can expect to see gains. However, because silver is also considered to be a safe-haven investment, there's a bit more that goes into predicting price movements. Investors also have to consider current market and economic conditions to determine where silver is headed. When market and economic conditions are positive, we tend to see declines, while negative conditions will generally lead to gains.
What We're Seeing From Silver At The Moment
To get an idea of where silver is headed, let's look at the two big factors:
Supply – Silver production has been growing, but it hasn't been growing by much. The truth is that silver is primarily a byproduct of zinc, lead, and copper mines. Because commodities prices have fallen so dramatically over the past several years, these mines are starting to close, meaning that silver production has been growing at a snail's pace, as of late. In fact, some, including CPM Group, believe that silver production will fall this year, for the first time since 2011. As the law of supply and demand tells us, when supplies fall, prices will generally rise.
Demand – Demand is another key factor here, and it's another one that points to potential growth in the price of the commodity. The truth is that the demand for silver is skyrocketing, which is why we've seen such incredible growth in the price of the commodity so far this year. The reasons we've seen increased demand are relatively simple. First and foremost, global economic and market conditions have been a major cause for concern throughout the beginning of the year, and continue to be a cause for concern moving forward. On top of that, we're starting to see some economic stability out of China. This is incredibly important because China is the world's top consumer of the precious metal. With stronger economic conditions out of the region, chances are that China's demand for silver will grow, pushing demand over the top in an overall sense. Indubitably, demand is climbing!
The Bottom Line
The bottom line here is that silver is the commodity to have in the year 2016. With supplies starting to decline, we're seeing strong support for price growth on the supply side. Then, looking at the demand side shows more promising data. As China's economy continues to pick up the pieces and put the puzzle back together, we're likely to see more growth in demand from the region. That, in combination with demand from safe haven investors and heavier demand for silver jewelry, will likely support an incredible year for the precious metal. 
More from Gold-Eagle.com: