The Next Golden Buying Opportunity in Precious Metals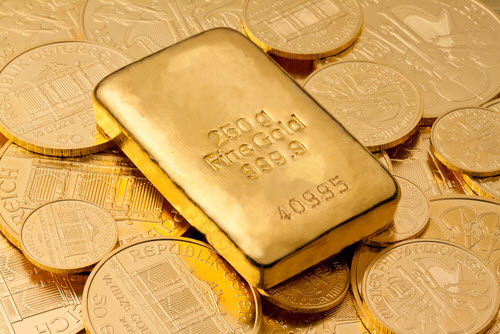 Don't worry if you feel like gold and silver prices have left you behind. You will have another opportunity to buy in the coming weeks. Precious metals are close to confirming the start of a new bull run, but a little work still needs to be done. This article will focus on two possible scenarios, entry timing, and a simple buying strategy.
Long-Term Perspective
Before I get into the different scenarios, I want to remind readers of the bigger picture. Irrespective of how the rest of 2016 plays out precious metals are headed much higher over the next 5+ years. The latter stage of this exceptional bull market will see public participation explode, and everyday people will be obsessed with gold and silver prices. Speculation, fear, and greed will be widespread as prices rise exponentially. There will be panic. If you're interested, check out our previous articles highlighting the possibilities of $500 silver and $10,000 gold.
Gold Scenario 1
In this scenario gold prices made an important 8-year low at $1,045.40. However, for this low to be confirmed prices need to produce a clear intermediate correction and then rally to higher highs (above $1,306). Short-term gold prices likely topped when they failed to stay above $1,300, and prices appear to be dropping into a June low. A potential strategy is to buy long positions at the June low while placing a protective stop under that low.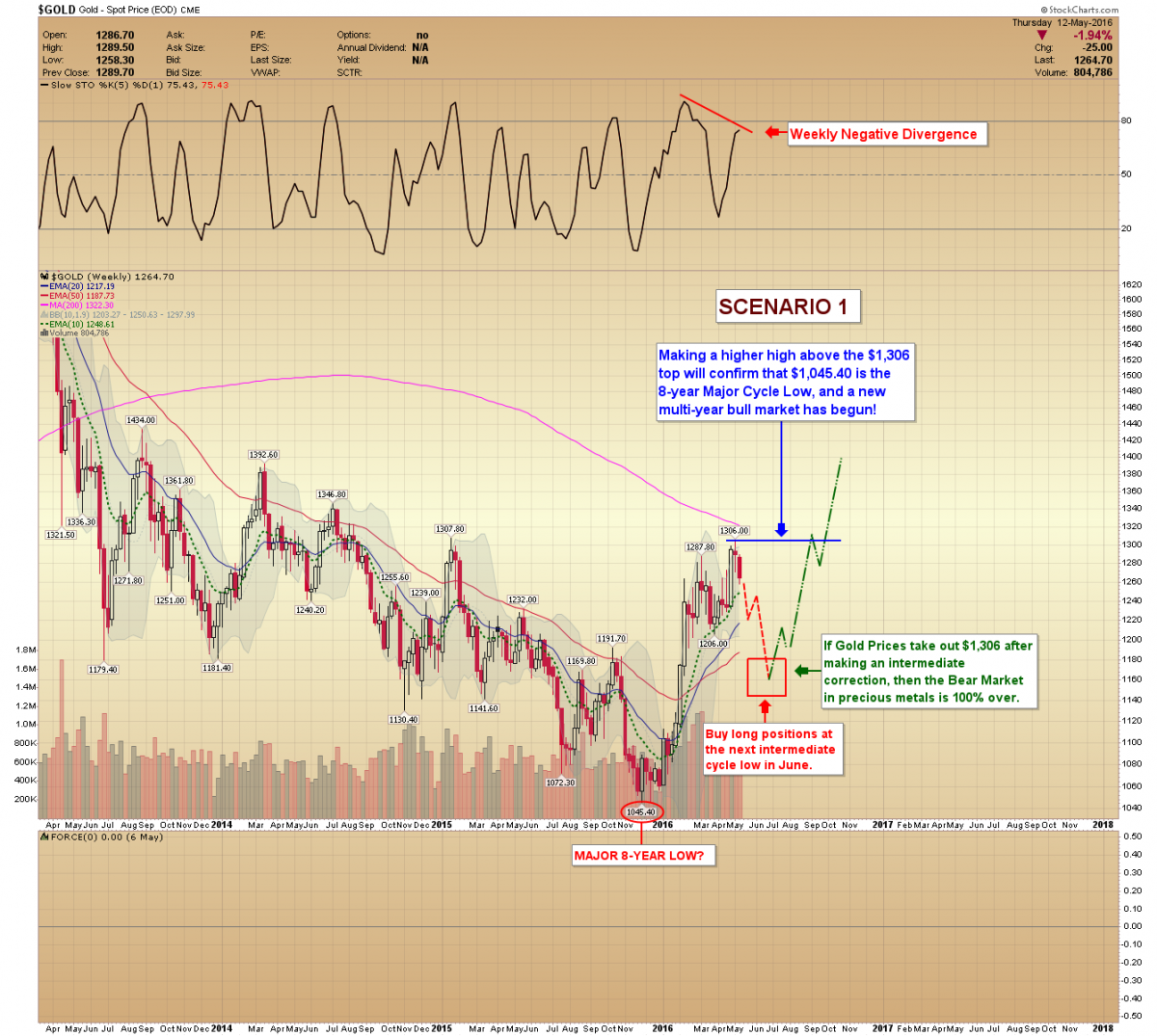 Note: If gold prices exceed the $1,306 high after making an intermediate-term correction, then the Bear Market in precious metals is 100% over.
Gold Scenario 2
As a trader, you need to have a defined plan and exit strategies for the off chance that you are wrong. Scenario two looks at what might happen if gold prices do not make a new high after producing a correction.  If this plays out, that will imply the $1,045.40 low is a false bottom and prices are headed lower into late 2016 or early 2017 when they make their actual 8-year cycle low. I give this scenario less than 30% odds. Here your protective stop would be triggered, but fear not; you will get an even better entry price later.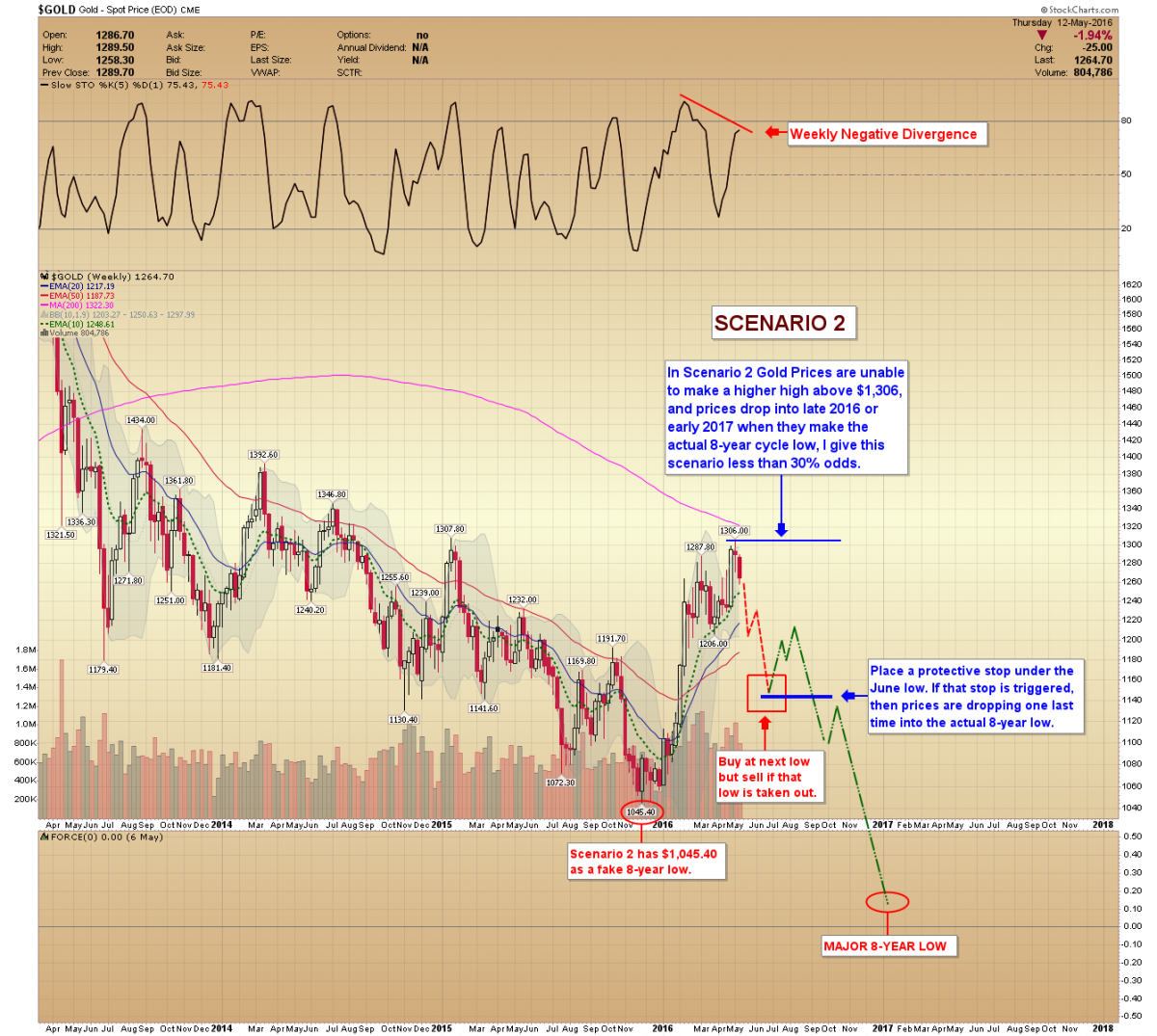 Silver Scenario 1
Silver prices are also dropping into a 6-month cycle low and will provide a potential buying opportunity. Our work suggests a low should arrive in the middle of June, around the time of the next Federal Reserve meeting. How prices rally from that subsequent low will determine if the next bull run has begun or if it will be slightly deferred.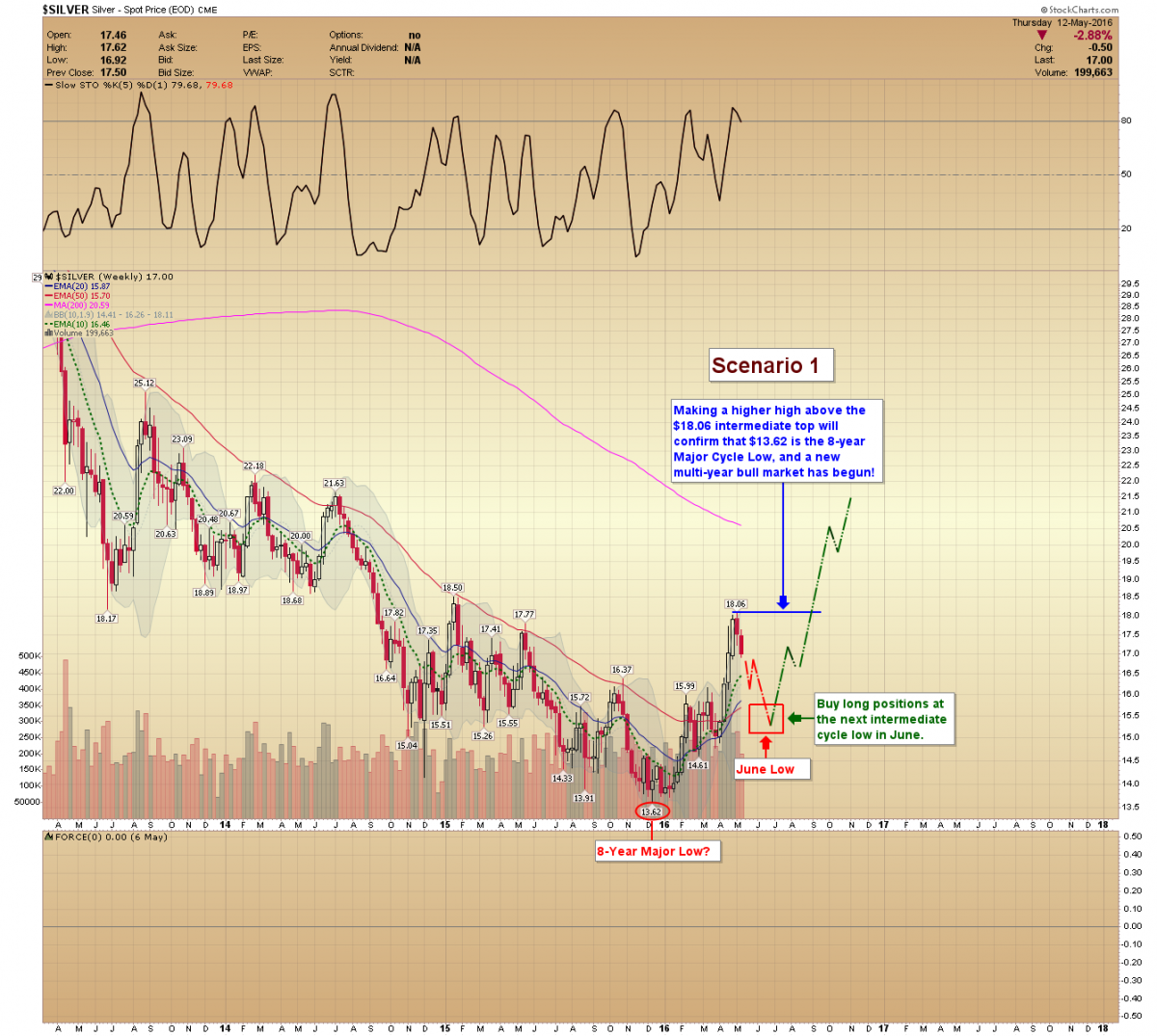 Silver Scenario 2
In this scenario, silver prices aren't able to rally back above the $18.06 high and will drop to a new low; this would become the actual 8-year cycle low. As with gold, the odds of this scenario aren't good, but commodities can be tricky; it's best to be prepared for multiple outcomes.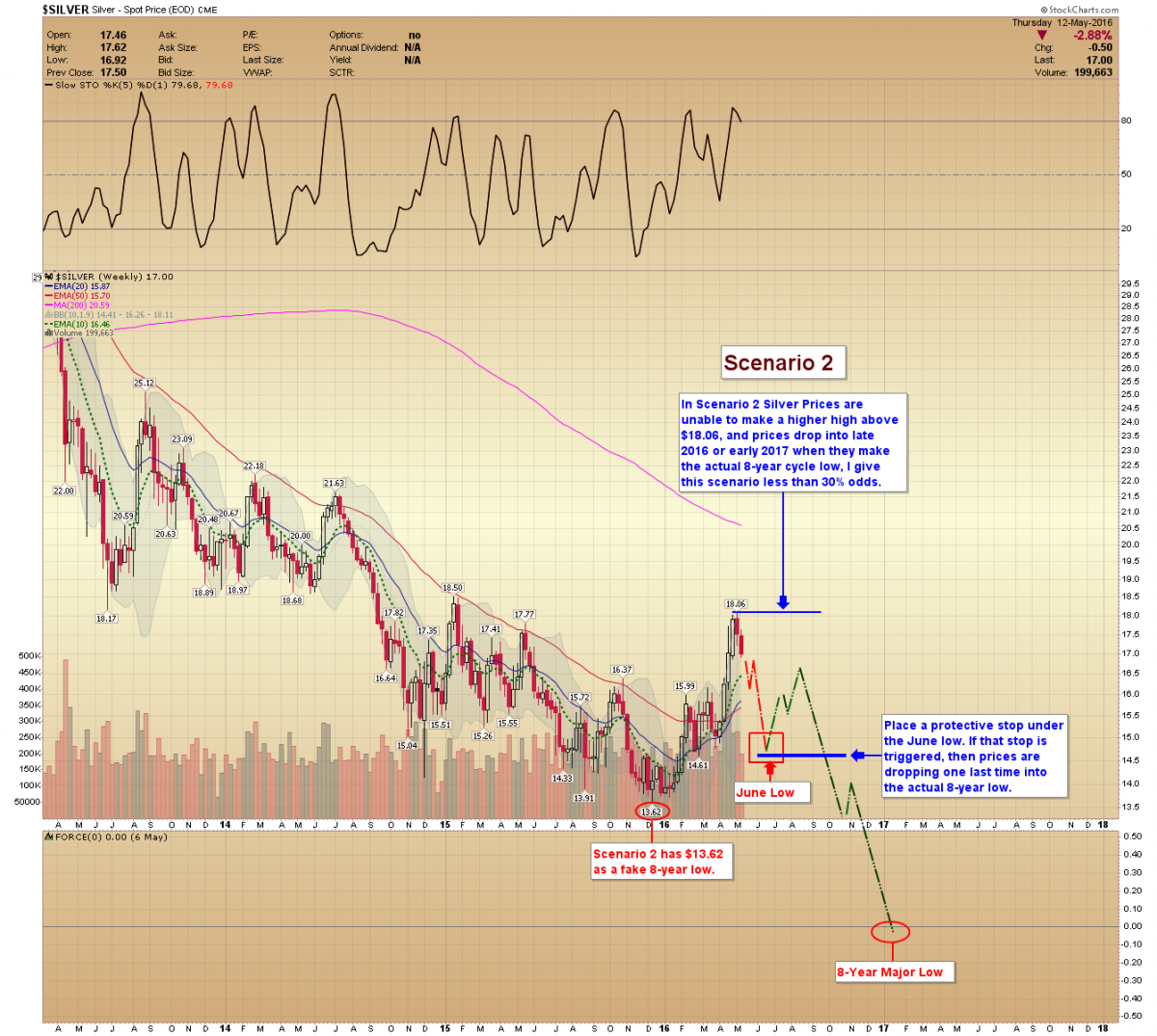 A Bottom in Miners
Despite the different scenarios in gold and silver, the HUI has likely bottomed. Even if precious metals head lower, I expect them to stay above the $99.19 bottom.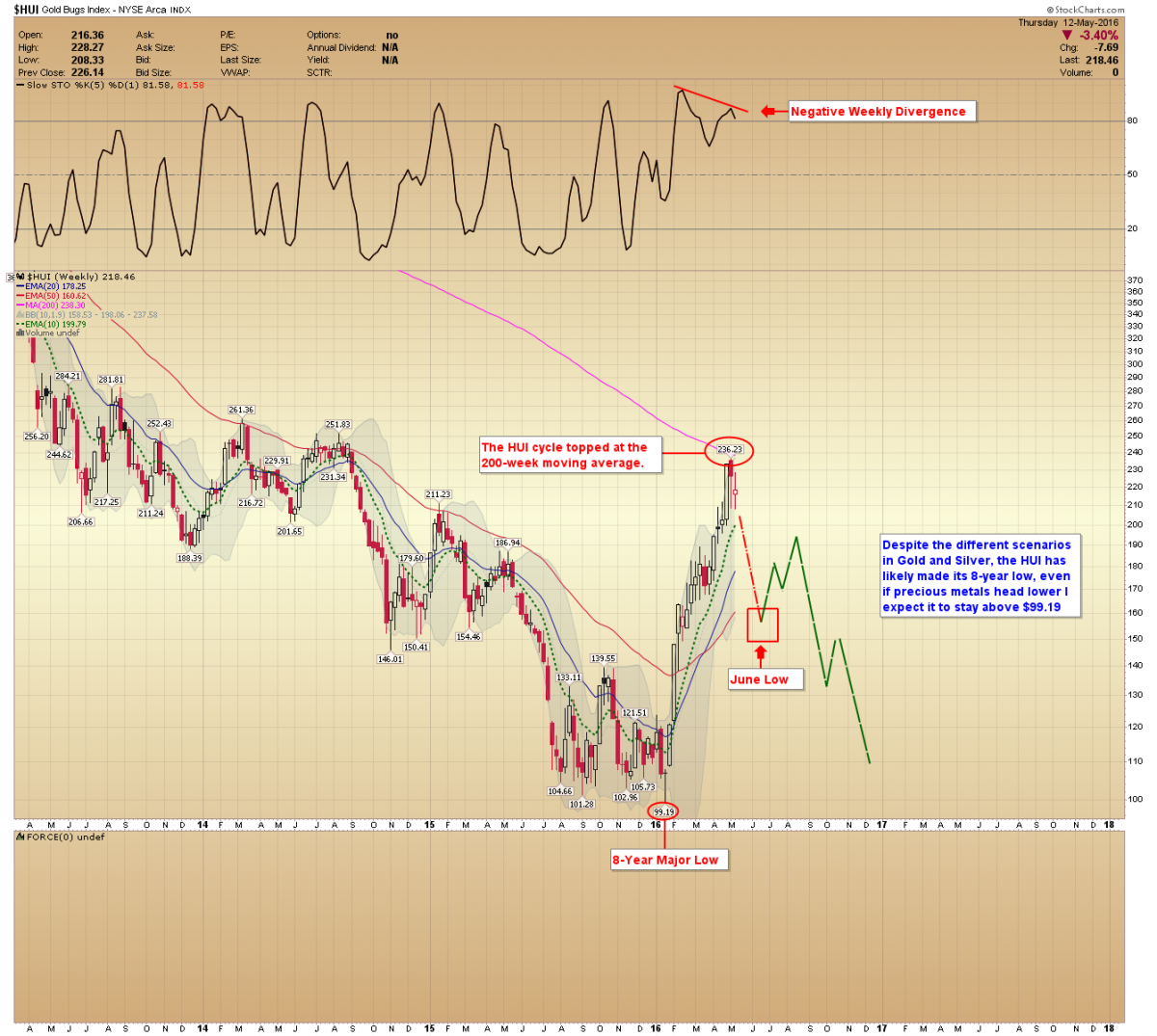 One potential disruption on the horizon is the upcoming referendum in the European Union (EU). UK voters will decide if they want Britain to exit from the EU on June 23rd. It's not expected to pass but, if it does, shock waves would be sent through their currency and I imagine the Dollar would rally.
In Summary, I believe a golden buying opportunity is approaching in both gold and silver. The alternative scenarios are growing improbable, but be prepared if they play out and cherish the better entry point. I'm partial to silver prices going forward.
More from Gold-Eagle.com: