Picking The Top In Metals And Miners Is Dangerous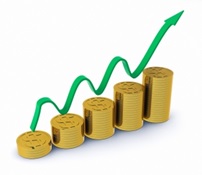 The Bank of Japan surprised everyone and held steady with their monetary policy, even after hints of easing were released earlier this month. The lack of new stimulus sent the Yen higher and weakened the U.S. Dollar. Gold was up yesterday, but still below the highs set seven weeks ago when our cycles topped. The head-and-shoulder pattern is no longer symmetrical in appearance since the right shoulder stretched too far. The tools I use to navigate the market and time the tops and bottoms are not working under the current market conditions and they will continue to be held captive until prices correct and a new cycle begins.
I spent much of yesterday studying nearly two decades of gold and silver charts, looking for answers and connections to the situation we are facing. I found a few rare events where two of the three (gold, silver, or miners) continued higher while one of them lagged. In every instance, prices eventually dropped to some degree of an intermediate cycle low. Intermediate lows, sometimes called 6-month cycle lows, vary in intensity and depth. They almost always experience a minimum of one close beneath the 10-week moving average. Neither gold nor silver nor miners have closed below that average since these rallies were confirmed and, therefore, prices are still due to rollover.
Every day, the odds of new bear market lows in gold and silver are reduced. We won't be able to say with certainty until a measurable and formal price correction occurs. Until then, trying to pick a top to this cycle is like trying to outrun a grizzly bear wearing a backpack made from filet mignon; you're going to get chewed up.
US Dollar Monthly Chart
If support at 92.00 is defeated, then the major 17-year cycle in the dollar topped, and the 8-year cycle in gold and silver bottomed. Our work suggests one last rally in the dollar before a top, but this theory is being severely tested.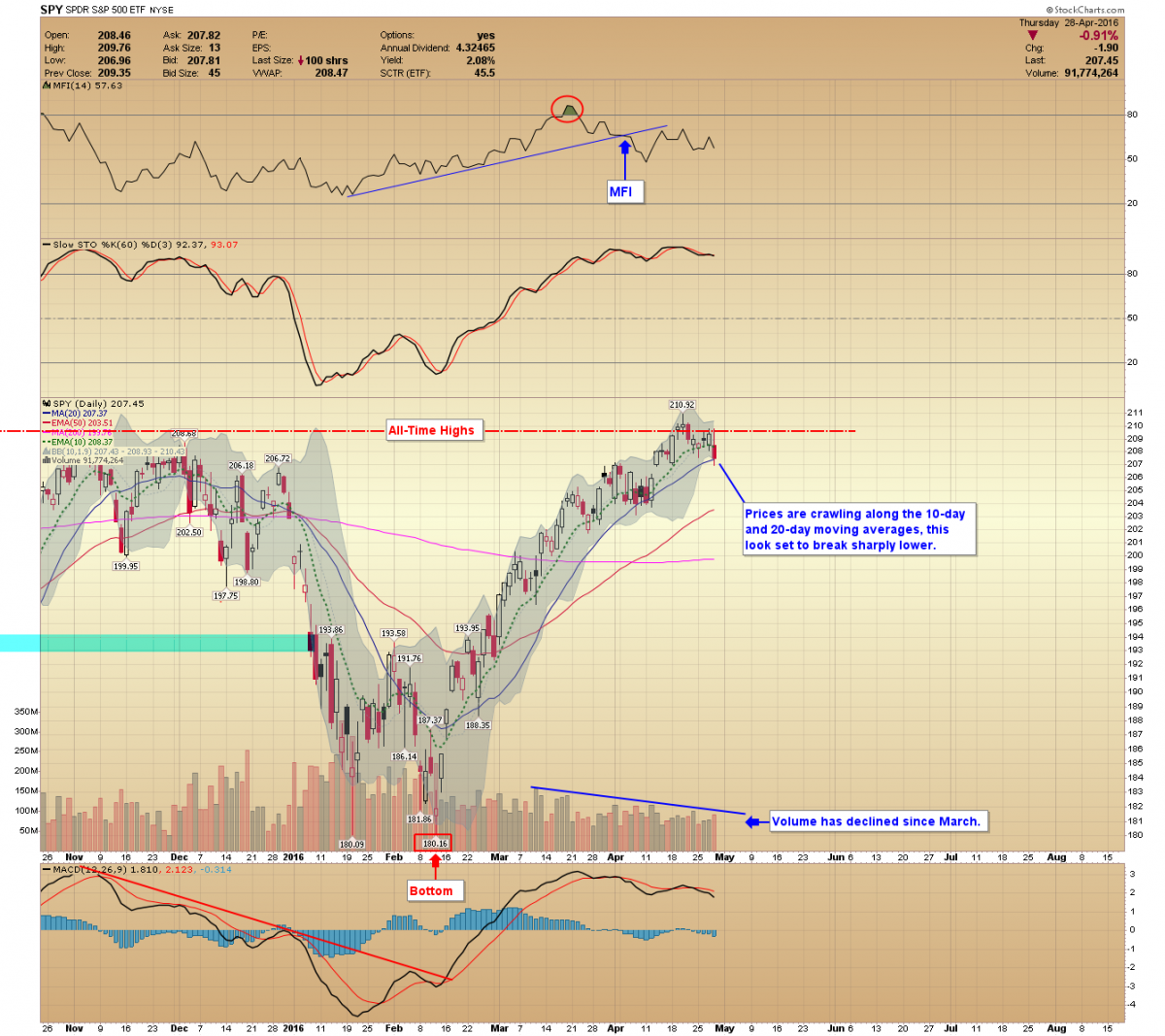 US Dollar Daily Chart
The dollar may have topped again and could drop below 93.00. Prices must hold the 92.00 level or risk a major breakdown. Prices broke from the wedge but quickly retreated inside. The MACD (below) is trending higher. However, the price structure hasn't followed.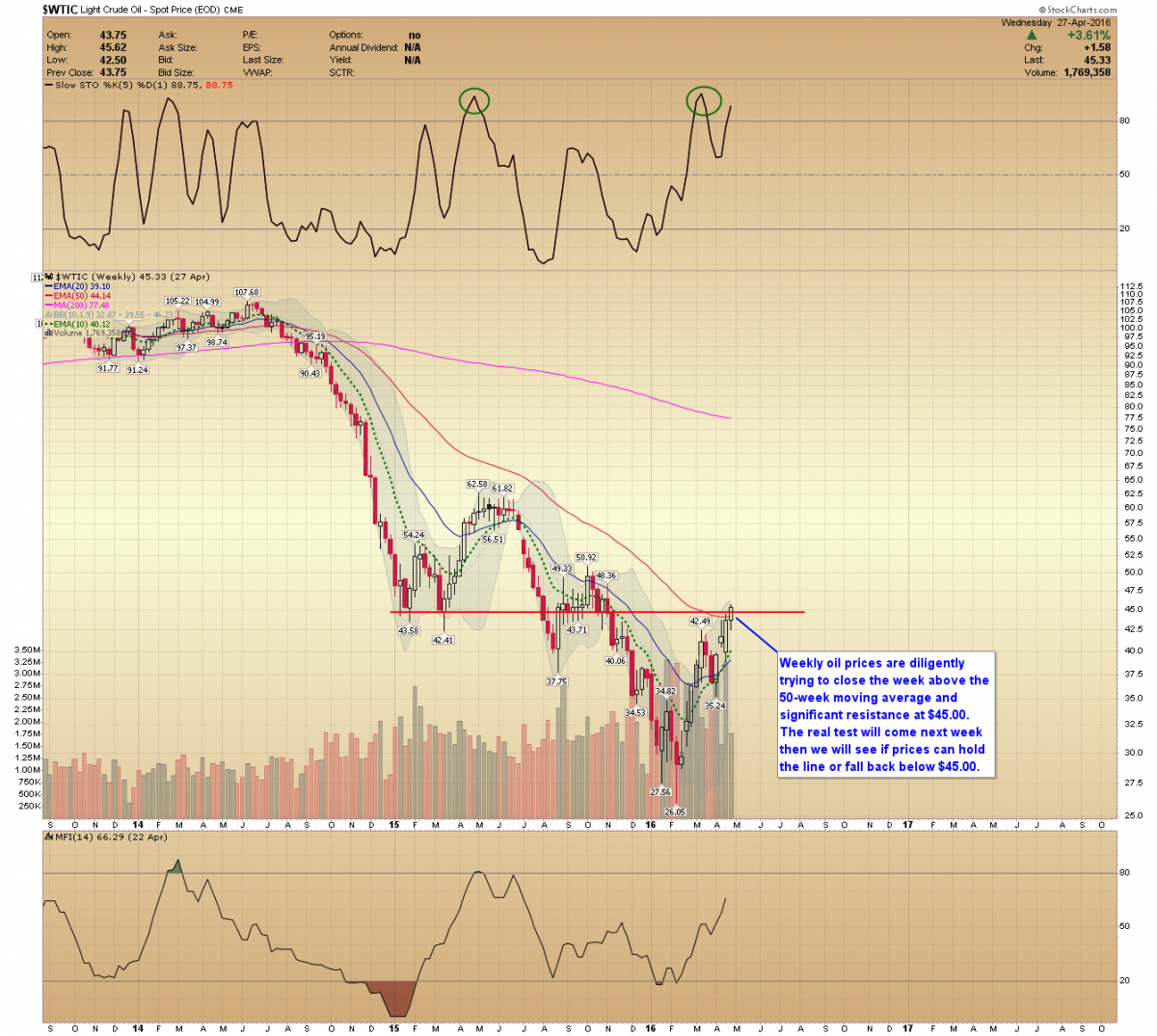 Gold Chart
If this were a head and shoulder pattern, prices should have dropped by now as the pattern's right shoulder has extended too far. The dashed trend line is still a valid signal and it must be broken for a correction to ensue.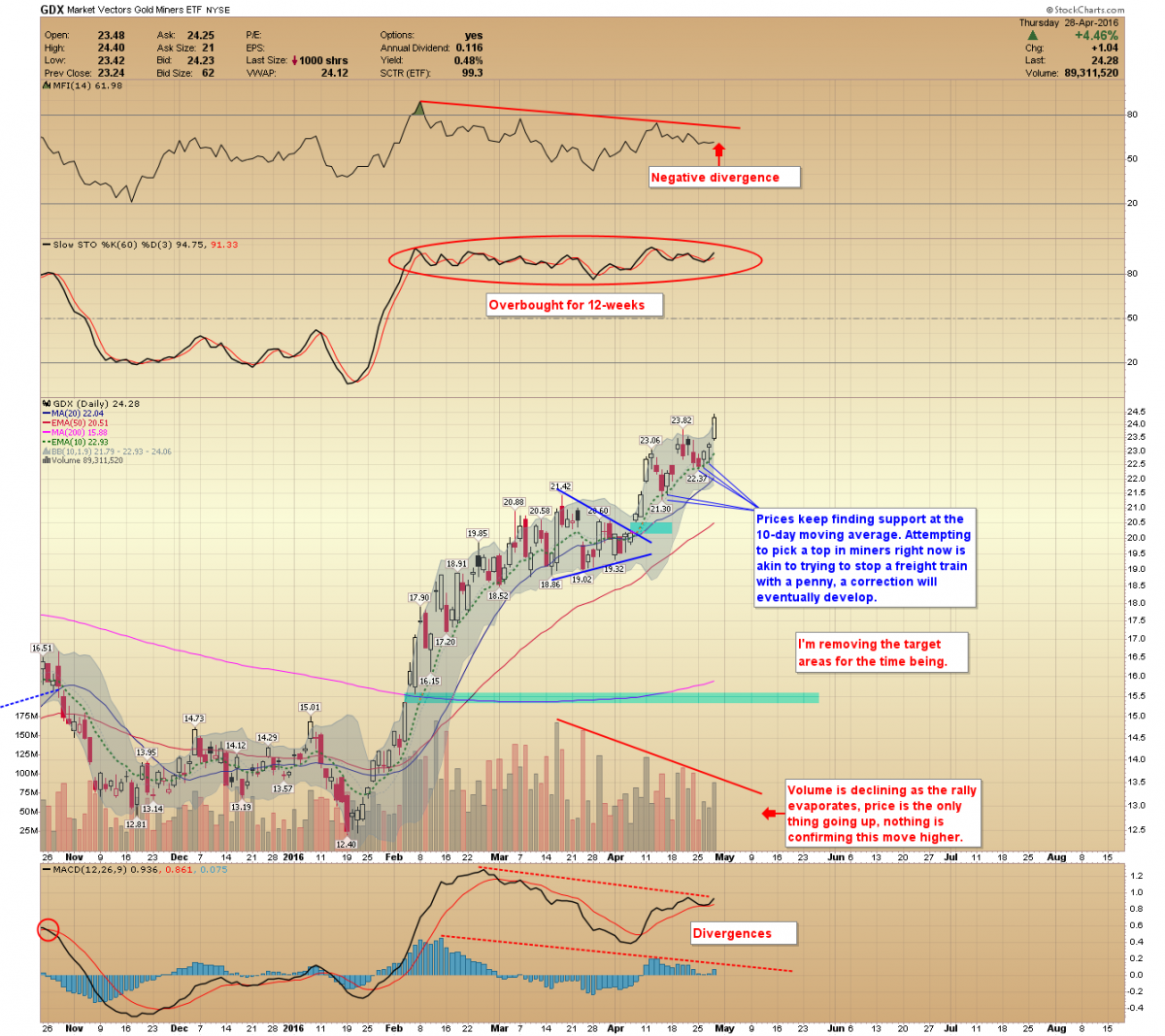 Silver Weekly Chart
Silver prices continue to grind higher, but prices are fast approaching steep resistance around the $18.50 level if they rise further.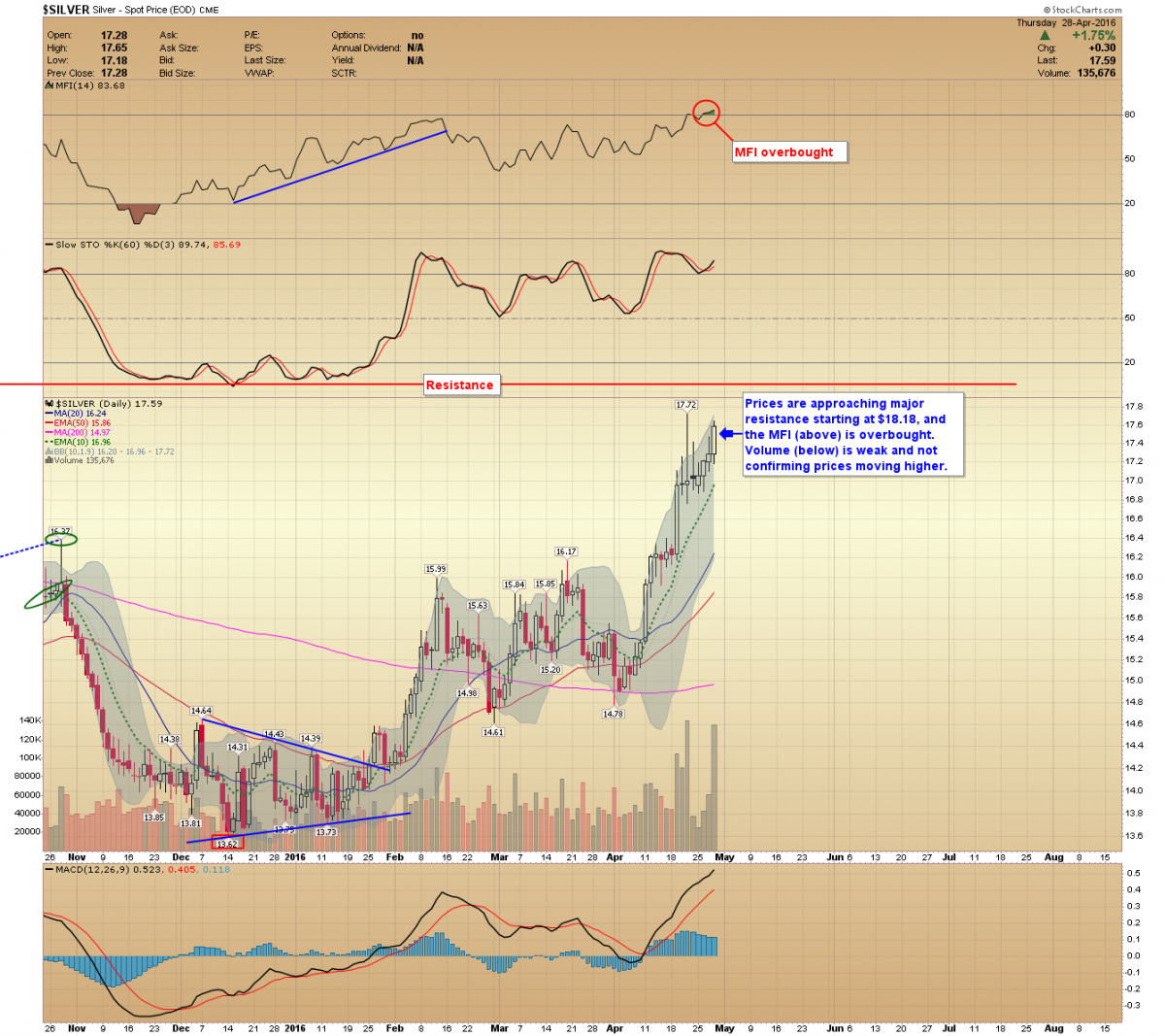 Silver Chart
Prices are advancing to significant resistance that starts at $18.18, and the MFI (above) is overbought.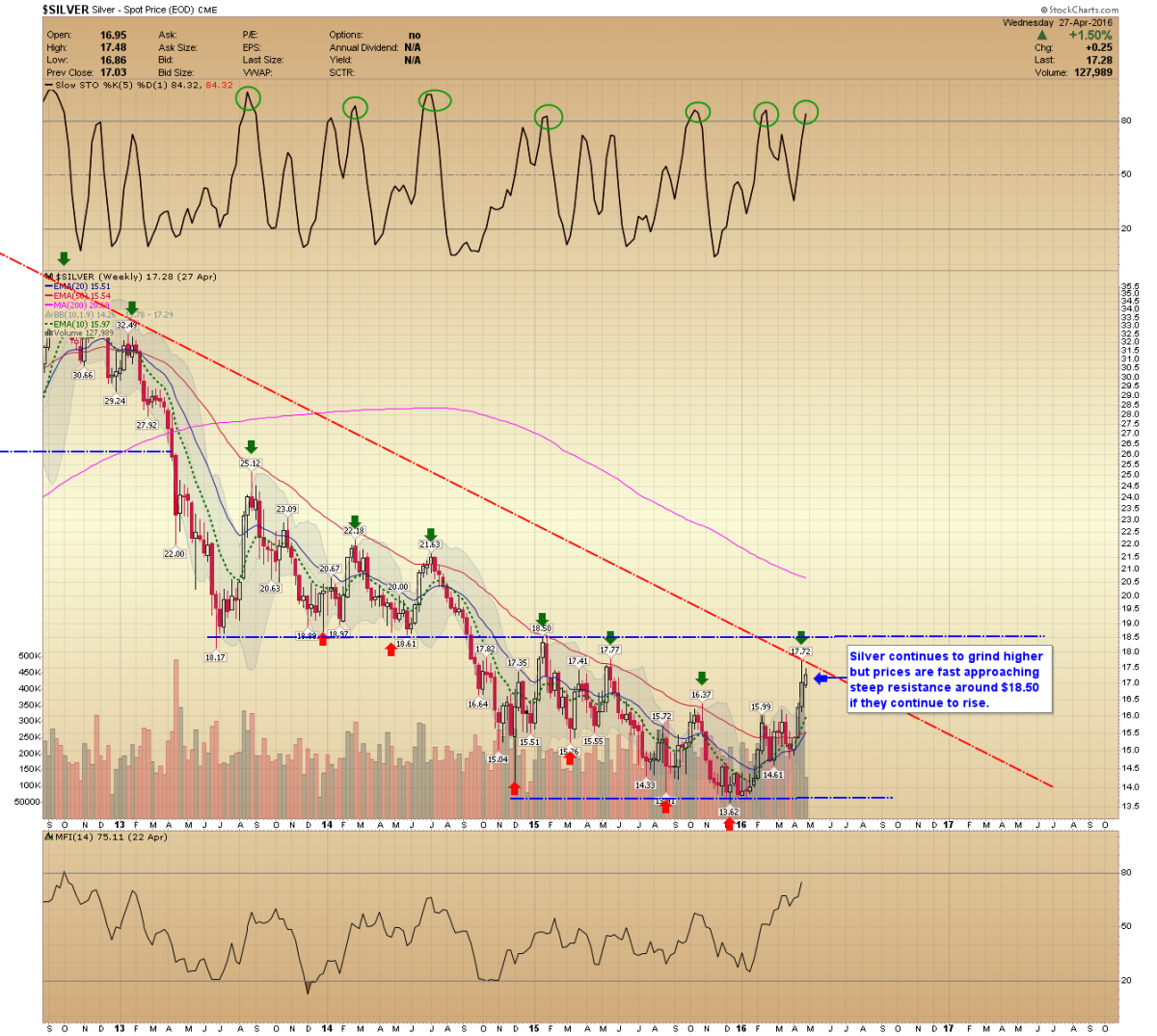 GDX Chart
Prices keep finding support at the 10-day moving average. Attempting to pick a top in miners right now is akin to trying to stop a freight train with a penny. A correction will eventually develop. I'm removing the target areas for the time being. Volume is declining as the rally evaporates; price is the only thing going up, nothing is confirming the move higher.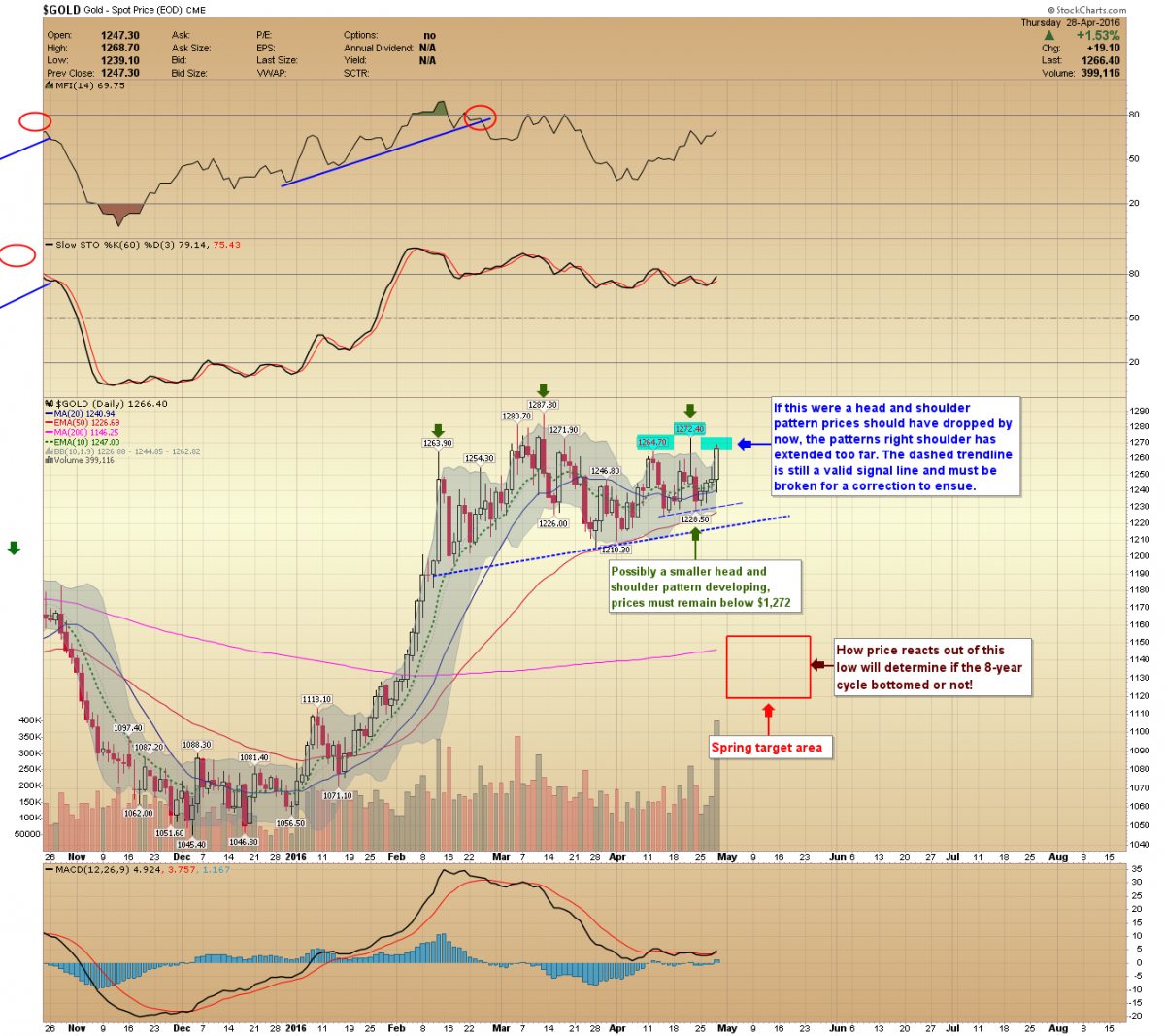 WTIC Chart
Weekly oil prices are diligently trying to close the week above the 50-week moving average and the significant resistance level at $45.00. The real test will come next week; then we will see if prices can hold the line or if they'll fall back below $45.00.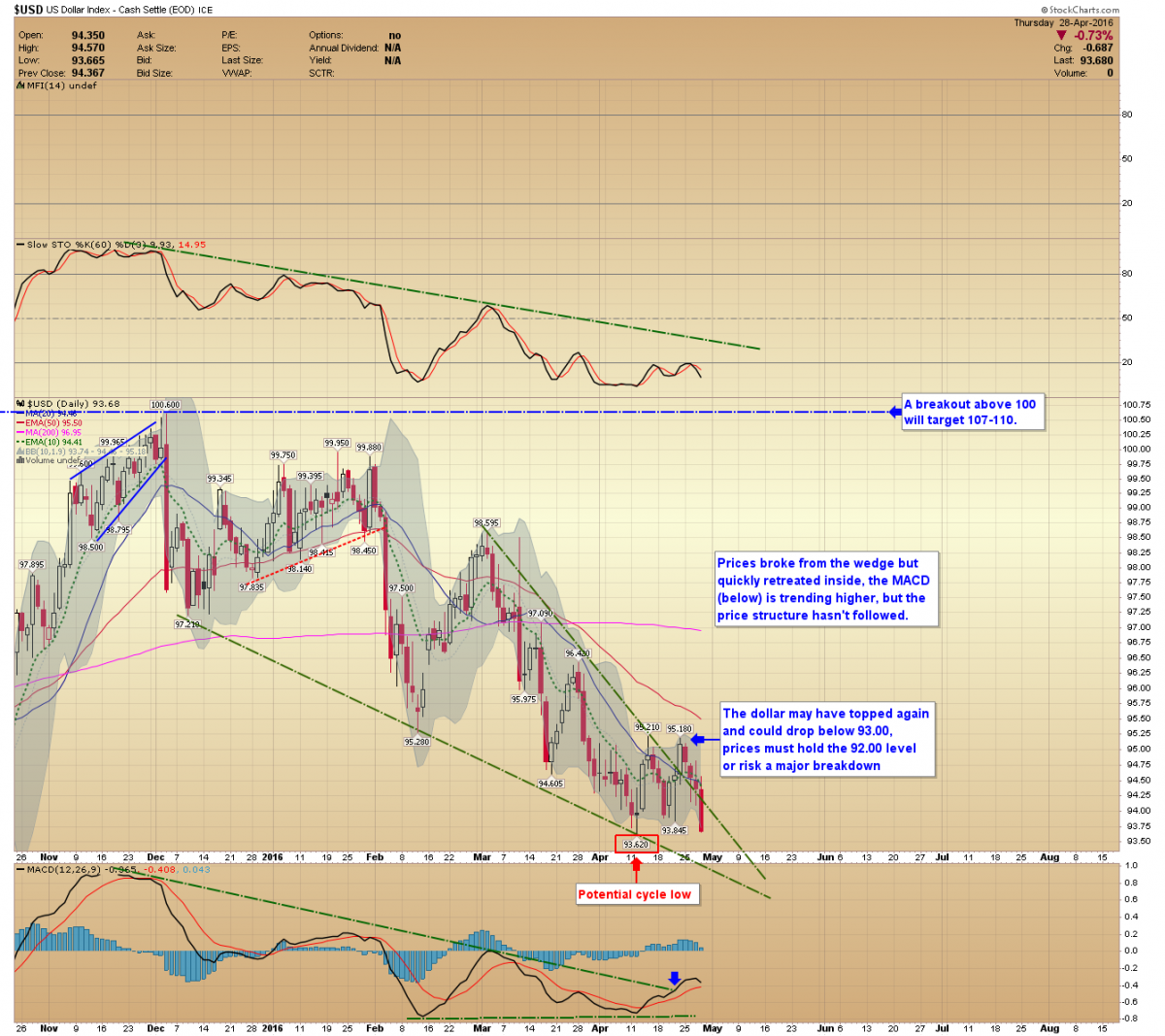 SPY Chart
Prices are crawling along the 10-day and 20-day moving averages, this looks set up to break sharply lower.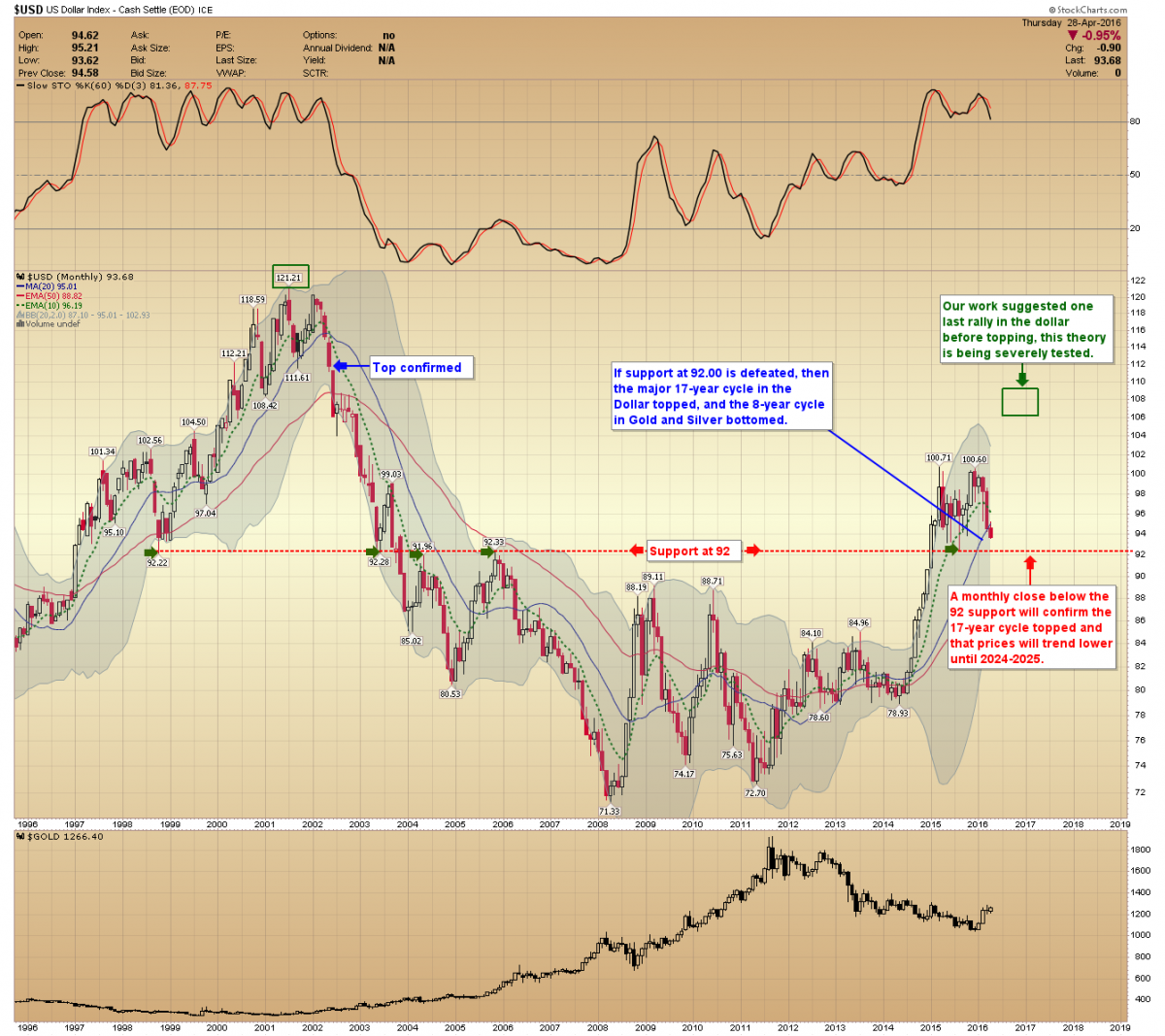 I live in a cold climate. Sometimes during the intense and long winters, we fear spring will never come; but every year it does, at times much later than anticipated. Today feels like the coldest day of winter, concerning my analysis, which leads me to believe that spring is almost here.
More from Gold-Eagle.com: