Price Of Gold Holds On To Two-Week High With Fed Rate Hike Uncertainty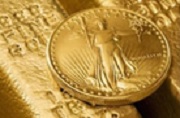 It seemed inevitable for a few weeks and even months: the Federal Reserve was going to raise rates in June, sending the dollar higher and taking away from the price of gold. But when a recent US jobs report showed only some 30,000+ jobs created when far more were expected, it sent gold, silver, and associated stocks spiking. Gold, in fact, recently reached a two-week high, which it has thus far held on to.
It's amazing what one jobs' report can do. But there's more to the story of gold's recent price jump that we'll want to investigate. Here are the basics:
Janet Yellen appears to back down a bit. Although all indications were that the Federal Reserve saw the US economy as strong enough to handle a rate hike, the jobs report put everything in doubt. What's important to note is that Janet Yellen had said to watch for a rate hike in the "coming months"—but that was before the jobs report broke. Now, Janet Yellen appears to be backing off of those comments, hinting that the Federal Reserve may hold interest rates steady. For gold investors, the implications are obvious: the US dollar may not be due for an immediate strengthening, which means gold prices may hold on to their gains on the year for longer than even pessimists anticipated.
Gold futures appear to be on the rise. After the jobs report, gold saw a mini-rally. Says the Salt Lake Tribune: "Gold futures for August delivery added 0.4 percent to settle at $1,247.40 an ounce at 1:40 p.m. on the COMEX in New York, extending Friday's 2.5 percent advance. That takes this year's gain to 18 percent." In the context of Janet Yellen's changing tune, this makes sense.
Don't count on a rate hike now. Per the Salt Lake Tribune: "Traders assigned a 2 percent probability that the Fed will raise rates this month, compared with 30 percent a week earlier, Fed Funds futures show."
But that's the recent news. What variables should we look for in order to better understand where gold may be headed from here?
If you buy the rhetoric that Janet Yellen has mostly given the appearance of optimism for the US economy without really raising rates, then the situation may be worse than the mainstream news is letting on. Without low interest rates to fall back on as a stimulus to the economy, havens like gold and silver may be the only places to go if we see another stock market bubble pop. Although the stock market has performed very well, even after a sluggish start to the year, it appears we may be approaching a "crunch point." Like the Federal Reserve minutes, investors will watch for the next jobs' report with bated breath.
For gold, which is seeing high futures and a two-week high in price that doesn't appear to be going away as of Tuesday morning, it means higher prices for now. Whether gold stays put will be up to the economic conditions that develop this summer.
More from Gold-Eagle.com: