Roller Coaster Ride in the Silver Price Sends Silver Above $17 Per Troy Ounce
Take any individual two-day snapshot of silver this month and you would have no idea where the ultimate price would end up. It started the month on a relatively positive note, trending over $16.80 per troy ounce, before a dip. A sudden spike over the course of just a few days sent the price above $17 per troy ounce for the first time in months. After a brief dip, the roller coaster has settled—giving silver's price a hint of stability as we have about one more week to go in the month of August.
Let's look back at this price to determine what caused these events—and see what insights we can glean from them as September—and the close of another quarter—looms.
The One-Month Silver Price Snapshot

Above you see the roller coaster ride we've seen with silver this month, helping lend credence to those who say you can rely on silver for more volatility than in the price of gold. The biggest change we saw was between August 7th and 11th, where four short days saw increase after increase. But perhaps if we zoom out, we'll find that the price of silver was not really increasing any more than expected. Perhaps it was the decrease in the first week of August that changed the story we've been seeing out of silver this year. Here's the year-to-date-chart: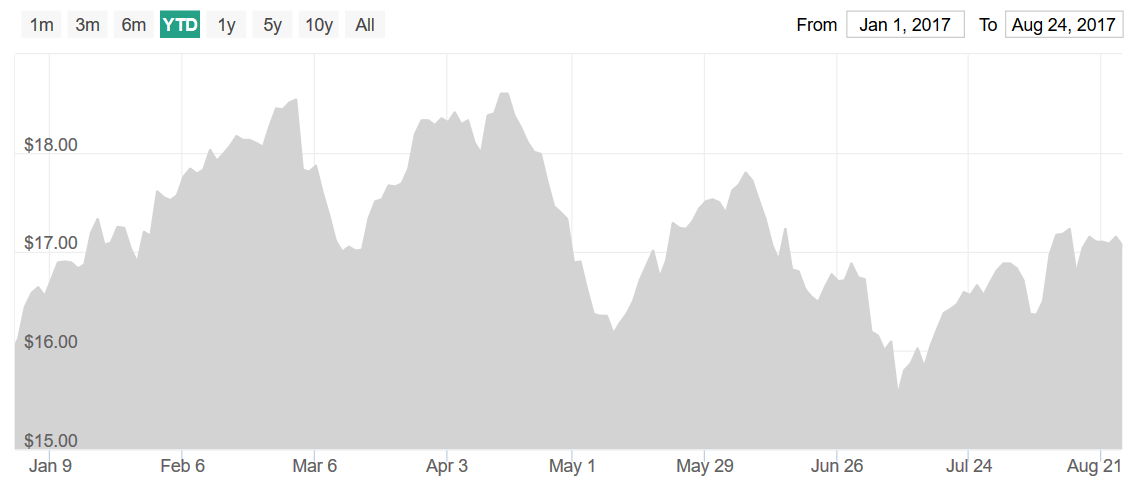 Chart: APMEX.com
As you see in this chart, silver has been following a loose pattern of rises and falls that last a month or so before the peaks descend overall. The rise in late July and early August was fully expected, but silver's price breaking at that point was an interesting departure. That begs the question: what caused that dip?
Watching the U.S. Dollar Index

Chart: MarketWatch (DXY)
You might be surprised to see that the correlation is not as strong as one might have thought. But keep in mind that the charts we're looking at aren't direct comparisons—they exist within their own context. Here, the DXY is measured on a scale from 92.5 to 94.0 and on a month-long scale, which can make changes appear more "normalized." What's worth noting is that we do see a boost in the dollar's price where one might expect it. The question is, does this yield any particular insight as to where silver might be headed?
An Eye on Precious Metal Demand as Headlines Stir the Nation
August was yet another high-octane month for turbulent political headlines, both domestic and international. Between talk about war with North Korea and strife at home, investors flock to stores of wealth like precious metals—including silver—for safety. In early August, silver made headlines as the potential first silver coin ever minted by the U.S. government was discovered. This highlights an interesting month of demand for precious metals coins—including the 50th anniversary of the popular South African gold coin, the Krugerrand. This is not a coincidence. With the stock market this high, there may be no better time to capitalize on the relatively low prices of metals like silver—roller coaster August or no.  
More from Gold-Eagle.com: