Is Silver Back? What Today's Silver News Says About The Precious Metal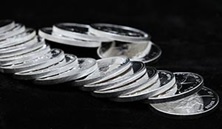 Any smart precious metals investor knows that watching the Federal Reserve's announcements is integral to understanding where the dollar—and subsequently the price of metals measured in the dollar—might go.
That's no different today, on St. Patrick's Day. A recent announcement by the Federal Reserve still has many investors cautious on the dollar, at least temporarily allowing the bullish run on precious metals that we've seen in 2016 continue. This leads us to an important question: is silver now officially "back" as an investment of choice? Let's consider what we're seeing in the news:
The Federal Reserve Sticks with Current Rates—For Now
Perhaps the biggest economic news in recent hours was the announcement by Federal Reserve Chairman Janet Yellen that the Fed had decided to keep interest rates at some 0.25 to 0.5%. No raising of the rates and no cuts, either.
Said Yellen: "Proceeding cautiously will allow us to verify that the labour market will continue to strength given the economic risk from abroad."
But even though the Fed is spinning its decision as being due to moderate economic growth in the U.S. economy, not everyone is convinced. Michelle Fleury of BBC noted: "The Federal Reserve scaled back the number of times it expects to raise interest rates this year, warning that global economic and financial developments continue to pose risks."
The key: since the Federal Reserve initially projected raising interest rates four times in 2016, the fact that it is scaling back on those predictions suggests the picture for the U.S. economy is not so rosy.
Silver and Gold Up
As some investors might expect, the uncertain economic news was immediately met with a boost for gold and silver in early trading this morning. As ABC News noted at one point this morning, gold jumped $36.60 quickly, about three percent. And silver, for its part, rose an even higher percentage by moving up 64 cents.
According to DailyFX.com, part of the reason might be a "soft U.S. dollar." As many investors know, silver and gold are traded in U.S. dollars, which means that if the dollar weakens, precious metals get stronger by comparison. And when there's plenty of built-in demand for the metals to begin with, that often means we see the large gains that silver and gold saw early in trading.
What's Next for Silver?
You can consult the DailyFX.com economic calendar to find the specific announcements and numbers releases that are on the docket for today and for the coming weekend. But it's hard to see how any announcements coming in the next few days will have as big an impact as the recent announcement from the Federal Reserve.
Where will silver go from here? There's no way to tell, but if demand keeps high, you might expect to see silver flirt with the high end of its recent swings, possibly going into some new territory for 2016. Remember: keep an eye on the Federal Reserve policy through 2016 and see if they come off of their current forecasts.
More from Gold-Eagle.com: