A Silver Bull Market Looming? Here Are Three Signs To Watch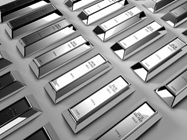 If you're like a lot of "Gold Bugs" out there, then you're also a "silver bug." The two metals often seem to go hand-in-hand; silver's more affordable price means that investors without a lot of money can get into silver and have plenty of hard bullion to show for it whereas gold—well, gold's price is too high for that.
But you don't have to be a beginning investor to realize that silver may be an intriguing play. Of course, no investment is certain—which is why we've compiled a few "silver signs" that may be markers about whether or not a silver investment might be right for you:
Silver Wheaton
Silver Wheaton (SLW on the New York Stock Exchange) is the world's largest precious metals "streaming" company. A streaming company is one that enters into agreements with mining companies to purchase their metals at a predetermined price. This aids the mining company because it is sure it can turn all of its current production into cash, while the streaming company is able to get the precious metals at a quality price. You might think of a streaming company as one that "streams" precious metals out into the markets.
On March 16th, Silver Wheaton is set to release its fourth quarter and 2015 operating results. Estimates put its earnings per share at 18-22 cents or so…so you'll want to watch these numbers and see if silver earnings are higher than expected. Keep up with TheStreet.com for more details on what to look for.
Silver and Gold Ratio
Just as looking at the price of gold in dollars is looking at the "dollar to gold" ratio, there also exists what's known as a gold to silver ratio: the basic question is, how many ounces of silver will it take to purchase a single ounce of gold?
Historically, the price of gold has been much higher than silver—and in recent years, has moved around 40, 50, and 60 times as much as the price of gold. Currently, you would need about 81 silver coins to buy a single ounce of gold.
If you believe that gold is undervalued against the dollar (as many investors do these days), then it appears that silver is undervalued against gold, as well. That means that anyone hedging their investments with precious metals might want to consider adding more than just gold to their portfolio.
Upcoming Economic Reports
When it comes to precious metals, the economic reports always matter. Heck, economic reports matter in just about any investment sector.
One to watch, this week in particular, is the Federal Reserve's press conference set for a week from now on March 17th or 18th. There, Federal Reserve chairman Janet Yellin will speak—and whenever Yellin speaks, the markets watch. If the economic news is dour, look for precious metals to continue the fevered pace they've established in the early months of 2016.
Again: watch the SLW stock price and reports, watch the silver and gold ratio, and keep an eye out for the Federal Reserve's upcoming press conference. These three indicators alone will help you understand where silver may be heading.
More from Gold-Eagle.com: