Silver Can Double In Value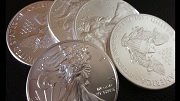 Silver has had an incredibly strong year, so far, in 2016. However, if you think gains are over, you might want to think again. From what I'm seeing, it doesn't seem as though we are anywhere near the top. Today, we'll talk about why I believe that big gains in silver are likely to continue throughout the year and possibly longer.
Understanding Silver Supply
As we know, silver, like any other commodity is largely dependent on supply and demand. Looking at the massive declines we've seen from the precious metal over the past several years, one would think that a supply glut was the cause. However, there has never been a silver supply glut, and chances are that there's not going to be one any time soon. In fact, the reason for the declines we saw was the fact that a commodities market bubble ended up bursting. Since then, we've actually seen declines in the supply of silver.
You see, silver isn't a primary product for many mines. In fact, it is generally a byproduct associated with mining other products. Primarily, the silver that we produce is produced as a byproduct of zinc and lead mining. It is also found in gold and copper mines. This is where things get very interesting. You see, because of the massive declines that we've seen in the values of commodities, there are less active zinc, lead, and even copper mines than what we've seen in the past. As a result, we are seeing slower production in the byproduct of these mines, silver! So, at the moment, the silver supply is actually declining!
Looking At The Demand Side Of The Equation
While supply is an incredibly important factor to consider, another, equally important factor is demand. When demand is low, we tend to see declines. Adversely, high demand will lead to gains. With that said, recent news with regard to demand has been overwhelmingly positive.
The reality is that demand for silver is currently sitting near an all-time high. In fact, the United States Mint can't seem to keep up with demand for silver coins. However, it's not only the mint that is struggling to keep up with demand. The truth is that demand is rising in just about every sense of the statement. The most important factor to keep in mind with regard to demand is the consideration of silver as a safe haven.
You see, when economic and market conditions are negative, investors tend to flock to silver as a way to keep their money safe; and that is happening now. Think about it, the global economy is nowhere near as strong as it used to be. As central banks around the world continue to devalue their currencies and purchase massive amounts of bonds in order to save their economies, safe haven demand for silver is only growing. This, in combination with the fact that market conditions are far from positive at the moment, is creating a perfect storm for silver that's likely to continue sending the value of the precious metal upward.
The Bottom Line
The bottom line here is simple. Silver was the victim of a commodities bubble over the past several years, bringing the price of the commodity down to incredibly low levels. Now, as production declines and demand rises, we're seeing the perfect time to invest in the metal. In fact, I wouldn't be surprised to see the price of the metal double over the next year or so. 
More from Gold-Eagle.com: