Is Silver Getting Ready To Soar?
Those of you who follow my writing, either here or elsewhere, know that I'm a big fan of silver, and for several reasons. However, today, I have the biggest piece of evidence that silver is going to climb that I've had in a while. We recently saw a crossover my friends, and the last time that happened, silver soared by more than 800%! Today, we'll talk about the crossover as well as other reasons that now is the time to be bullish on silver. So, let's get right to it...
Silver's 200 Day MA Shows Signs Of Growth To Come
One indicator that I use in several investments is a 200 month moving average. When crossovers happen in this average, they signify something big to come. Recently, we saw a big crossover in the silver price. Take a look below...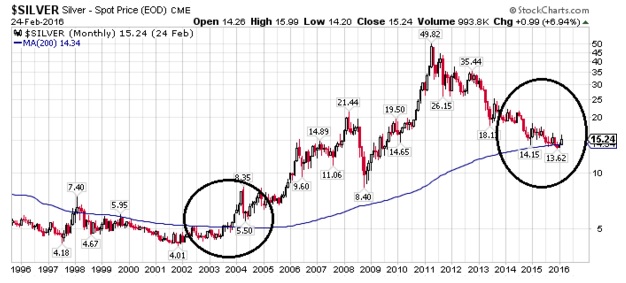 Thank You Stock Charts For The Above Chart!
When looking at the picture, you can see a blue line. That line represents a 200 month moving average. As you can see, the last time we saw a crossover like this was back in 2003. At the moment, silver is sitting right around this moving average and has started to fall just below. If silver finds strong support at current levels and crosses back over the moving average on the bullish side, there will be strong potential for big gains in the price of the precious metal.
How Likely Is This?
In my opinion, it is very likely that in a short period of time, silver will see a bullish crossover. The reality is that all signs are pointing to solid growth on the precious metal. To name a few...
Falling Production – While there are people that go mining for silver directly, that's not where the brunt of silver supplies come from. The reality is that silver is largely a bi-product of zinc and lead mines. Because of the massive declines that we've seen in the values of commodities, many zinc and lead mines have been closing down. As a result, we're starting to see a decrease in the production of the precious metal. As the law of supply and demand tells us, when supplies decline, prices must increase!
Increasing Demand – Demand for silver is climbing in a big way. Last year, we started to see that more and more silver jewelry was being imported into the United States. Aside from that, demand for silver bullion is actually rising as well. In fact, the US Mint showed record silver sales in the month of January, and the trend is expected to continue. With falling production and increasing demand, it only makes sense that silver will climb.
Poor Market Performance – Finally, silver, like gold and platinum, is a safe haven investment. This means that when market conditions are poor, investors look to the precious metal as a way to keep their money safe. Well my friends, take a look at the market. I have to say, conditions are far from positive!
The Bottom Line
The bottom line here is that all signs are pointing to growth in the value of silver. How high it will grow is anyone's guess. However, given technical analysis on the commodity, it seems as though when the value of silver climbs this time, it's going to climb in a big way! 
More from Gold-Eagle.com: