Silver In June: What Are The Biggest Hurdles To A Silver Bull Market?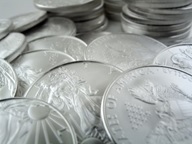 With silver down below $16.00 as of this writing, it's clear that May hasn't been too kind to the precious metal. Although silver started the year strongly, much as gold did, it's taken a recent hit as investors wait and watch for the Federal Reserve to make its potential rate hike in June.
Now that we're at the end of May, there's no better time to look ahead to the future of silver in the current market and try to decipher what may be the biggest obstacles to a positive silver market ahead. Let's take a look at what may be in the cards for June.
Hurdle #1: Janet Yellen
The Federal Reserve chief is overseeing a June 15th meeting that could have a major impact on the precious metals market and the economy as a whole. Although some are hesitant to believe recent signals that the Fed is bracing for a rate hike, the possibility that one may be coming has precious metals investors watching. A stronger dollar means weaker gold - and weaker silver.
If you believe skeptics like Euro Pacific Capital's Peter Schiff, then you believe that the Federal Reserve is actually quite bearish on the economy and is simply more hesitant about raising rates than they're letting on. From a more mainstream Wall Street perspective, the Fed looked poised to raise rates many times this year, and, so far, those big hikes haven't come to fruition. Something's got to give, and June 15th may be a breaking point. Where the economic arrows break from there, however, only time can tell.
Hurdle #2: Economic Data
Silver's use as an industrial and electronic metal means that it is somewhat tied to economic data including consumption. And if you're a bear on the current markets, that means you have to believe that the demand for silver is, at the very least, susceptible to some economic hardships.
Everyone is watching the economic data year-round, of course, but the implications of June economic data run a little deeper thanks to the aforementioned Federal Reserve meeting. Although some in the silver industry see higher prices due to silver's use in electronics, not everyone is quite so bullish.
Hurdle #3: The Dollar
The U.S. dollar is strong at the moment, and has been strong for a while. There's no reason to believe it will significantly weaken in June. If anything, indications are that it will get even stronger. But it's important to remember that the dollar's relative value to other investments, commodities, and currencies is a complicated thing. Gold and silver are just two ways to measure the dollar; there are many, many more.
The stronger the dollar gets, the weaker silver's price will remain - perhaps well into June and beyond. That's why it's important to watch the dollar in the wake of all of the economic news. Add the dollar index to your price-watching apps, and make sure that you pay attention to the strength of international currencies, as well, just to get a feel for the context in which the dollar is operating.
More from Gold-Eagle.com: